It really is the End Times. We know this because, after fifty years of revisions and variations, Tom Phillips has finished his 'treated Victorian novel' A Humument.
On 5 November 1966 Tom Phillips (b. 1937) declared to fellow artist R. B. Kitaj that he would find a book for threepence and make it the basis of a life's work. At Austin's junk shop in Peckham Rye he discovered A Human Document by W. H. Mallock, published 1892, and he set to work altering every page by painting, collage and cut-up.
Publication started in 1970 with a box of ten silk-screened pages. A complete edition was published in 1973. A postscript to the 2005 edition stated that the goal of the work was "to replace itself by revisions." In 2016 the sixth and final edition concluded half a century of lucubrations. A Humument is the Cutty Sark or Ship of Theseus in book form: if every page has been replaced it's not the same book, but it's the same book.
IRMA is a one-act experimental opera devised from a visual score taken from A Humument, originally completed on a large single sheet in 1969 "at the very moment man first landed on the moon." A reworked book-length score IRMA Opus XIIB (2014) has just had its world premiere performance at South London Gallery, devised and directed by Netia Jones (Lightmap) with musical director Anton Lukoszevieze (Apartment House).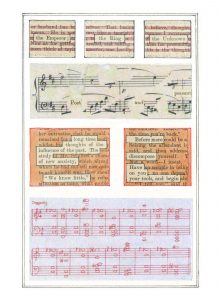 The score is intended as the recipe book for an operatic meal, and pretty much leaves you to it. The music Gavin Bryars wrote in 1970 was expansive and yearning, perfectly adapted to the ambivalence of the source: "The sound in my life enlarges my prison". The new production cleaves to the description of the score as "surviving fragments of an ancient musical enactment." As an operatic meal it is more like the leftovers than the roast.
The varied means of presentation— operatic singing, dance, recorded voiceover, wall texts, projections, readings, string music, newsreel— give it the flavour of multimedia tapas rather than Gesamtkunstwerk. The word 'opera' literally means 'works', which is fitting for what is a performance of a plotless sequence of bits. The words are clunky and hard to hear and sightlines are obliterated on either side by suspended screens.
IRMA follows operatic precedent in titling after the heroine's name— Tosca, Aida, so Irma— but there's no clear sense of her story. The tortured artist Grenville pines at his desk, overseen by a Greek chorus of three "art officers in uniform" and a "white capped woman passing through"— a nurse who wanders round not doing anything.
The main innovation in their development of the score is to structure it as a palindrome: following the injunction "turn up/ tune up" there's a succession of scenes, a gunshot, and the same scenes run in reverse. It leaves us with the sense that nothing has happened, twice— in the thwarted position of Phillips's alter ego Bill Toge, "the character who has a long love affair with love affairs"— "Alone Toge/ Even the music rose to go."
Tom Phillips, IRMA: An Opera (Opus XIIB) performance and installation, South London Gallery, 16-17 September www.southlondongallery.org
A Humument: A Treated Victorian Novel – Final Edition by Tom Phillips, Thames & Hudson, 381pp, £20.
Categories
Tags