Alexander James: 'Death of the Dream of Democracy', 2017  Image courtesy the artist © www.DistilEnnui.com.
It's not easy to make an original work which uses the stars and stripes successfully, there is so much to compete with, most obviously Jasper Johns (whose major show is due at the Royal Academy Set 23 – Dec 10), though Childe Hassam, Cady Noland and David Hammons would also feature in the list of successful users. Now Alexander James joins the tradition with his photographs of flags formed by flowers shot underwater (for Dellasposa Fine Art, in residence at Alice Herrick's gallery at 93 Piccadilly to 17 Sept). They derive from the vanitas tradition: so death is on the way. There's an admixture of gold – for greed, I suspect, not for inherent value. One flag is disrespectfully upside-down. We pick up a view on Trump even without the title 'Death of the Dream of Democracy'. They're very like paintings, an effect emphasised by the way they are varnished – so that the surface crazes into the craquelure of an old painting. That suggests both fragility and inflexibility. That's upstairs: below is an atmospheric presentation of James' underwater butterflies, including the superposition of parent and offspring – who, such are butterfly families – can meet in no other way…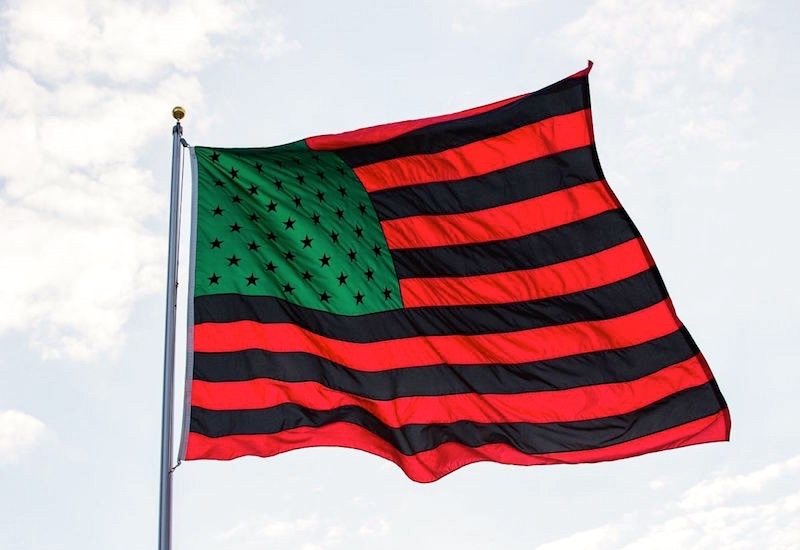 David Hammons: 'African-American Flag', 1990
Most days art Critic Paul Carey-Kent spends hours on the train, traveling between his home in Southampton and his day job in London. Could he, we asked, jot down whatever came into his head?
Categories
Tags