Richard Saltoun Gallery is proud to present Eleanor Antin: Romans & Kings, the first exhibition in London of the pioneering American Feminist filmmaker, performance and conceptual artist.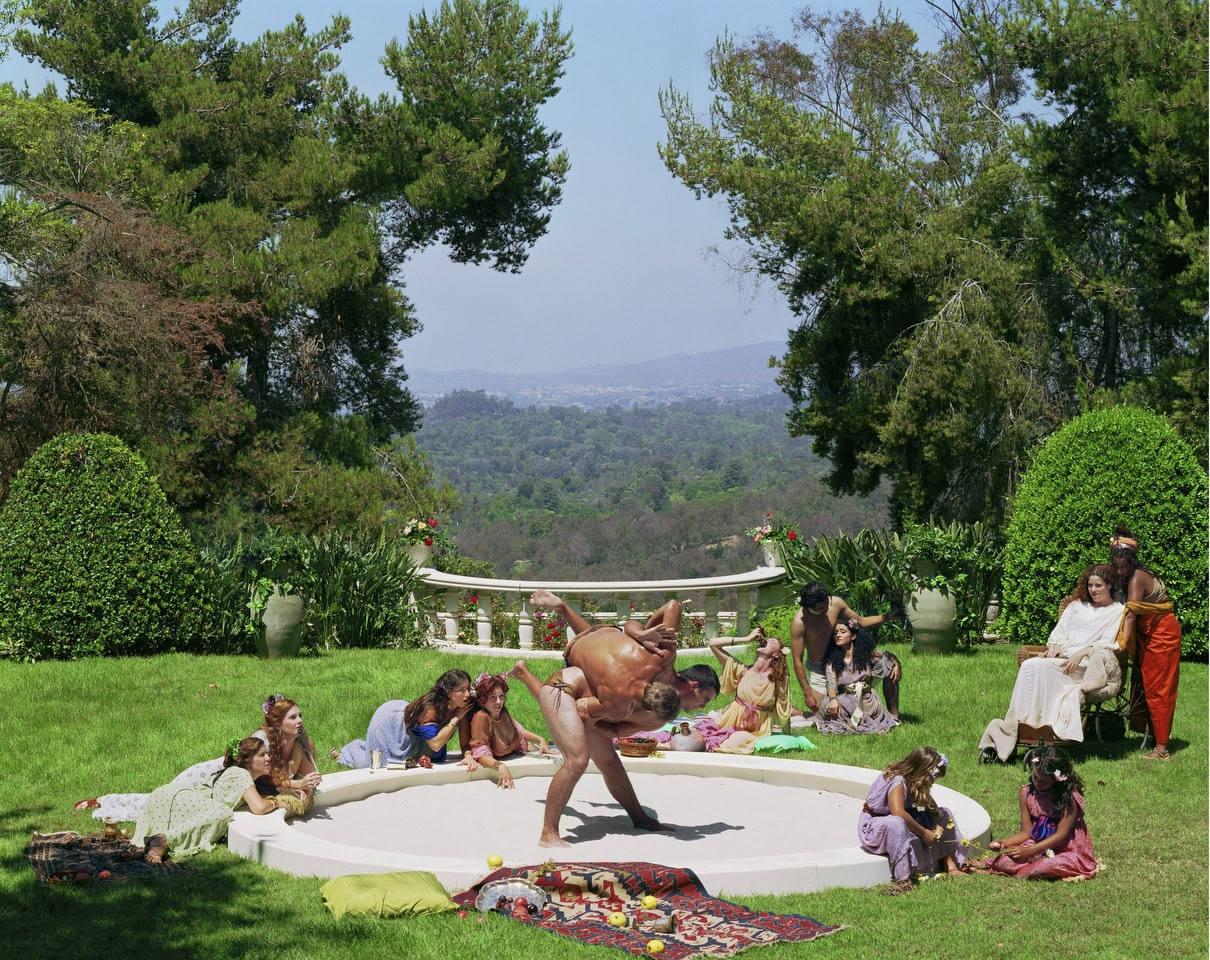 Eleanor Antin, A Hot Afternoon from "The Last Days of Pompeii", 2002. Chromogenic print, 78.7 x 63.5 cm Edition 1 of 3. Copyright the artist Courtesy of Richard Saltoun Gallery
A key figure of conceptual art movements of the 1970s; Eleanor Antin's ground-breaking practice spans five decades and has covered themes surrounding identity, gender, autobiography, class and social structures. Antin's multi-disciplinary approach includes installation, painting, drawing, writing and most notably photography and performance. Rearticulating historical narratives, both real and fictitious, she explores the tropes of feminist and conceptual art. Today as an octogenarian artist, she remains one of the world's leading Feminist artists.
The debut exhibition at Richard Saltoun Gallery consists of recent and historical works from two of Antin's most iconic bodies of work:
Helen's Odyssey (2007) and The Last Days of Pompeii (2002) both take as their inspiration key allegorical moments in Greek or Roman mythology. Actors, dressed in character costumes pose in front of theatre backdrops and stunning natural landscapes: gladiators pose in mid-battle; an artist studies his muse in the studio; and Paris auditions for his Helen of Troy. These hyper-real tableaux vivants are transformed by modern dress and unfamiliar objects – a maid with a vacuum cleaner is present at the Judgement of Paris – bringing a twist to these familiar scenes.





In the monumental Constructing Helen from Helen's Odyssey (2007), Antin presents her version of the legendary figure of Helen of Troy, known to be the most beautiful woman in Greek mythology. Helen is a giant clay sculpture, unconsciously waiting to be completed by caricature male artists. A typical reclining nude, she waits to be awoken into an artwork, an action determined only by the men crafting her. In A Hot Afternoon from The Last Days of Pompeii (2002) two barely clothed Greco-Roman wrestlers take the centre podium, intertwined in a battle at the benefit of on looking women. Antin's wrestlers resemble a Greek third century sculpture, though they are tanned, oiled and their loincloths made from gold Lamé fabric. Here, ancient allegory travels through time to become a satirical Post-modern scene, where women occupy the gaze and men are the subject.
Antin's seminal series The King of Solana Beach (1972) makes up the third element of the exhibition. Dressed in drag as a cloaked, bearded male, and much to the bemusement of the local civilians, Antin poses as the sovereign of Solana Beach (a coastal city in San Diego, known for its surfing culture). The King, petite in stature, parades the streets, surveying the land and offering counsel to local community members. Behind his grandiose guise, however, he is vulnerable; fighting a losing battle to maintain the rights to the land, which is inevitably being sold to redevelopers.
Antin will present a solo performance Eleanor Antin: Me, Myself and I at London's Serpentine Gallery Friday 15 September 2017, 8pm. She will read from three autobiographies, Conversations with Stalin, An Artist's Life: Eleanora Antinova and Being Antinova, each authored by a different one of her selves.
Eleanor Antin Romans & Kings 22 September – 27 October 2017 Private view: Thursday 21 September 6-8pm
Richard Saltoun Gallery 111 Great Litchfield Street London W1W 6RY www.richardsaltoun.com



About Mark Westall