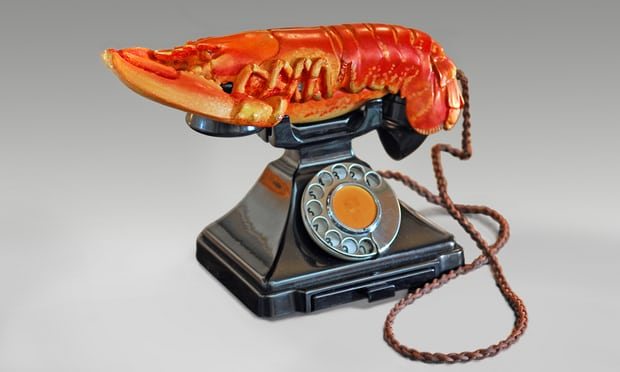 Lobster Telephone (red), 1938 by Salvador Dalí and Edward James. Photograph: Edward James Foundation
---
This article titled "Royal Academy of Arts to reveal explicit side of Dalí and Duchamp" was written by Dalya Alberge, for The Guardian on Wednesday 30th August 2017 06.00 UTC
Some of the exhibits in a forthcoming exhibition on Salvador Dalí and Marcel Duchamp – two of the 20th century's most famous artists – may not be for the faint-hearted. Visitors to the Royal Academy of Arts in London will be warned of sexually explicit material in one of the galleries.
Exhibits that could cause offence include a manuscript in which Dalí described in words and sketches his hunger for sex and food – his "nutritious perversions" – aroused while urinating and watching Duchamp and some cutlets that were being cooked for a picnic.
In that manuscript, Dalí recalled an excursion in the summer of 1933 with Gala, his wife and muse, and friends to "Cap Creus, a geological delirium situated to the North East of Catalunya".
With colourful language and eccentric punctuation, he wrote: "Duchamp is red because he has caught the sun and reminds me of the grilled cutlets we are approaching … My hunger is colossal, ornamental, theological … The sky and the sea are so blue that they appear almost red. A blue that hurts the eyes and almost the ears.
"Almost at the place where the meal is served I kneel behind a reddish-brown rock to urinate, I do so in such a manner that it flows down my chest. A breath of warm air brings me the smell of the cutlets which sends me into raptures, so then I throw myself with my mouth onto an outcrop of rock which I suck with all my salivary power – my eyes are fixed on the red arm of Marcel Duchamp which merges although it is further away with the pink granite of my rock the other shoulder of Duchamp merges with and even touches that of Gala. I eat Gala."
While some modern artists have been accused of relying on shock tactics due to the absence of traditional skills, Dalí knew how to paint and draw as well as shock; his sketches on this manuscript show him sucking the rock.
The manuscript is held by the artist's foundation in Figueres and has never been exhibited before. It has only now been translated into English.
Prof Dawn Ades, one of the exhibition's co-curators, described it as an "extraordinary mixture of very explicit and highly symbolic" material.
In the text, Dalí is living up to his image as a man with perverse interests. Ades observed that the picnic description is "rather erotic and direct", adding: "He certainly liked to say he had perverse tastes, but I can't help thinking that they find expression much more in his writing and in his painting than they did in actuality. Sexually speaking, he's really a voyeur – that's his speciality, which is rather good for an artist."
The manuscript, which spans about 20 pages, was for a publication titled "I Eat Gala" that he was planning, and which has never seen the light of day, Ades said. He wrote it in French and the only published translation is in Spanish, within his four-volume collected works.
Ades said there was other graphic material in the collection, titled Dalí / Duchamp, the first major exhibition to present them together. While the men were "usually seen as opposites in almost every respect", the exhibition will reflect their shared attitudes to art and life, as well as friendship and mutual admiration. They were both pioneers in the use of found objects, including Dalí's Lobster Telephone and Duchamp's L.H.O.O.Q., in which he added a moustache and goatee to Leonardo's Mona Lisa.
The exhibition, which opens on 7 October, will include more than 80 loans from public and private collections worldwide.
guardian.co.uk © Guardian News & Media Limited 2010
Published via the Guardian News Feed plugin for WordPress.
Categories
Tags