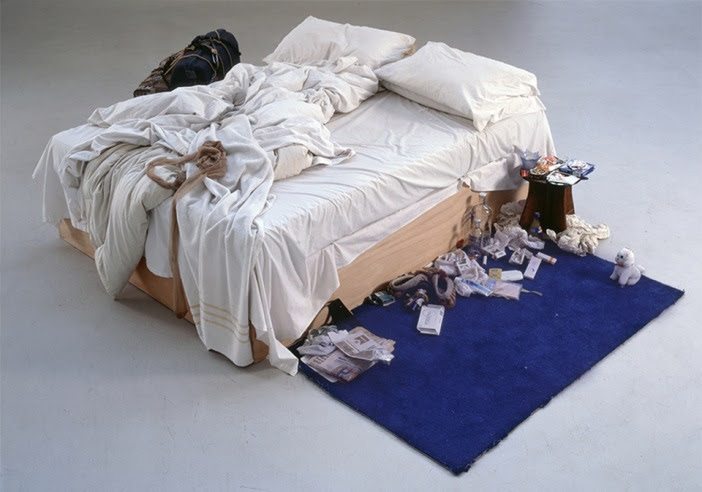 Tracey Emin, My Bed, 1998 © Tracey Emin. All rights reserved, DACS 2014. Photo credit: Courtesy The Saatchi Gallery, London / Photograph by Prudence Cuming Associates Ltd
Tracey Emin returns to Turner Contemporary with an exhibition pairing her iconic and controversial installation My Bed with a collection of JMW Turner's seascapes and stormy skies, chosen by the artist and loaned from Tate's collection.
My Bed famously features Emin's own bed and gives a snapshot of her life after a traumatic relationship breakdown. It offers an unconventional and uncompromising self-portrait through objects, in which the artist herself is absent.
The artist's unmade bed —surrounded by used condoms, stained underwear, cigarette butts and empty vodka bottles — marked a moment of epiphany in Emin's life. After spending over a week in bed drifting in and out of consciousness in an alcoholic haze, she reached a realisation.
'I just suddenly thought, "This is horrific." And then it all turned around for me. It stopped being horrific and started being beautiful. Because I hadn't died, had I?'




Originally made in Emin's Waterloo council flat in 1998 and included in her Turner Prize exhibition in 1999, the bed is on long-term loan to Tate following its purchase by a private collector in 2014. The readymade installation epitomises Emin's confessional, candid art in which nothing is taboo, and represents a pivotal point in British art in which contemporary artworks achieved mainstream fame. Its influence, both on art and wider culture, has been profound.
For the author Jeanette Winterson,
"By refusing to disentangle art and life, by fusing her autobiography with her artistry, Emin creates a world where personal truth-telling moves beyond the me-culture and into collective catharsis."
On her return to her hometown Margate, Emin has said:
"Out of all the places My Bed has been shown this is one of the most exciting and ambitious for me as I know the audience will be very discerning." The installation will be shown alongside paintings by J.M.W. Turner, another famous ex-resident of Margate who returned regularly to the seaside town for its unique quality of light and skies, which he considered "the loveliest in all of Europe."
Margate is the third location that My Bed has toured to. Previously, it has also been shown alongside eminent painters, selected by Emin. In 2015 at Tate Britain – where it was originally shown as part of the Turner Prize exhibition in 1999 – My Bed was shown alongside Francis Bacon. Emin highlighted his chaotic life, his notoriety as a maverick within society and the movement within his paintings which display big, undulating roles of flesh as reason for her choice. At Tate Liverpool, My Bed is paired with works by William Blake. The display affirms Blake's Romantic idea of artistic truth through existential pain and the possibility of spiritual rebirth through art, shared in Emin's work.
Victoria Pomery, Director of Turner Contemporary says:
"We're eagerly awaiting the arrival of My Bed and the responses it will spark. The work, now almost 20 years old, was shown by Tracey Emin for her nomination for the Turner Prize exhibition in 1999. Ahead of the Turner Prize coming to Turner Contemporary in 2019, there couldn't be a more pertinent moment to display this work."
Tracey Emin, My Bed/ JMW Turner 13 October – 14 January 2018 Turner Contemporary, Margate



Categories
Tags