We love British artist Alex Chinneck latest monumental artwork entitled 'Six pins and half a dozen needles' on Assembly London.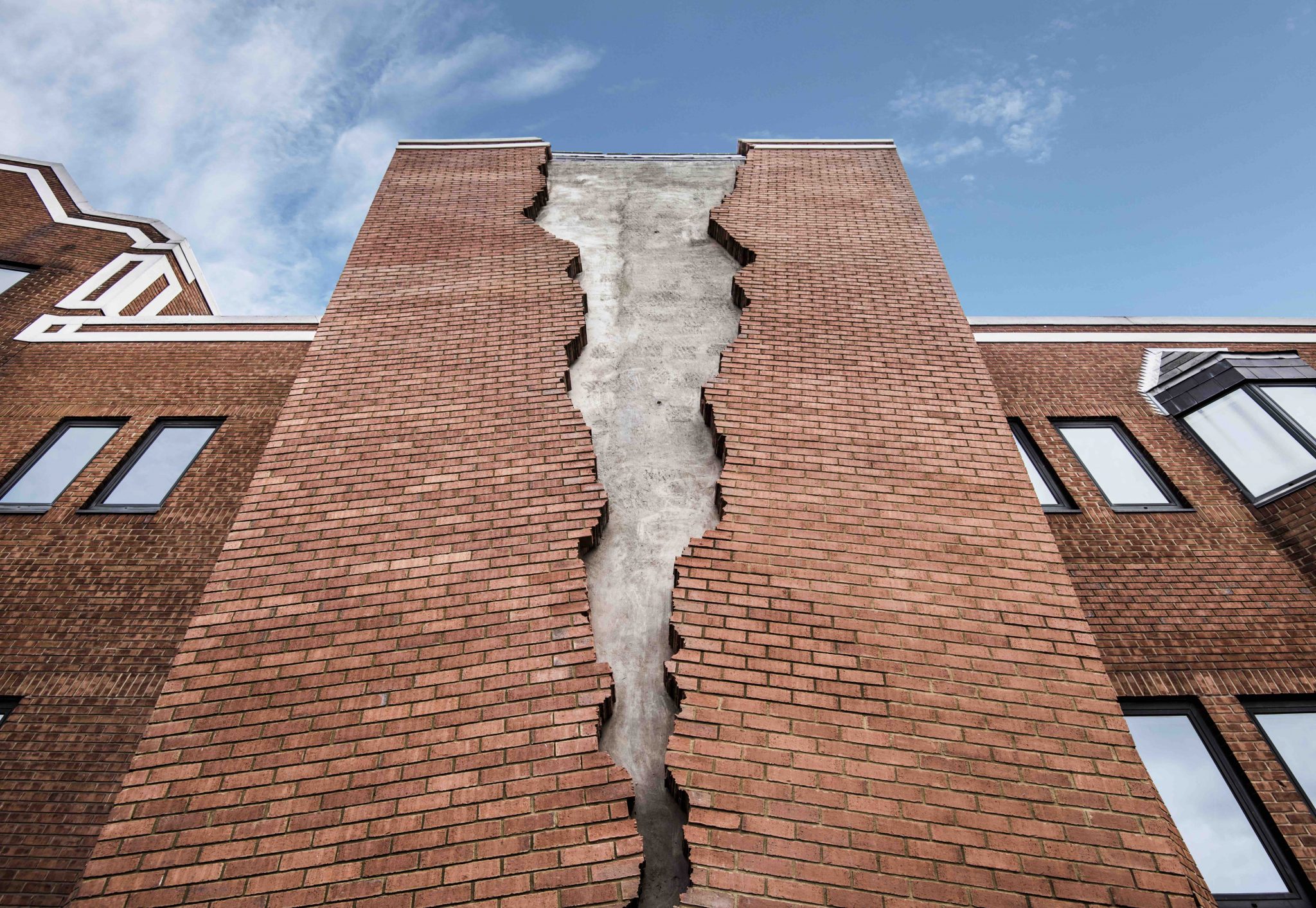 This landmark public artwork is Chinneck's first permanent sculpture and follows projects that include a 35-metre inverted electricity pylon, a melting house constructed from 7,500 wax bricks and a hovering stone building for London's Covent Garden Piazza. Reaching 20-metres above ground level and weighing ten-tonnes, the artwork theatrically animates the structure from which it leans, uniting Chinneck's signature use of art, architecture and engineering to create an ambitious combination of surrealism and spectacle.
Constructed from 4,000 bricks and over 1,000 stainless steel components, the installation represents a 14-month collaboration of British art and industry with engineers, steelworkers and brick-makers working alongside the artist's team.




Speaking about the artwork, Alex Chinneck said:
"The work was conceived to engage people in a fun and uplifting way. Although we use real brick, it was designed with a cartoon-like quality to give the sculpture an endearing artifice and playful personality. I set out to create accessible artworks and I sincerely hope this becomes a popular landmark for London and positive experience for Londoners.Following 14-months of development, this represents my studio's first permanent project and we are excited to be working on more. Forthcoming artworks include a trail of four sculptures with a combined height of 163-metres that will be constructed from over 100,000 bricks."
Alex Chinneck's 'Six pins and half a dozen needles' is a permanent installation and can be viewed at Assembly London, 77 Fulham Palace Road, London, W6 8JA from Tuesday, August 1st, 2017.
About The Artist
Uniting the disciplines of art, architecture, theatre and engineering, the work of British sculptor Alex Chinneck is monumental in ambition and impact, producing contextually responsive interventions that make the public stop, wonder and smile.
Alex Chinneck is a graduate of Chelsea College of Art and a trustee of the Royal British Society of Sculptors.
His work has been featured extensively by international media with selected projects welcoming over one million visitors.
Categories
Tags