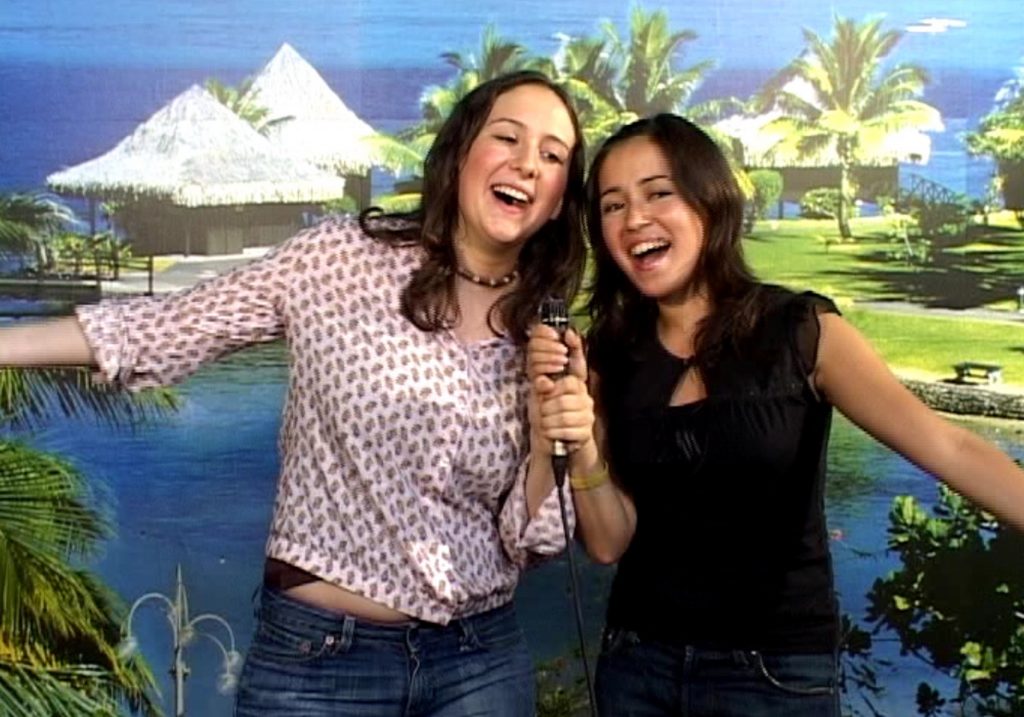 Pop music has always been viewed as a ladder up for working class talent in contrast to the exclusivity of the world of 'fine art'. The Towner's zingy new exhibition is a shout out for the value of popular-minded art as an empowering force that transcends social class and taste.
"Now, Today, Tomorrow and Always" is a lyric from the Smiths song Shoplifters of the World Unite, from the album The World Won't Listen. For Phil Collins's video installation dünya dinlemiyor ("the world won't listen") (2005) the artist invited Turkish fans in Istanbul to sing their favourite songs from the album in karaoke style on film. Their wobbly takes are funny and poignantly heartfelt. It's striking to think about people around the world learning English from a body of miserable songs about Manchester.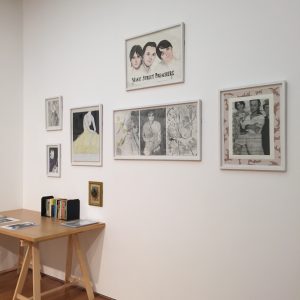 Jeremy Deller's The Uses of Literacy (1997) is also crowdsourced. Deller asked fans of the Manic Street Preachers to submit their fan art, which is as heartfelt as the Turkish Smiths karaoke and is of a piece with Deller's work archiving folk art. Collins, Deller, the Smiths and the Manics are united by an open, democratic view of culture as a force that shapes and broadens our minds. Towner Gallery curator Brian Cass emphasises that "Pop culture is our universal culture."
Morrissey and the Manics' lyrics are bursting with literary allusions and quotations which themselves became a mine for slogans apt for personal expression on school books and shirts. Ross Sinclair's T-Shirt Painting (1993-1998) presents hand-painted shirts with lyrics and phrases Sinclair has selected to be by turns barbed and banal: JUMBO PACKAGE; JESUS IS A WOMAN TOO; THE KKK HAS GOT 3 PIECE SUITS; YOU SUCK.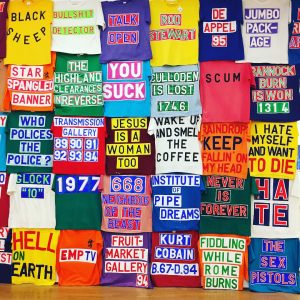 Even more than music, cinema fuels pop culture. Its imagery haunts our dreams and album sleeves. Graham Gussin slices and recombines stills of Psycho and the Exorcist. Kelly Richardson's prints find unnerving gothic landscapes in the Friday the 13th movies. John Stezaker's collage Psycho Montage III (The Mirror) (1978) presents a Lacanian encounter with Hitchcockian montage. A quintet of Mario Rossi's 200-strong series of end-cards from classic movies "The End/Untitled" (1996-2000) are like empty popcorn boxes left over by the star machine.
Mark Leckey's half-hour film Parade (2003) is a typically hallucinatory vision of cultural consumption eating itself, a claustrophobic déshabillé of images from fashion models to pawnshops. Jim Lambie's Sid Vicious (2001) sculpturally enacts the barely talented punk casualty's life folding in on itself.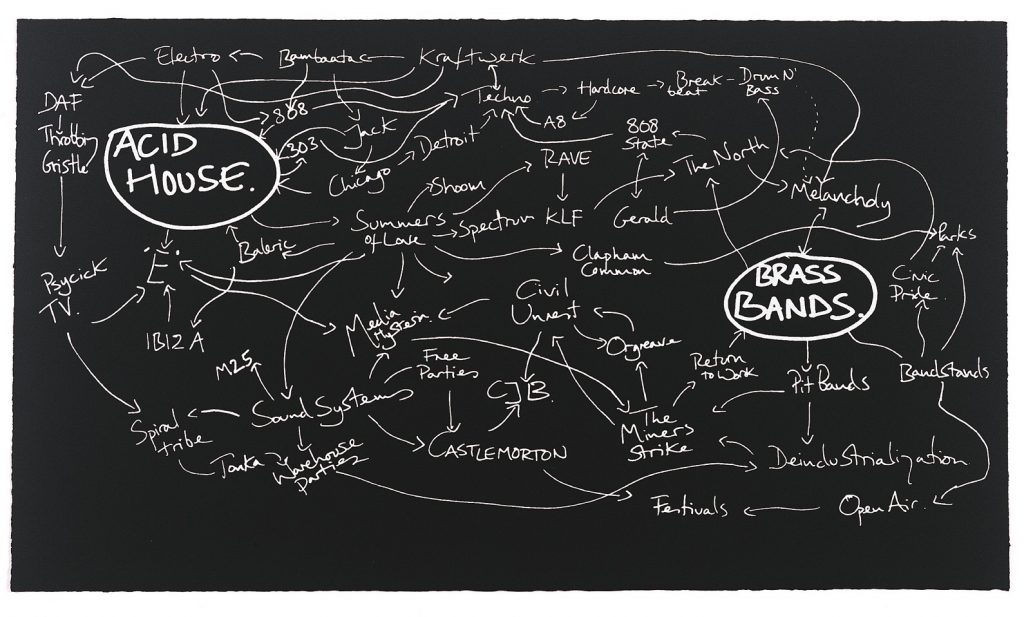 Pop revels in unlikely juxtapositions. In Anthea Hamilton's Venice Kimono (2012) John Travolta gazes out of an assemblage of objects combining fragments of Japanese Kabuki theatre, Venetian architecture and 1970s disco. Matt Stokes's Jubilee Dancer (2011) accompanies 16mm night-vision footage of rave counterculture with a folk jig for flute. Jeremy Deller's spider diagram The History of the World (1998) draws a web of surprising connections between acid house and brass bands.
"Now, Today, Tomorrow and Always" 22 July – 8 October at Towner Art Gallery, Eastbourne.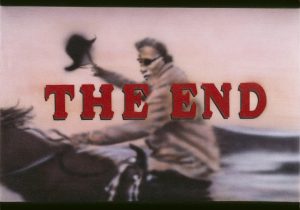 Categories
Tags