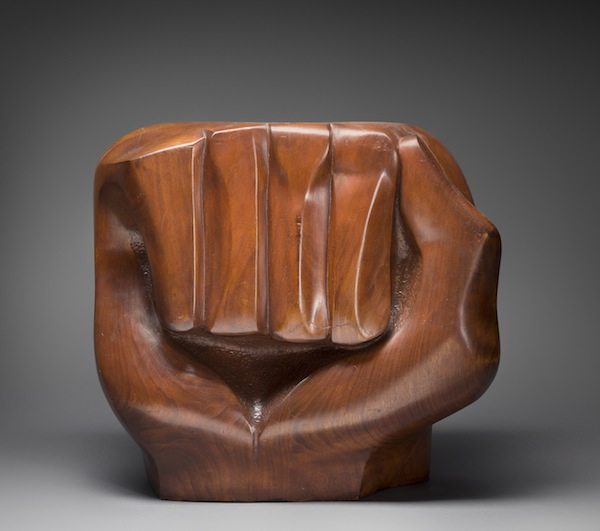 2014.11 Elizabeth Catlett Sculpture Black Unity, 1968 21 in. × 12 1/2 in. × 24 in. (53.3 × 31.8 × 61 cm)
This article titled "Soul of a Nation review – the extraordinary art of the black power era" was written by Laura Cumming, for The Observer on Sunday 16th July 2017 07.00 UTC
A man with shades and a perfectly picked afro stands against a flat silver background. He is dressed in a Superman T-shirt. His muscular arms are folded in a painting as sharply defined as a medieval icon, yet as modern as his aviator shades. The canvas, from 1969, is highly stylised and irreducibly cool.
This is the self-portrait of Barkley L Hendricks, who died in April at the age of 72. Its visual double take – black man in white man's costume, and in his painterly tradition – is multiplied by the mordant title. Icon for My Man Superman (Superman Never Saved Any Black People – Bobby Seale) quotes a famous remark of the founder of the Black Panthers. But Hendricks has no need of Superman. He saves himself – hero of his own fiercely intelligent painting.
If Hendricks is a new name at Tate Modern, he is by no means alone. Nine-tenths of the cast list may well be unfamiliar. Soul of a Nation: Art in the Age of Black Power covers 20 years of black art, beginning with the 1963 March on Washington and the inauguration of the Spiral group in New York. This artists' collective formed specifically to ask what black art could, or should, be. These two questions – which are by no means the same – get different answers all through this fantastically dynamic show.
Spiral decided to work only in black and white, allowing for all the politics of contrast. Some believed in unadulterated rhetoric – clashes and protests, news images of violence enlarged or adapted. Reginald Gammon's Freedom Now simply shows black figures marching straight towards you, placards barely cropped by the frame: a head-on confrontation in itself.
But directly opposite, and strategically placed, is a tremendous painting by Norman Lewis. Lewis was an abstract expressionist, and at first sight his black-and-white canvas appears entirely abstract – arrays of geometric white shapes flickering against sepulchral darkness. It is only after your eyes adjust to the visual dissonance that the true subject of the painting emerges: these are the triangular hoods of Klansmen gathering by night with their torches and flaming crosses. This is the terrifying sight of whiteness.
It is perhaps no surprise that Spiral mounted only one joint exhibition. Black artists could not agree on what they should exhibit. Alvin Loving, the first African American artist to have a solo survey at the Whitney Museum, showed hard-edge geometric abstractions there in 1969. The critics loved them, but Loving's fellow black artists scourged him for bowing to the white art scene. He returned to the studio, cut up his canvases and made a completely new kind of art from the fragments, somewhere between collage and political banner.
The spirit of protest keeps exact pace with the times. Melvin Edwards's devastating Lynch Fragments, dark and knotted sculptures formed out of hooks and manacles, speak directly to Klan murders in the early 60s. Noah Purifoy's bristling totems, conjuring nameless violence, are fashioned out of garbage from the LA streets following the 1965 Watts riots. Dana Chandler's lime green door, riddled with bullet holes, commemorates the gunning down of a young Black Panther activist named Fred Hampton in his Chicago apartment in 1969.
Prints of Chandler's door were distributed as a reminder of police brutality through the Black Panther newspaper. Back copies at Tate Modern show the art of Emory Douglas in all its graphic zip and register. Revolutionaries preach international solidarity, workers' rights and black freedom. In the spectacles of a poor black kid the free breakfasts of the future are reflected. An armed Panther wearing a Self-Defence badge appears in printer's Benday dots, a neat (and early) pastiche of Roy Lichtenstein; putting some politics into pop.
Some of the art here doesn't really care too much about appearances. This is especially the case with the evolving pantheon of black heroes, including some pretty crude portraits of James Baldwin and Malcolm X in eye-popping DayGlo. The Wall of Respect in Chicago, a high-profile mural on an abandoned South Side building, seems to have set the tone. This influential project was established in 1967 by the Organisation of Black American Culture to celebrate its stars (and the arguments about who should be included are well documented in a section of this show). But you can't easily recognise Aretha, Smokey and Ornette in the wilfully awkward portraits the way you can immediately hear their music in your head.
If this show had a soundtrack, it would feature all of these musicians and many others depicted here, from John Coltrane to Elaine Brown and Marvin Gaye. Barkley Hendricks's painting What's Going On – an immaculately suave painting of four black men in white suits against a white background, throwing intense focus on their pensive faces – pays tribute to Gaye's song. And it somehow gets directly into that moment where black protest songs turned into hip commodities. What's Going On was written in response to police brutality during anti-war protests in Berkeley, but it soon lost that grim association. The song was the fastest-selling Motown single of the time.
Barkley, ever the ironist, also offers easily the most startling painting in this show – of himself, naked but for his socks and hat, one hand directing attention to his resplendent genitals. It is a painted retort to a review in 1976 by the imperious New York Times art critic Hilton Kramer, who had described him – unconsciously dealing in racial stereotypes – as far too slick if "brilliantly endowed".
This is a riveting show – angry, zestful, ebullient, sardonic, wildly energetic, powerfully direct, occasionally sorrowful and tentative. Even its failures – and there are plenty of mediocre works that strive for nothing except blatant public address, from the dreadlock tapestry to the op-art Malcolm X – have their historic resonance. But the question irresistibly presents itself, in the end: is the impact more political or aesthetic? Does the choice of form or medium feel secondary?
Some of this art has nothing to do with black rights at all. It is marvellous to see an abstract painting by Alma Thomas, for instance, a gorgeous lattice of red against voluminous blue entitled Mars Dust (the artist had been following Nasa's failed 1971 mission to Mars). And some of it wants to be free of race issues altogether.
Martin Puryear's Self is a tragic hump of a sculpture. A strange new form, somewhere between mountain, lump and thumb, the height of the artist but inscrutable and stately, it is an unforgettable masterpiece. Made of carved and polished wood, but hollow when you knock it, this is a singular metaphor – a mysterious self-portrait, all its secrets held within, as the outer form so beautifully implies. On the other hand, it is painted black.
Puryear, who has a show at London's Parasol Unit in September, is one of the giants of this show. So is the conceptual artist David Hammons, whose coruscating body prints – a black figure with various props on a black ground – include the punningly titled Three Spades. But still there are artists here whose work is all but invisible in Britain, as if the discrimination never ends.
Perhaps the biggest revelation is the nonagenarian artist Betye Saar. She hits the nail every time. Her most unforgettable work is a metronome (a nod to Man Ray) with a tiny blackened corpse attached to the needle. Glued to the open lid of the instrument is a newspaper cutting about a black man lynched for refusing to dance to a white's man tune. The object both embodies and expresses the full horror: the corpse will have to keep time for ever, yet the metronome also acts as a reliquary, a tiny coffin commemorating the dead man. Its epigrammatic title is I've Got Rhythm.
• Soul of a Nation: Art in the Age of Black Power is at Tate Modern, London, until 22 October
guardian.co.uk © Guardian News & Media Limited 2010
Published via the Guardian News Feed plugin for WordPress.
Categories
Tags