Mr Punch – what a psychopath! He just can't stop himself beating the shit out of virtually anyone he encounters. Even so, Judy still entrusts him with the care of their baby. What sort of a family is this? The antics of these long-nosed puppets has traditionally played out from a flap in a stripy booth, usually on the English beach – but what it would it be like to get behind the casual violence and cackle, and enter their private world? In Love Life, the artists Emma Hart and Jonathan Baldock take us there. The first act in their exploration of Punch and Judy's domesticity was in Hoxton's PEER Gallery. The second act (until 12th August), goes deeper, responding to its setting in the Grundy Art Gallery, established in Victorian times in the brightest but sometimes basest of seaside towns, Blackpool. Items from the Grundy's own collection add to the show, and as we shall see, resonate with the artists' vision.
The world Hart and Baldock create is wry, creepy, familiar and strange. Individual sculptural works are by either artist, but play on the same themes, building seamlessly into a Gesamptkunstwerk, or total work of art. The initial gallery sets the scene. Beside a wall painted in the traditional red and white stripes of Punch and Judy booths, sounds blare from speakers from which a penis hangs, while boobs emerge from the cassette deck on the hi-fi stack. It's raucous and saucy, like seaside post cards, but in a Sarah Lucas sort of way. On the other side of the room is a giant glowing thumb especially made by the fabricators who normally work up the city's popular annual 10km-long light parade, the Blackpool Illuminations. It spells out Mr Punch's disturbing domestic regime – this is a home where everything is 'under his thumb'.
The main gallery is entered past a screen of eyes and windows, which tells us we're entering the home. Beyond the screen, partitions divide a pink carpet into four domestic spaces. Child-like ceramic speech bubbles by Hart are mounted, which say often darkly enigmatic things such as 'The way you use a knife'. Curiously, there are no knives on the dining table by Baldock, where forks end in hands. The plates are flat boobs with nipples, an example of a maternal/sexual theme that threads through this show, and they await what's cooking next door, around a partition wall. Look into the four pans on Baldock's cooker, a piece called It's not burnt it's caramelised, and you see eyeballs, tongues, penises and messages written in pasta – all in a pervasive bold red or deathly black. His washing machine, called Out damn'd spot, spews blood-red cloth onto the floor, like a massive menstruation – but whose blood may have coloured it? Scattered around the floor are feet in black socks whose toe-ends form mouths – Hart says they 'are nagging. They're riffing on the lives of soft puppets'.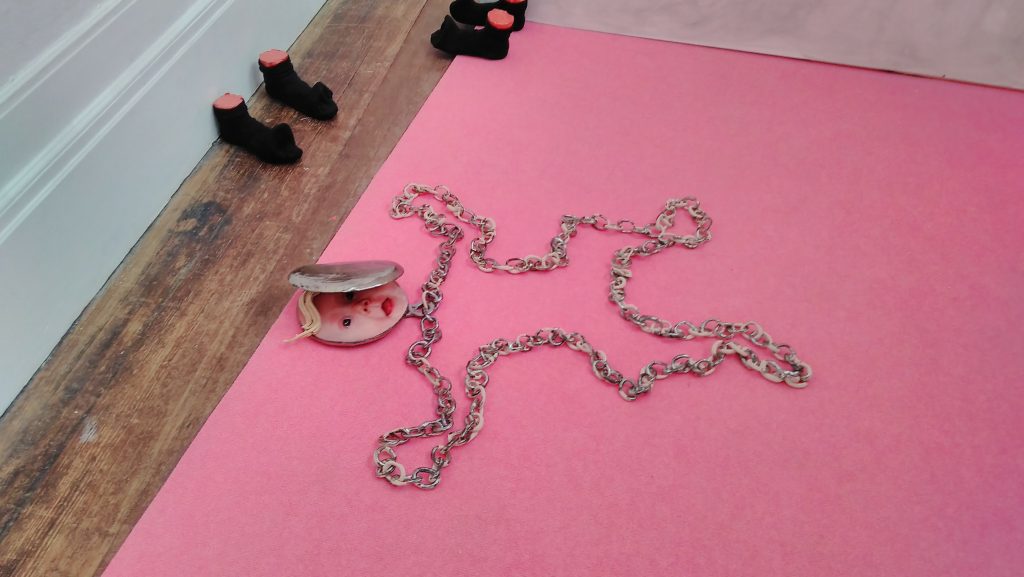 What about the baby? This is the crucial character that holds the house together, but is usually just a prop. Baby is tackled in two works. Baldock's pink A Guiding Hand is a huge baby stroller with arms and a monstrous head with a single eye on an embedded screen, while Hart's Locket and Chain sees the chain fallen on the ground to make a shape like the outline of a body at a crime scene, while the giant locket reveals a baby face, coincidentally but unintentionally Trump-like with its blonde fringe. Is the baby dead, or is it the bizarre, controlling presence on wheels with its watchful eye? Who is the baby anyway?
This Punch and Judy home is a full of innuendo, a staple of seaside popular culture, but the innuendo is sinister. There is the creeping feeling of horror in this place – deadly deeds are implied, and dark thoughts nestle in the brightly coloured domesticity. Individual works are exquisitely surrealistic, mad things that open up Freudian subconscious levels of power, maternity and sexuality. When asked, Hart and Baldock both deny being surrealists, although Hart confesses that she's a big Magritte fan. 'I'd say it's realism', she says.
Yet it is as if we have stumbled into this horror house when everyone's out. Where are Punch and Judy? The two other galleries present very different but unexpectedly complimentary portraits.
One hosts the afore-mentioned items from Grundy's own collection. Those that stage Punch and Judy shows are known as professors, and normally their puppets and booth are destroyed when they die, but Blackpool's Professor Green bequeathed his to the city when he retired in 1984. His starry booth with fairytale backdrop inside is magical, and his puppets in their tailored coloured cloth are works of character and craft. They share the room with three masterful, meticulous paintings by local artist Colin Frederick Smith, who died earlier this year. Mr Punch peeps out from curtains, and poses proudly with Judy and their baby, whose nose is already lengthening. The third sees a professor in a booth and the sunny beach behind, the innate surrealism underlined by Mr Punch climbing the standard prop of a string of sausages.
And finally, Baldock and Hart don long noses and take on the roles of Punch and Judy, or at least the apparently-ordinary couple they represent, in a looped 12-minute film called Love Life. This is an intimate, speech-free insight into the oppressive awkwardness of domestic normality. It is funny – the mail pushed through the letterbox becomes a flood, a notice about smell pops up by their feet as they lie in bed. But again, it is sinister – gentle prodding of sleeping flesh synchs to the sound of violent blows, for example. 'I'd hate to give anyone a lecture on domestic violence', Hart commented, but the whole show suggests its everyday presence.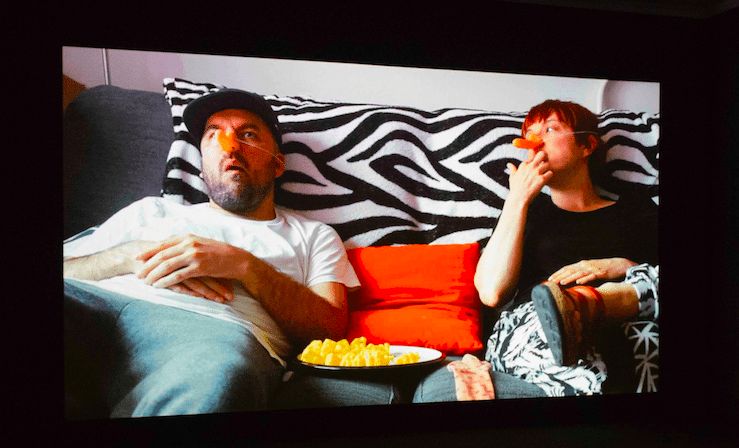 Both Hart and Baldock are major contemporary artists. Baldock, interviewed for FAD by Marcelle Joseph this month, currently has a show There's No Place Like Home at CGP London (until 30 July 2017) that includes a collaboration with Kokoro Dance Company of Vancouver. (Note: the interview gives an incorrect closing date for the Grundy show!) Hart, meanwhile, is the winner of the 2017 Max Mara Art Show for Women, marked by a major Whitechapel Gallery show Mamma Mia! opening July 12th.
Is it worth the trek to Blackpool to see Love Life? Totally! Quite apart from the popular spectacles, titillations, trams and rides the town is known for, it has some stunning architecture, strange municipal installations and vast stretches of beach where it is easy to lose the crowds and transcend into the elements. The Grundy also hosts a good retrospective of Shirley Baker's photographic social documentation of 1970s beachlife, here and in France. But not least, Hart and Baldock have created a compelling childhood journey that is far from innocent – a theatrical, intimate world. It is utterly captivating, and Blackpool is the perfect place for it.
Emma Hart and Jonathan Baldock's Love Life, Act II at the Grundy, Blackpool, Queen St, Blackpool FY1 1PU until 12th August .
Free entry. Opening Hours Tuesday-Saturday 10am-5pm
Images and Credits
All images from Love Life, Act II at Grundy Art Gallery, Jonathan Baldock & Emma Hart, 2017
Image 1: Installation shot including Thumb fabricated by Blackpool Illuminations. Photo: Jonathan Lynch
Image 2: It's not burnt it's caramelised, by Jonathan Baldock 2016. Photo: Herbert Wright
Image 3: Installation shot showing partitioning of domestic spaces. Photo: Jonathan Lynch
Image 4: Locket and Chain 2016, with some feet, Emma Hart. Photo: Herbert Wright
Image 5: Professor Green's Punch and Judy booth with paintings by Carl Frederick Smith. Photo: Jonathan Lynch
Image 6: A shot of the film Love Life, Jonathan Baldock & Emma Hart, 2017. Photo: Jonathan Lynch
</script>
<script type="text/javascript"
src="//pagead2.googlesyndication.com/pagead/show_ads.js">
</script>
Categories
Tags