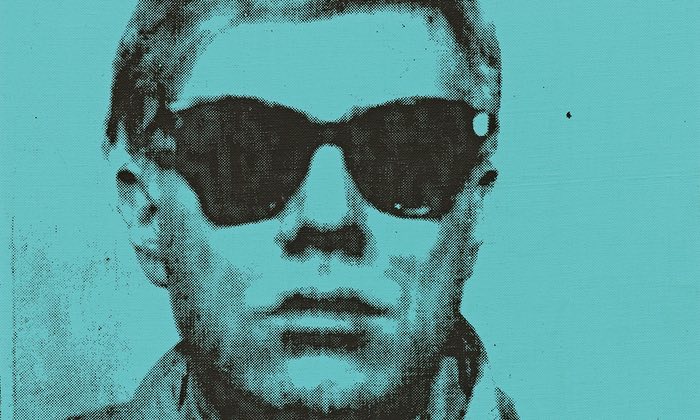 Detail from Andy Warhol's first self-portrait from 1963, which has been in a personal collection since the 1980s.
---
This article titled "Andy Warhol's inaugural 'selfie' expected to fetch £7m at auction" was written by Hannah Ellis-Petersen, for theguardian.com on Tuesday 13th June 2017 23.01 UTC
He was the artist embracing selfie culture half a century before the rest of us. And now, the self-portrait that secured Andy Warhol's move from artist to celebrity – his inaugural "selfie" – is to be sold at auction for the first time.
The print from 1963 was created using an image of Warhol taken in a standard New York dime store photo booth, and was the beginning of the artist's own face becoming a distinctive feature of his artwork until he died.
The work will go on sale at Sotheby's in London, the first time it has ever been sold at auction, having been in a personal collection since the 1980s. It is expected to sell for about £7m.
While the phenomenon of the selfie is relatively new, it draws on the cult of celebrity Warhol was obsessed with, and the age of Instagram and social media makes his now-notorious proclamation that "in the future everyone will be world-famous for 15 minutes" seem extremely prescient.
Sotheby's senior specialist in contemporary art, James Sevier, said: "The artist's first self-portraits – created using a strip of photographs taken in a New York dime store photo booth – have never felt more relevant to contemporary culture."
He added: "This is a work of immense art historical importance that marks the watershed moment when Warhol joined the canon of the greatest self-portraitists."
By the time he turned the camera on himself, Warhol had already made his distinctive portraits of figures such as Marilyn Monroe, Elizabeth Taylor and Elvis Presley, and his own star as a celebrity, was rising. The self-portrait idea was suggested by art dealer Ivan Karp, who told Warhol: "You know, people want to see you. Your looks are responsible for a certain part of your fame, they feed the imagination."
After the work was done, Warhol was taken with the blurred line between his own persona and identity and the art he created, and his later self-portraits reflect the growing concerns he had with mortality.
The use of a photo booth was also very fitting for Warhol, said Alex Branczik, Sotheby's head of contemporary art in Europe.
"Those photo booths are great levellers," said Branczik. "Whoever you are in society, whether you are a struggling artist, a student or a successful businessman, everybody has to sit in those photo booths at some point and have their photos taken, in exactly the same format, in exactly the same way. This was an idea that really appealed to Warhol, who was a great democratiser."
Branczik said the first self-portrait was a reminder of how relevant Warhol's works, and reflections on culture, celebrity and narcissism, remained today, and said the artist would have fitted in well in today's society. "Warhol would love a good selfie stick I think," he said.
Andy Warhol, Self-Portrait, (1963-64) goes under the hammer at Sotheby's contemporary art evening auction in London on 28 June.
guardian.co.uk © Guardian News & Media Limited 2010
Published via the Guardian News Feed plugin for WordPress.
Categories
Tags