FAD caught up with Tahnee Lonsdale ahead of the opening (this Wednesday 10th May) of her new exhibition 'Furnished'.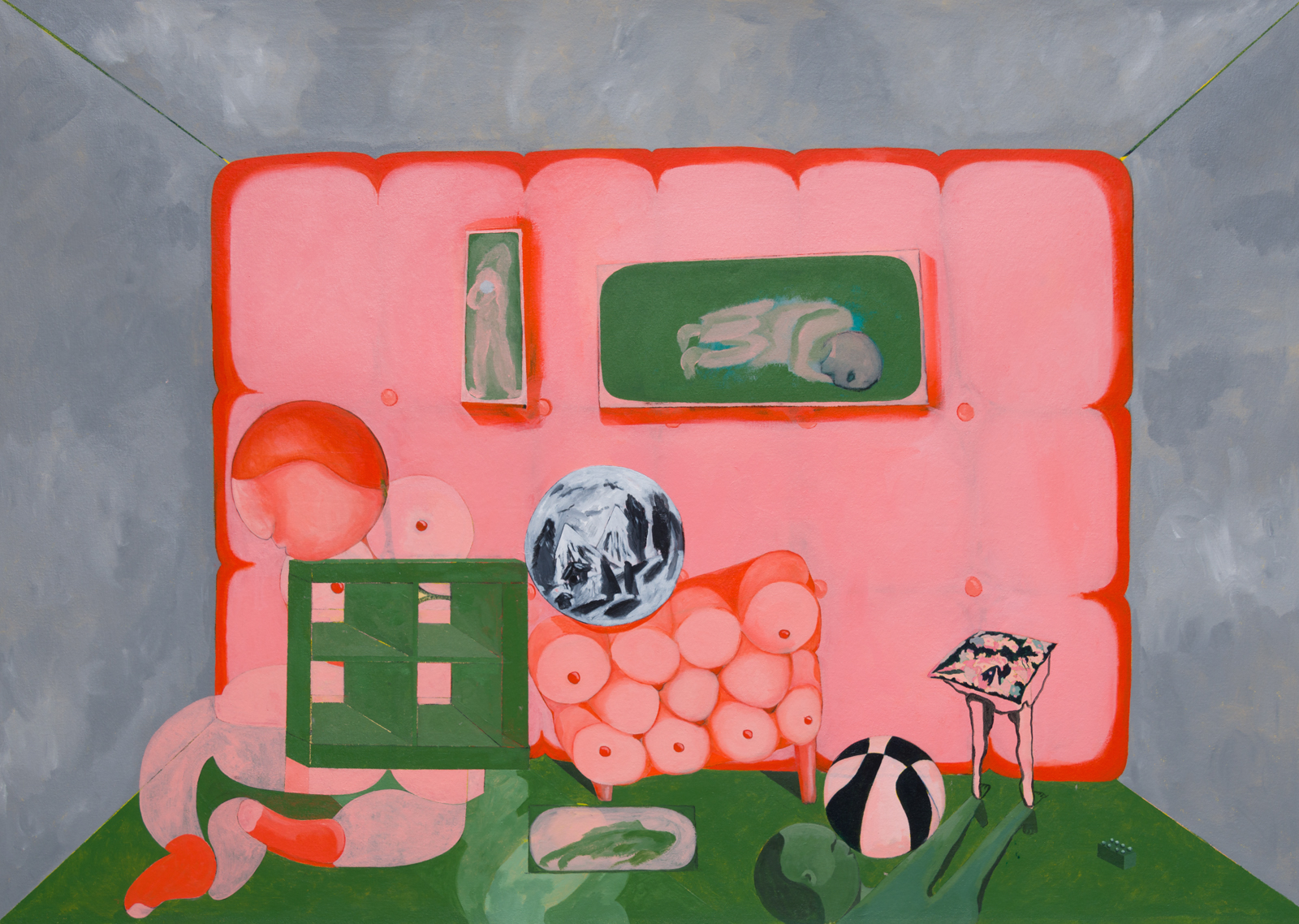 Still Life Acrylic on canvas 145 x 104 cm
1 Can you tell us about this new series of paintings Furnished?
'Furnished' is a reference to domesticity. Something I became very familiar with when I first moved to LA. Being thrust into domestication sharpened my focus onto how easily we slip back into these roles. Out of my frustration and domestic matriarchy came this collection.
When I started making this series I was very focused on the idea of gender roles and how they play out behind closed doors. I used furniture as a reference to domestic life; the table representing 'a woman's place', the sofa at the centre of the archetypal British family, and chairs cluttering up our homes.
I wanted to humanise these items of furniture as a way to create tension around the idea of submission and marriage. I also wanted to explore the tension and prudeness around the topic of sex. How does this all tie together? As an antidote to all this domestic anxiety is also humour, the mishaps and innuendos.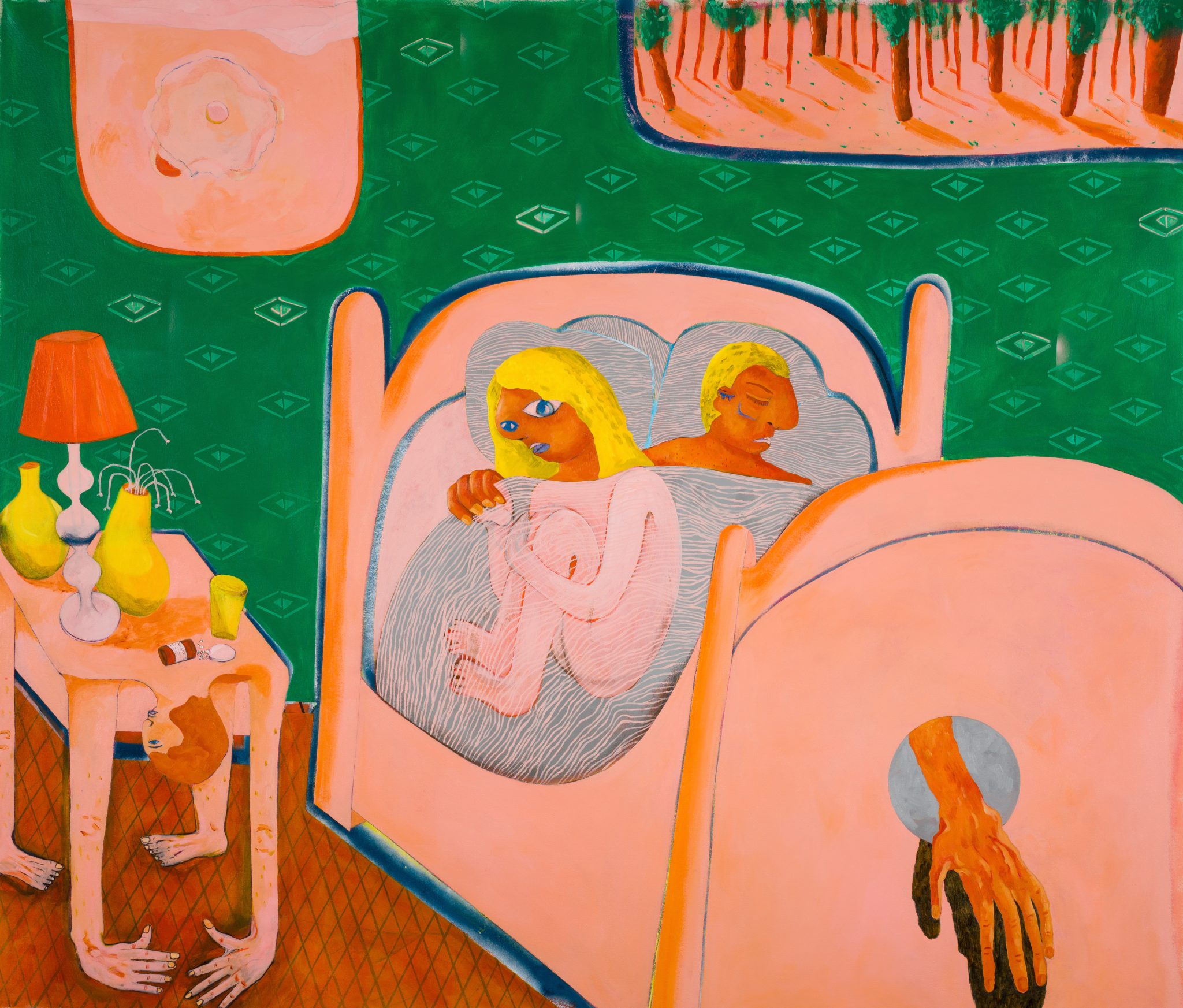 Til death us do part Acrylic on canvas 189 x 161 cm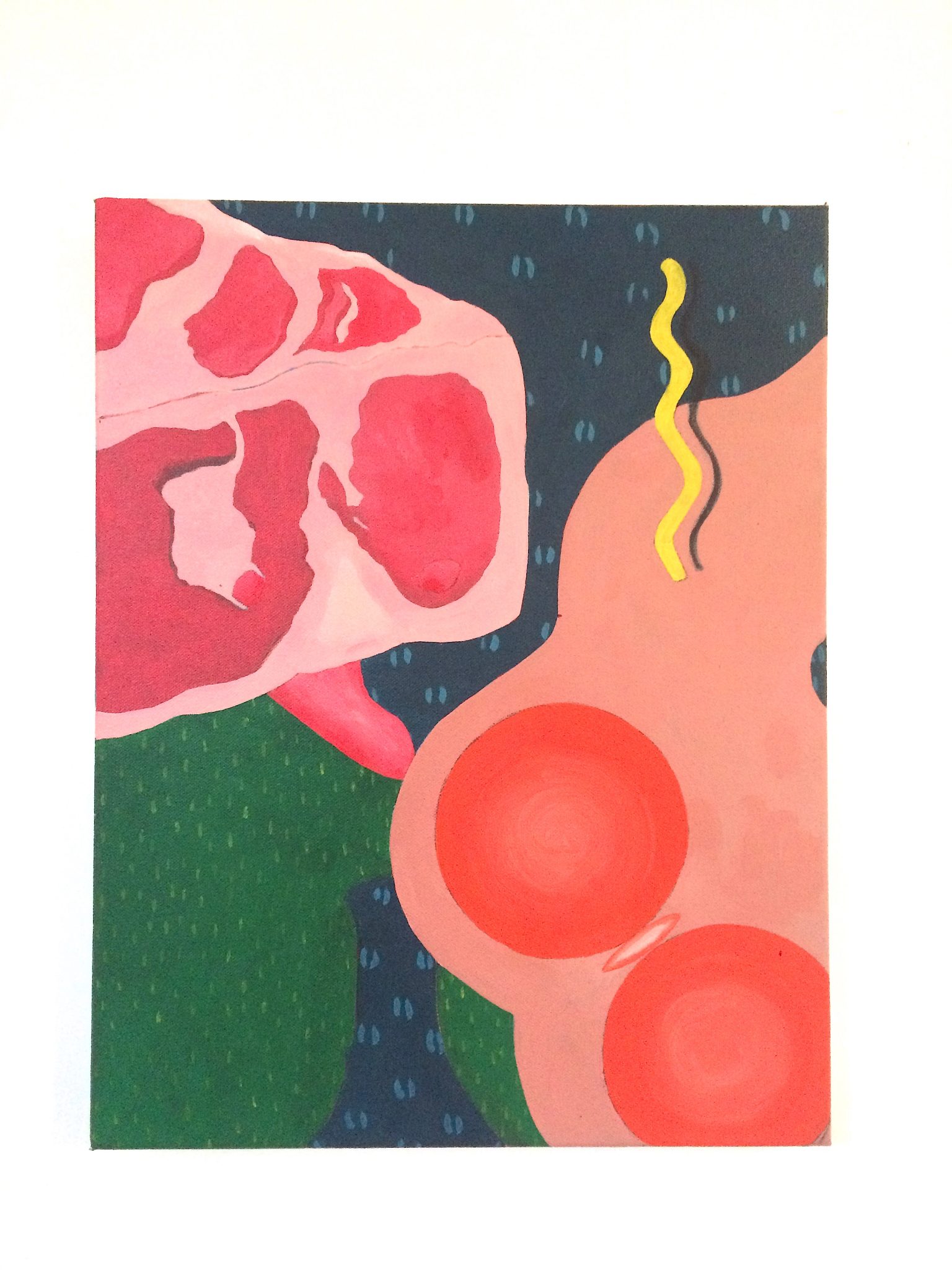 Tongue Acrylic on canvas 36 x 46 cm
2 Does living in L.A influence your work?
It has influenced me in that its a new place. There is a sense of liberation and power in moving to a different place, where you know no one and no where; you can recreate your identity and explore new ideas without expectation. But my process is the same. I still go to my studio, sit for way too long drinking tea and scrolling through Instagram before I start working. I stand staring at a painting for hours unsure what to do next, then suddenly it's the end of the day and I barely have time to clean my brushes before rushing home to do the kids' dinner.
3 Do you ever consider other mediums apart from painting?
Yes, in fact, since moving to LA I've been using sculpture as my primary reference point for my paintings. Once the foundations of the painting are down, the sculpture is inconsequential. But it is now so much part of my process and as a result of this sculpture, photography also comes into the mix; I build, photograph and draw, all before moving to canvas. The sculptures started out as basic relief sculptures, layering cutouts of cardboard to create a 2D version of a 3D scene, mostly the rooms inside our house. From these half-sculptures I created my first LA paintings. I then moved onto dolls house furniture, which I stacked into precarious towers of miniature sofas and dressing tables, sometimes allowing them to topple, and then photographed them. From these images I traced sections and negative spaces which informed compositions for large abstract paintings. From there I moved onto full sized items of furniture, chairs and tables from my studio. Tables took on a human identity, they became a representation of ideas of submission and repression. I loved creating these 3D artefacts, but they were only ever a means to an end, a stage in the process.
4 How do you feel about the current conversations around gender neutrality?
Would you like to be able to define yourself without a focus on your gender?
For me my gender is important, I'm happy to be a woman and embrace the challenge, regardless of its pitfalls and struggles. Gender neutrality is a tricky one – of course people should be 100% free to express themselves how they want, but society has a long way to go before we can expect actual neutrality. Kids are still getting bullied, there is still so much discrimination, it's unsettling at best. For me, there needs to be much more freedom within our assigned gender rolls, a blurring of lines.
5 What's up next for you after this exhibition?
I'm showing with De Buck Gallery, NY, this summer as well as Arusha Gallery this August.
I'll also be showing with Arusha and De Buck during Miami Basel in December. In January 2018, I will be at London Art Fair with Arusha followed with a solo show with De Buck later in the year.
You can see Thane's new exhibition 'Furnished' at Roberta Moore Contemporary 10 – 16 May 2017
Herrick Gallery, 93 Piccadilly, London W1J 7NF www.robertamoore.co.uk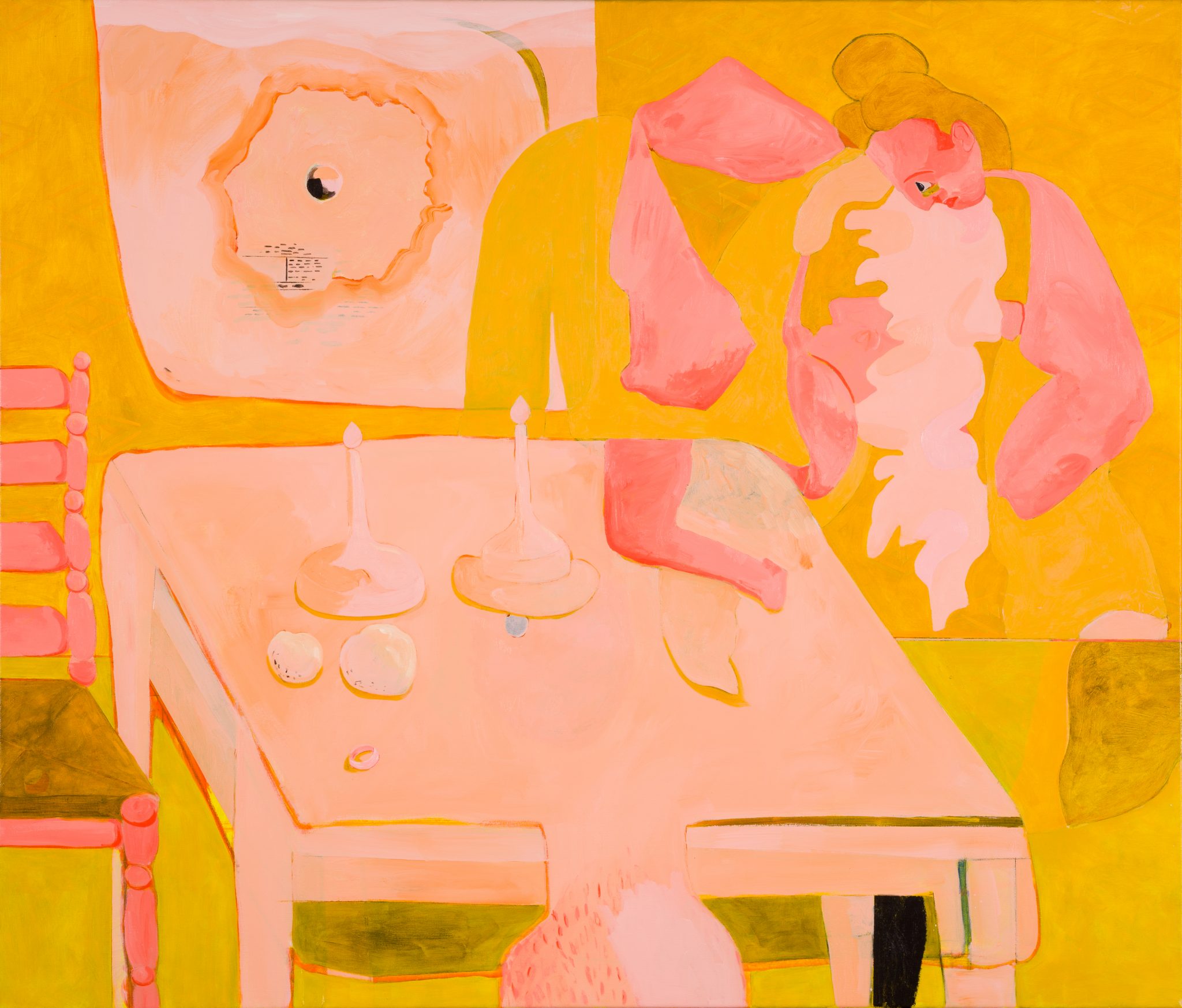 My Table Acrylic on canvas 119 x 101 cm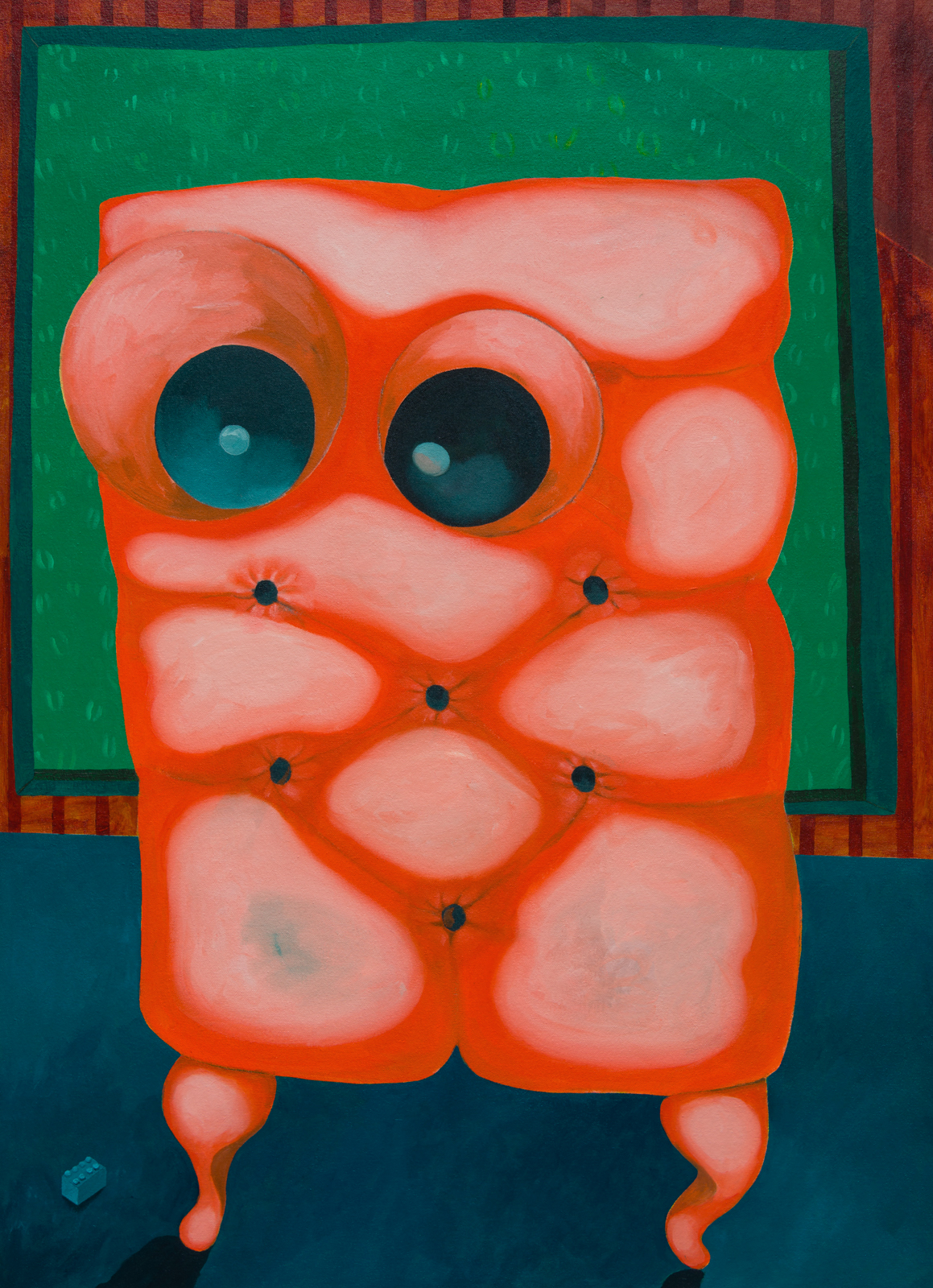 Old Dame Acrylic on canvas 73 x 100 cm
About Mark Westall