There are lots of art events happening in London; talks, workshops, tours, discussions and many many more! To help you with the choice Jenny Judova from Art Map London has picked 'The Most Interesting Art Events' to see in London this week.
---
TUESDAY 25 APRIL
Interfaces Monthly 042017: Rhythms and Algorithms
7:00 PM – 9:30 PM @ The Trampery Old Street, 239 Old Street, London, EC1V 9EY
The speakers in April's edition of Interfaces Monthly focus on different ways that generative tools might be developed or utilised in the production of art and design.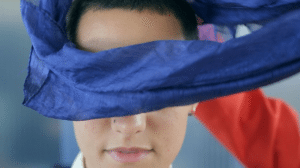 WEDNESDAY 26 APRIL
6:00 PM – 9:00 PM @ Roman Road, 69 Roman Road, London, E2 0QN
Roman Road is pleased to present MDAM, a duo exhibition by Mia Dudek and Alix Marie, two recent graduates from the Royal College of Art, London. Through the display of the artists' new works, the exhibition addresses themes of postgenderism and considers how humans are progressively losing contact with the physical body through the increasing automation of sexual pleasure.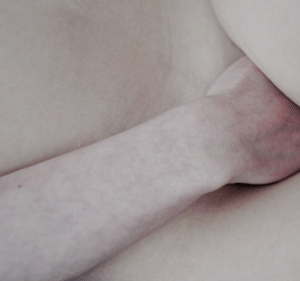 THURSDAY 27 APRIL
Preview: Athena Papadopoulos 'The Smurfette'
6:00 PM – 9:00 PM @ Emalin, Unit 4 Huntingdon Estate, Bethnal Green Rd., London, E1 6JU
Athena Papadopoulos was born in Toronto, CA in 1988 and lives and works in London. She completed her MFA at Goldsmiths, London in 2013.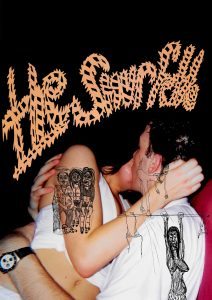 FRIDAY 28 APRIL
Preview: Nicky Hirst 'Real Size'
6:00 PM – 8:00 PM @ DOMOBAAL, 3 John Street, London, WC1N 2ES
'When I was a child, two things especially used to bother me a lot. I had heard that a giant squid could blanket Piccadilly Circus and if we pulled out our intestines they would reach the length of a tennis court. At Art College I was told to make it bigger. Later I learned that there are more atoms in a cup of water than there are cups of water in all the oceans of the world.' Nicky Hirst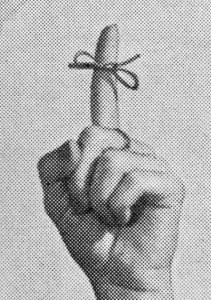 SATURDAY 29 APRIL
Micro Museum: NEW HORIZONS PANEL DISCUSSION
3:30 PM – 5:30 PM @ Micro Museum, Trussler Hall, Grundy Street, London, E14 6DR
Join curator Marijke Steedman in conversation with Laurie Nouchka and Tullie Rennie (both, Walls On Walls), Loraine Leeson (Docklands Community Poster Project/cSPACE), Chad McCail (This Used to be Fields, Becontree Estate) and Alberto Duman (Fine Art Social Practice, Middlesex University) on the role of mural-making and community art practices within the built environment.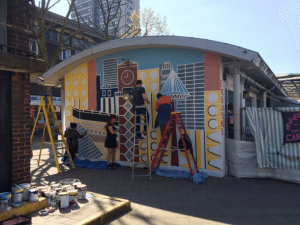 SUNDAY 30 APRIL
MotherX Open Studios at Queens Yard Summer Party
11:00 AM – 6:00 PM @ MotherX Studios, 9 Queens Yard, White Post Lane, Hackney Wick, E9 5EN
Join the MotherX artists for a celebration of local creativity at our open studios as part of Queens Yard Summer Party. Featuring makers from a wide range of disciplines from sculpture to weaving we will be welcoming the local community into our gorgeous space and offering taster workshops for some of our crafts.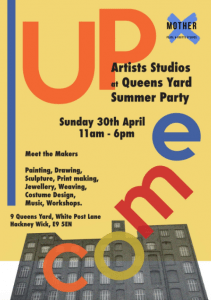 Categories
Tags