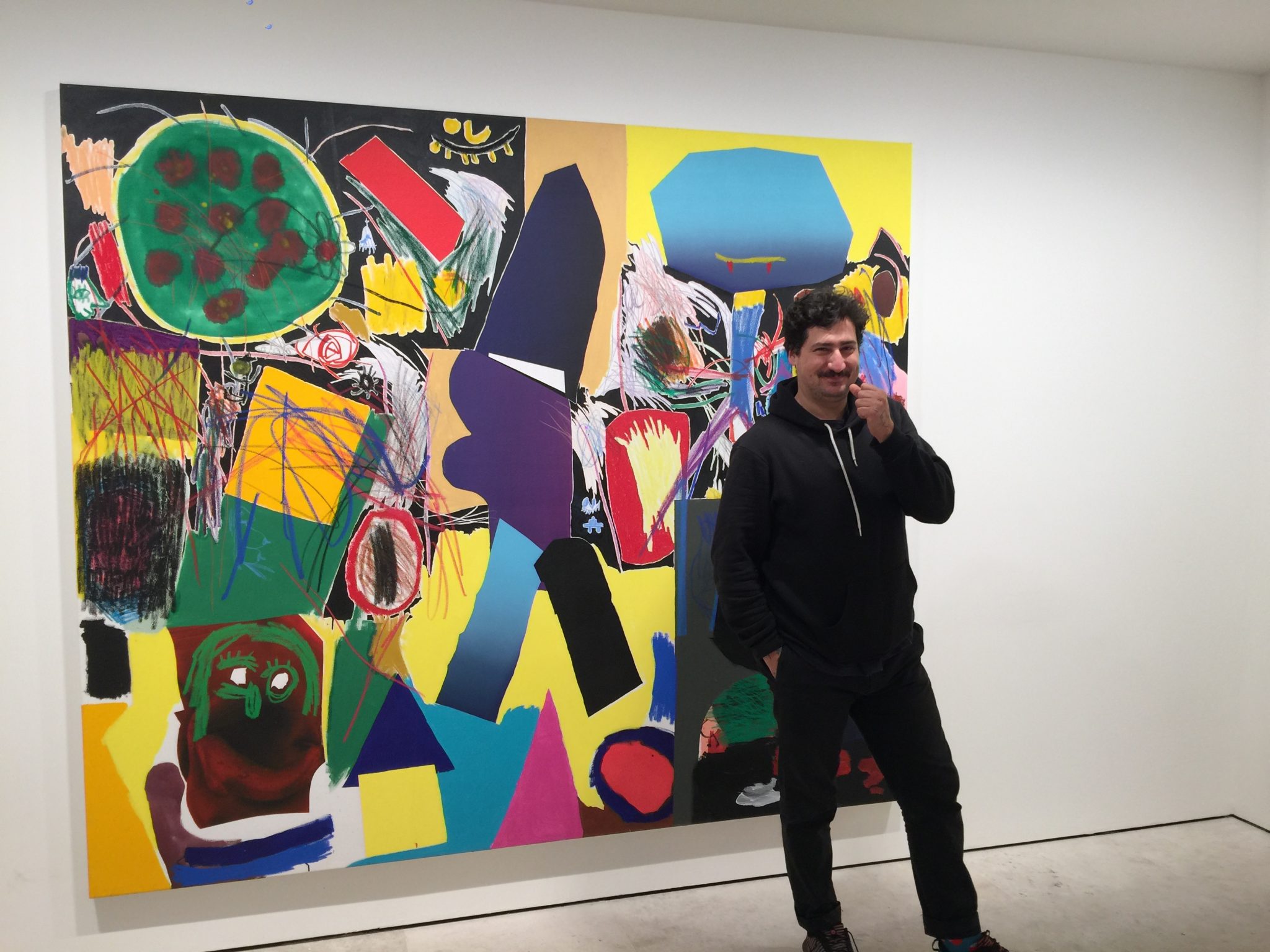 Portrait Jannis Varelas
Prior to the opening of Jannis Varelas first solo show in Brussels tonight FAD took the time to interview the Greek artist who is based between Athens, Vienna and Los Angeles. The show at Maruani Mercier gallery will showcase the full body of his work, including painting, drawings and sculpture, there will also be a performance tonight in the space. Janis will also feature at the Art Brussels Discovery section which is a must see for those visiting the fair and city.
What are the central themes of your work?
In general I deal with the human condition. Which means I deal with the position of human beings in society, in history and within its natural course.
But, each time that I do a project with my work, generally speaking, I pick one kind of theme, or a thematic structure that goes through all the works. And try to either pose a question about this specific theme, or create an idea of what it is about.
For example in this one, I started thinking about self-representation of today, through social media and through the idea of one's body. And then I went through this kind of abuse of the body that happens today.
Either through certain types of nutrition or attempt of shaping ourselves through the gym, to become fit, to become part of something which is culturally developed, as an ideal of the body, as an ideal of the self.
I never go literally to the theme. I use it as a starting point and then go on and on and on.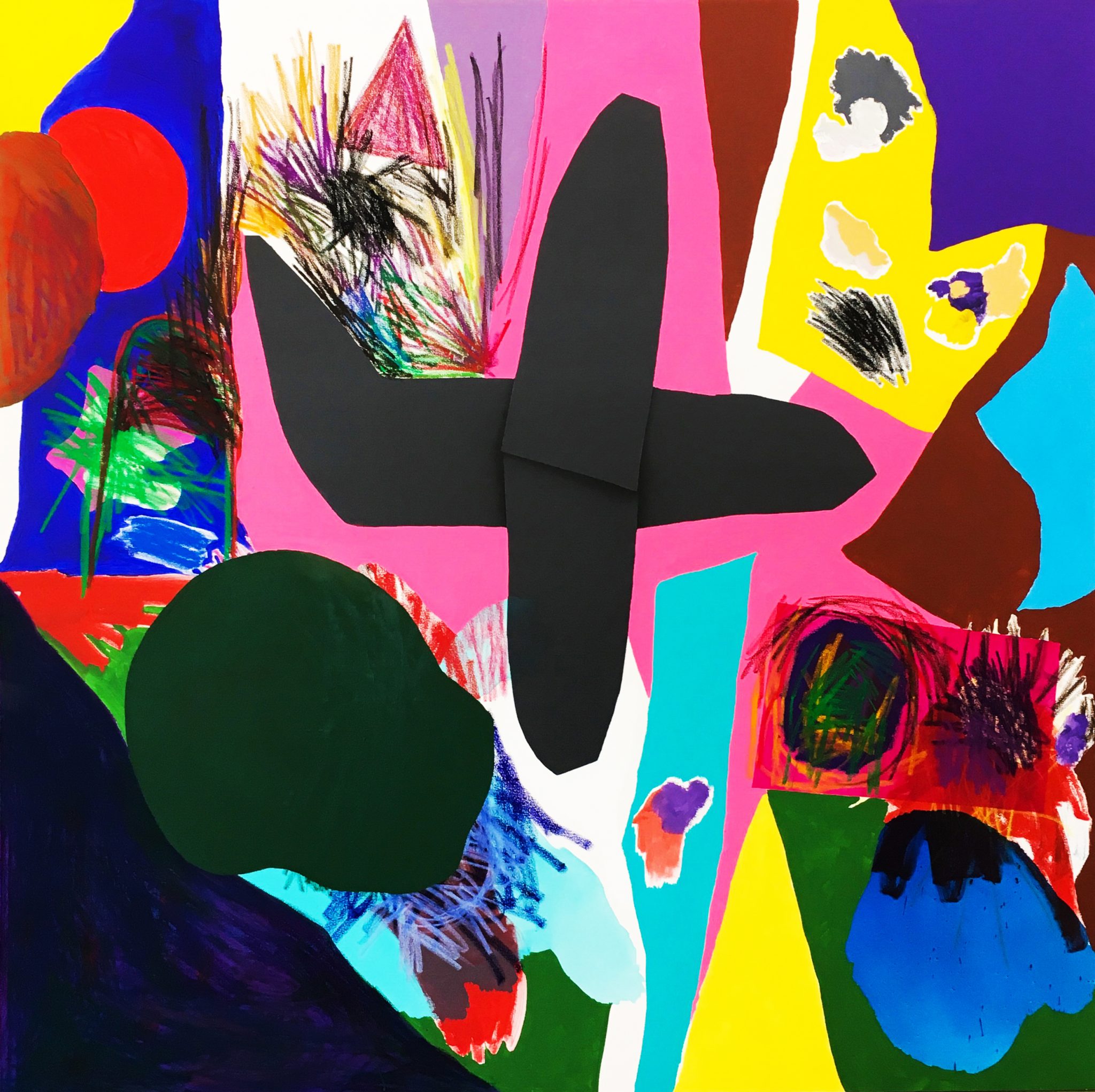 Janis Varelas A Plane Over my Head, 2017 oil, oilstick, acrylic, permanent marker, pastel, crayon, gesso on canvas 200 x 200 cm | 78 3/4 x 78 3/4 in
It is interesting that as human beings we've been attracted to certain kinds of forms and shapes and behaviors. We tend to say, "It's just decorative," but what if there is something in our anatomy that draws us to similar patterns? I notice something draws you to a certain pattern in your painting ? Can you talk about how go to the point of an image that has become instantly recognizable ?
That's a big question!
Even before I started painting, I was doing drawings, and you could always recognize certain types of patterns. The way the lines form the image.
I don't know exactly what it is that makes it recognizable but I think it's like speaking a language. You depict what you understand. It could be a line or a scribble, surface of blue or red. It always has it's own kind of rhythm.
And this rhythm is created through myself, through my body depicting the actual thing.
It's like leaving a sign behind, or like leaving your footsteps on the sand.
It has to do with your own way of writing or speaking.
That's how it works for me.
As far as the shapes are concerned, I use very simple shapes that everybody can recognize from their childhood, like the little house, the little car, sometimes airplanes.
They create a grammar for me towards a certain type of language.
I think that by repeating this symbolic language, you create your own narration in a way.
If people know you work or knows what you do, it is easy for them to get into it immediately.
Who do you look to for inspiration?
I work often with literature. I take certain type of storytelling from writers, to create structure in narrating my work. Of course, I am also in conversation with art history.
I am also thinking that, my work nowadays, is part of general discourse of painting that is happening in Contemporary Art.
There are a lot of sources of inspiration but literature for me is the basic structure to create that narration. The storytelling "strategy" comes from certain authors like Bataille or Camus or sometimes even Georges Perec.
The thing that makes many artists interesting is how they re- tool the past. Which piece of art or period do you keep coming back to in Art History?
Well, I would say basically that I am dealing with issues of modernity. Meaning, from the early beginning of the 20th century onwards.
In these works, obviously, there are certain elements which come from Matisse and especially, the cut out period.
It is the starting point, going forward to my own world.
What do you think about the role of painting today? How does it function now and how do you see it developing in the future? Do you think there are possibilities left in abstract and figurative painting?
Yes endless possibilities. There is no such thing as the end of painting. Painting is completely relevant to the condition of human beings.
Whatever they do, there is space for a painting about it.
There is a total possibility of rediscovering it or dealing with it in new ways.
Now you have new medias and with projections, new tools, I think it endless.
Painting is a very straightforward concentration of energy, not about style or image. It's about the process of it.
What do you consider to be the task of contemporary art today?
Art in general is there to either reveal certain types of truth, which is either hidden or not easy to grasp. Or to pose questions on a narrative level, of the understanding of the World in a way. I think it's very important to have people engage with it, to have people go to galleries, see the works, go to museums, is very important.
It opens doors to a certain type of understanding and perspective on reality.
What is your favourite museum and why?
I don't have a favorite museum but as I live in Los Angeles most of the year., there are a couple of places I often visit. It is very important for my process. As a working artist, when you go to a museum, you go for inspiration, but you also go to chill. All museums are good. All the ones I have ever visited are good for their own reasons. Either it's a small place that serves community purposes or its a huge one and serves as a place to go see masterpieces.
There is not one that comes into my mind like "This is the place".
Where do you go to escape and think about your work?
I have some places I like to go to. Not to think about my work, but to go out of it.
We usually go to the desert to do that. If you drive two hours from Los Angeles you have places like Joshua Tree (A national park in the middle of nowhere with endless desert).
Or sometimes I go to the mountains because you have very interesting snowy mountain sites. I don't go the beach, that's for sure. I don't like the ocean. I like the Mediterranean structure better…
Do you listen to music in the studio and if so what's currently on the playlist?
I listen to music. But it's random. We are several people in the studio and whoever wants can play their music. Nothing in particular.
It depends on who is there with me. Sometimes I play heavy techno, sometimes I play jazz or pop music. We listen to the radio a lot. Usually there is some at least. I don't like to work in silence.
JANNIS VARELAS Hot Springs 20th April to 3rd June MARUANI MERCIER Gallery Brussels
maruanimercier.com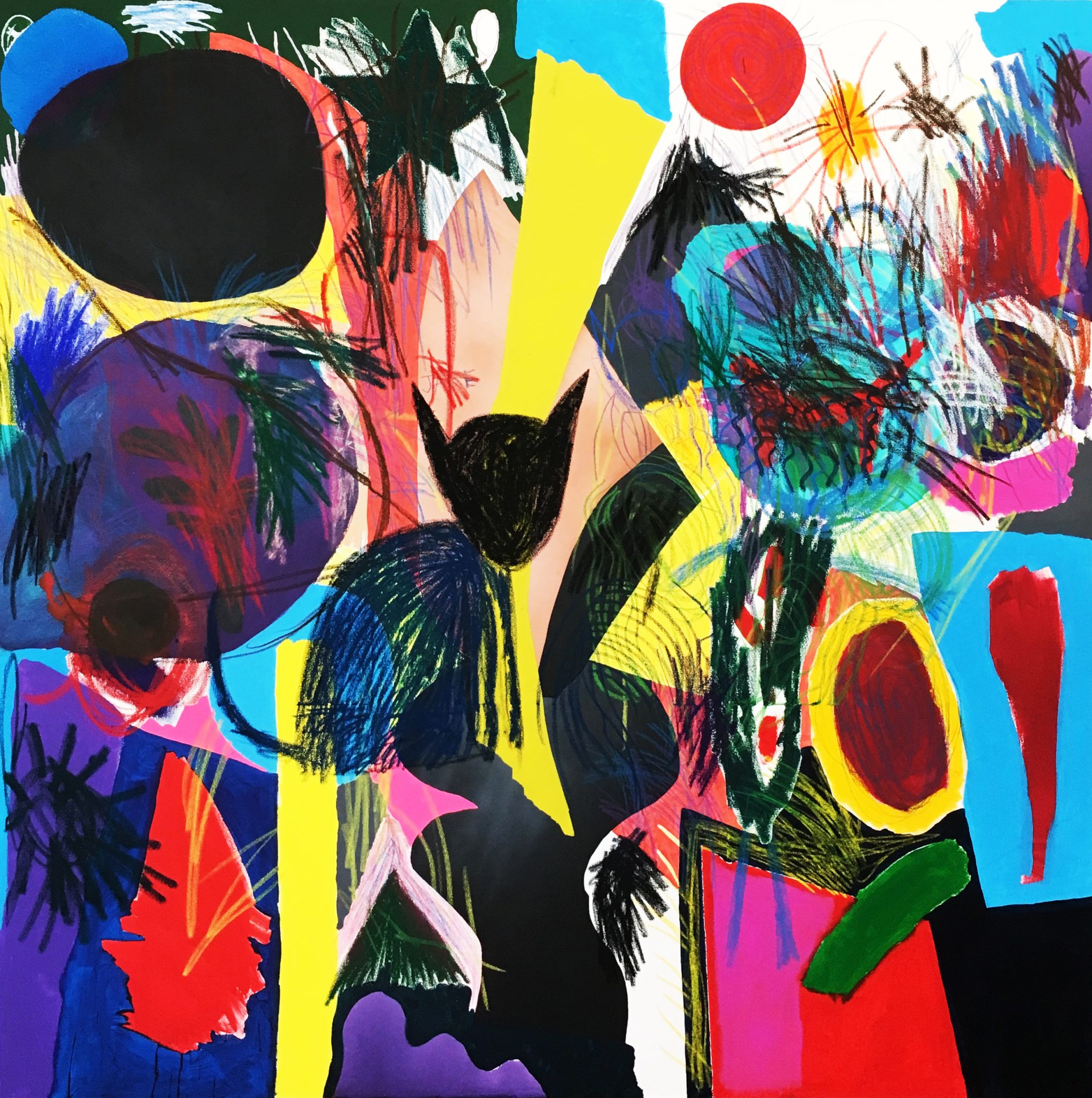 Janis Varelas Small Cat, 2017 oil, oilstick, acrylic, permanent marker, pastel, crayon, gesso on canvas 200 x 200 cm | 78 3/4 x 78 3/4 in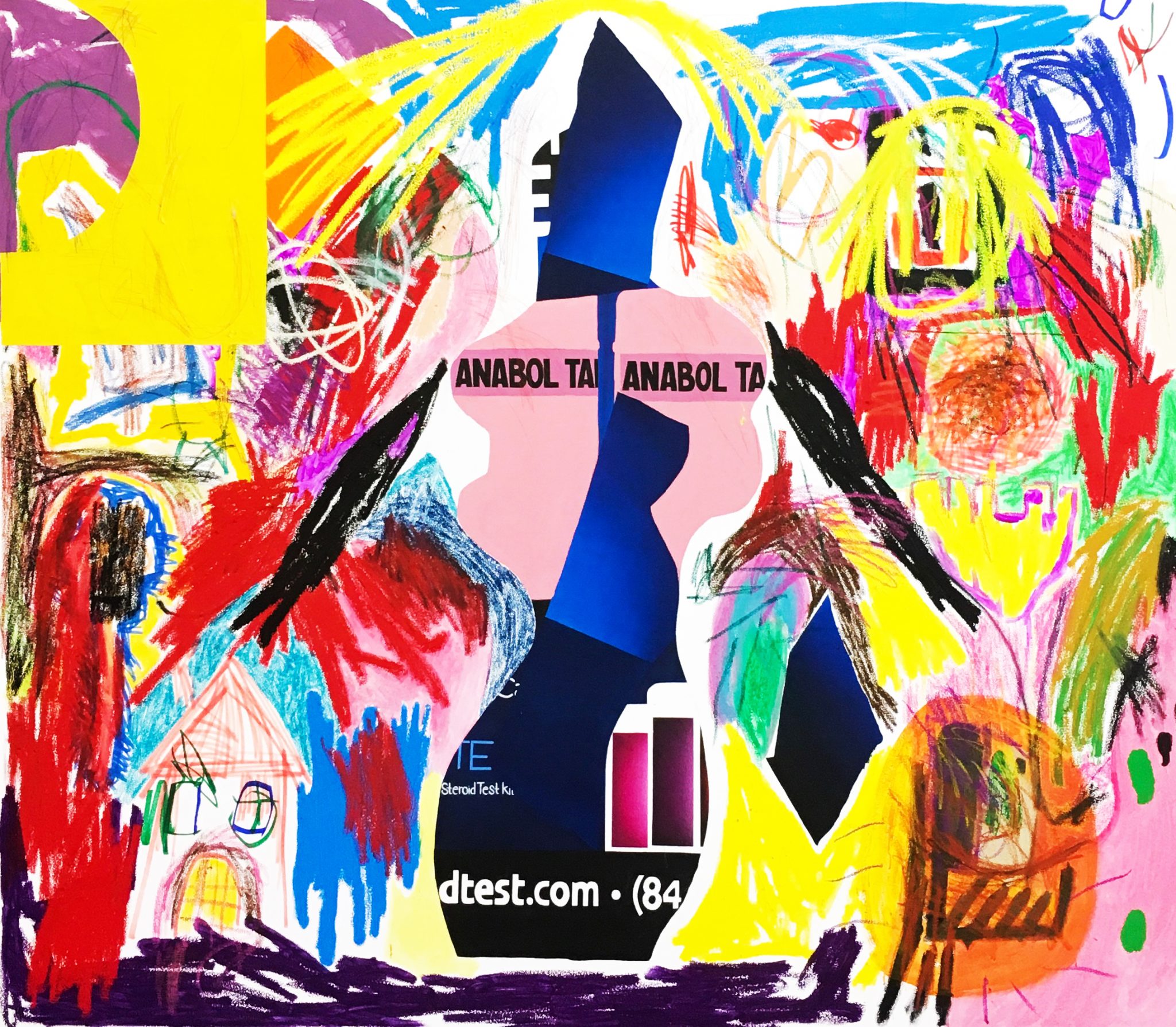 Jannis Varelas Anabole, 2017 oil, oilstick, acrylic, permanent marker, pastel, crayon, gesso on canvas 210 x 240 cm | 82 2/3 x 94 1/2 in
Categories
Tags