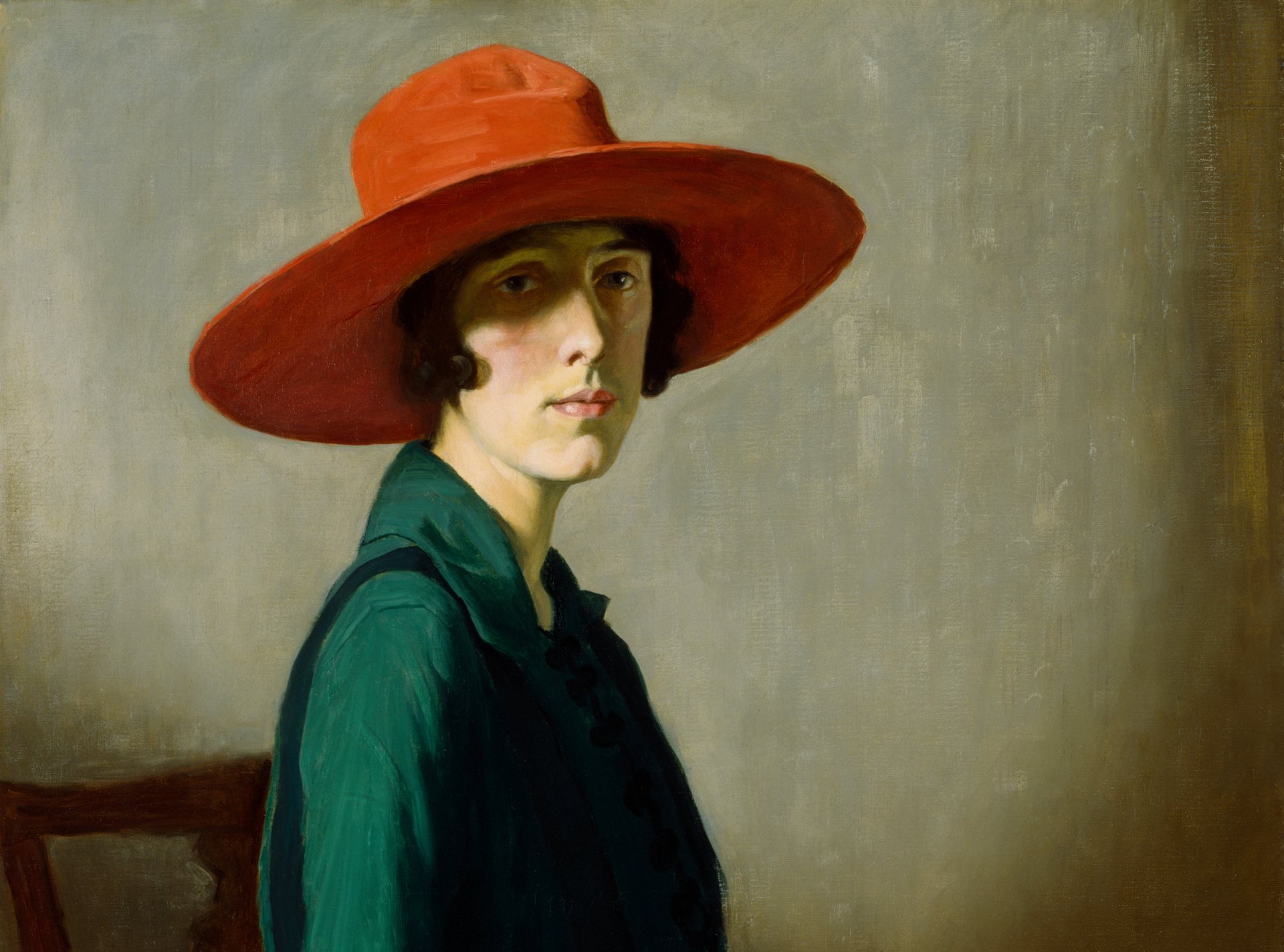 Lady With a Red Hat, 1918, by William Strang. Photograph: Glasgow Museums and Libraries Collections
---
This article titled "Queer British Art 1861-1967 review – strange, sexy, heartwrenching" was written by Adrian Searle, for The Guardian on Monday 3rd April 2017 17.46 UTC
Weaving between history and gossip, private lives and public declarations, repression and celebration, the exhibition Queer British Art recounts a complicated story of sexuality and desire through work that is as often as coded and veiled as it is candid and outspoken.
From pre-Raphaelite London to 1920s Bloomsbury, from Edward Burra's raunchy sailors in Boston bars to a poster for the wildly successful 1945 Soldiers in Skirts variety revue, this is an exhibition about stories and lives, and conflicting social mores, as much as of images and objects. Here is Man Ray's 1934 photographic portrait of Virginia Woolf, there William Strang's 1918 painting of Vita Sackville-West, self-assured in a red hat. Lovings and pairings across the years, paintings and photographs, intimate sketches, letters, masks, Noël Coward's dressing gown: what a compelling show this is, filled with surprises that are as much human as artistic.
Here are a selection of the library books Kenneth Halliwell and playwright Joe Orton borrowed, collaged and returned to Islington library in London between the late 1950s and early 60s. A play by Emlyn Williams is retitled Fucked By Monty. Phyllis Hambledon's romantic novel Queen's Favourite has a pair of men about to have sex collaged on to the cover. Orton and Halliwell, pursued by librarians, went down for six months, less for their crime of collage, and being irreverent and funny, than for being queer.
Queer British Art is often sexy, silly and fun. But it is as often heart-wrenching and tragic. The precocious Jewish pre-Raphaelite painter Simeon Solomon was arrested for cottaging, first in London, later in Paris, and spent the last 20 years of his life in St Giles workhouse, alcoholic and abandoned by many of his friends. Social and legal opprobrium blighted many lives and careers. Others were luckier. Here is a photograph of artists Denis Wirth-Miller and Richard Chopping, who met in 1937 and became civil partners in 2005. In a biscuit tin is their collection of more than 200 guardsmen's jacket buttons, each one a souvenir of a sexual liaison with the soldiers stationed near their home. Well I never.
Here, in another vitrine, is the calling card left by the Marquess of Queensbury for Oscar Wilde (with the words "for Oscar Wilde, posing Somdomite" [sic]) left at Wilde's club. Nearby hangs a full-length portrait of Wilde, as an elegant man about town. Beside hangs the door to his cell in Reading jail. The miseries visited on Simeon and Wilde, and the lives and loves that were so often unacknowledged, glossed over, overlooked and ignored are countered here in portraits of men and women, people who have invented their own styles and ways of being, across the gender spectrum. Claude Cahun crossed and recrossed gender boundaries. "Neuter is the only gender that always suits me,'" she said. Refusal of the normative means staking a different claim on the world.
A queer sensibility, and being queer, is more than a matter of taste. There are dizzying, complex relationships related here. Edith Cooper and her life partner Katherine Bradley, for example, went by the collective name Michael Field. They also called one another, variously, Michael, Henry or Field. Cooper was also Bradley's aunt. Charles Ricketts, a friend and jewellery designer, designed lockets for the pair, tiny things that hang here in a cabinet.
Field called Ricketts "Artist", "Fay" or "Fairyman". He addressed the pair as "Poet". What hangs by a locket. These are games with more than names. So much the picture caption tells us. It makes us look again. These abbreviated accounts that accompany each work are hugely informative, occasionally scurrilous and tantalising. At times, I'm reading more than I'm looking, and often the stories outweigh the art.
Ricketts, too, hangs nearby, in Edmund Dulac's 1920 portrait of him, standing with his life partner Charles Shannon, both dressed as saints or Dominican friars in an idyllic medieval landscape. Above them, a bat flies in an empty sky. Ricketts and Shannon were as devoted to late 19th-century aestheticism (they were friends of Oscar Wilde) as to one another, remaining together until their deaths in the 1930s.
Not all queer lives are blighted, even though the life of painter Keith Vaughan, who could never quite escape Cézanne and Nicholas de Staël in his pictures of naked men, ended in suicide. Bodies are slabby planes sheering together on the picture plane. Often, they are not so much abstracted as repressed. What his paintings forbade comes out in Vaughan's published journals, detailing his private life and struggles with illness, his elaborate and cumbersome masturbation rituals. His journal ends in November 1977, with the words stuttering out as the pills and booze he'd consumed took his life.
In Vaughan's drawings, a man bends to be caned; a head is raised to another man's crotch and two men kiss tenderly. Why could he not have painted all this? The answer, I suppose, in the British art world of the 1950s and 60s, is obvious enough.
Yet we can shuttle back to Aubrey Beardsley's 1896 mythical The Lacedaemonian Ambassadors, priapic and hugely engorged, or to a photograph of Cecil Beaton and his friends, both male and female, sitting as a chorus line and all dressed and "made up to the nines", as the poet Siegfried Sassoon remarked, on his lover Stephen Tennant's country estate in 1927. How free you could be, and who and how you could love, was a matter of class, and of who you were, and whether you were a man or a woman, for much of the last century and a half.
Duncan Grant's 1930 portrait of PC Harry Daley commemorates a Hammersmith policeman who was, for a time, EM Forster's lover, and who went on to write a book recounting his experiences on both sides of the law.
Lives are celebrated and performed in portraiture and mythological scenes, desires played out in wrestling bouts and even in still lifes. Gluck (Hannah Gluckstein)'s 1932-37 painting of a vase of lilac and guelder roses commemorates her relationship with Constance Spry, flower arranger, cookery writer and society decorator. It is as much a kind of portrait as still life, its delicacy at odds with Gluck's own self-portrait, strong chin raised, her appraising eye, her serious and mannish look.
Soho photographer John Deakin photographed cross-dressed men, and women dressed as men in drag – in images so confusing that his friend Bruce Bernard found it impossible to correctly identify the images correctly when he came to catalogue Deakin's abandoned archive.
This vital, fascinating exhibition traces queer lives and sensibilities over a century. Beginning with Solomon, and ending with Francis Bacon and early David Hockney, the exhibition takes us from the abolition of the death penalty for sodomy in 1861 to the decriminalisation of male homosexuality in 1967. By 1960, Hockney could call a painting Going to Be a Queen for Tonight, and Bacon could paint men rutting (albeit in a blur) in the grass. Queer British Art begs another show, of queer art since 1967, and another, focusing on feminist art. There is work to be done.
guardian.co.uk © Guardian News & Media Limited 2010
Published via the Guardian News Feed plugin for WordPress.
Categories
Tags