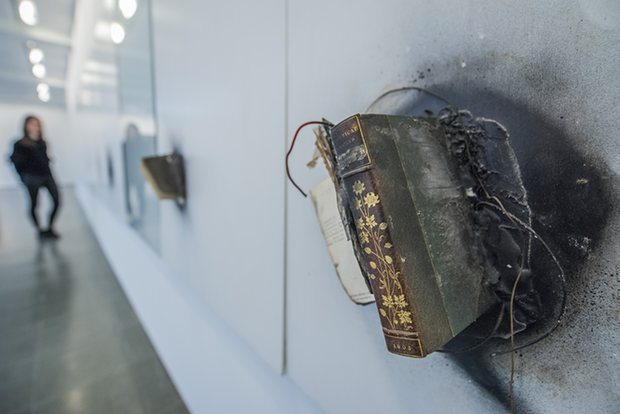 'Moments of time and culture briefly embodied': installation view of John Latham's work at the Serpentine Gallery. Photograph: Guy Bell/Rex/Shutterstock
---
This article titled "A World View: John Latham; Speak review – a time-bending experience" was written by Laura Cumming, for The Observer on Sunday 5th March 2017 08.00 UTC
Time it right, and you could enter straight into the most dizzying spectacle – a million coloured circles hurtling towards you on screen. Discs flash and whirl in the darkness, accompanied by what might be the sound of distant rioting but is actually a circular saw. The furious buzz is perfectly attuned to the constant strobe. It feels like a cross between a mind game and an apocalyptic countdown.
John Latham's Speak (1962) was screened by Pink Floyd at an early Roundhouse gig. The band even wrote a soundtrack, which the artist rejected, preferring his own tape-recorded saw. To experience this famous work in the 21st century is to feel the elasticity of time, for it is both a period piece of the early 60s and an eye-popping shock – forever young, cool and now.
Latham (1921-2006) is probably best known for getting his students at St Martins to chew up a library copy of Clement Greenberg's detested Art and Culture and spit it out. (Their mastications, fermented and preserved in vials, belong to the Museum of Modern Art in New York.) Latham lost his job for failing to return the book in readable condition, and gained his evergreen reputation as an establishment goad. Even at his death, he was at loggerheads with Tate Britain for withdrawing from display a work that embedded copies of the Bible, Torah and Qur'an in chunks of glass. He saw their action as pusillanimous.
Latham himself was never afraid to offend. When he built – and then burned – a tower of encyclopedias, the historic resonances were clear, all the way back to Savonarola. Books were both ideas and objects to him, and he even spoke of using them as alternatives to paint. They stood, too, as instances of history, moments of time and culture briefly embodied. And time was Latham's true subject – his perpetual medium and obsession.
The Serpentine's long-awaited survey includes time-based paintings – pigment flicked at the canvas, the cartoon splats a measure of the rapidity with which the action took place – and several of his one-second drawings from the 1950s. Latham used a spray gun to shoot a second's worth of black paint at a white substrate. The result is a perfect record of the event, of ejected particles moving through space, and a kind of constellation in reverse – black stars in white outer space.
Latham claimed to have made spray-gun paintings before anyone else.
Books are balled up in papier-mache orbs and suspended from the ceiling like new planets, or ancient fossils in rock. They are glued to canvases and painted black with their leaves spread open: crowds of flapping ravens trapped in a cliff. Six copies of a guide to vanished species are surgically halved and wedged into glass armatures, each containing traces of some other idea – electric wires, lightbulbs, primitive sculptures. Time is caught by the wing.
Latham lived in Flat Time House in Peckham, south London (where another pair of gigantic books – interleaved so they can never be read – still hangs in the window). His theories about time are so nebulous as to be beyond my grasp, and indeed that of several catalogue contributors, including Richard Hamilton, who confessed he had no clear idea what his friend was talking about. Latham seems to have believed that time consisted of a series of events, that space was not the measure of the universe but time, and that the chief characteristic of all art was "its extensions in time".
This is certainly the prevailing theme at the Serpentine Gallery. There are paintings where the high-chrome stripes simply fade away – here and then gone – or explode as if shot by a bullet. Silk-screened words arrive and then vanish, shifting from the present to the past. Canvas is twisted up like a curtain, knotted to one side as if to let in new light; or hangs, spattered and torn from its frame, like some poor deflated flag. Each work speaks of the moment of its making, but also of the past and future.
Latham was a hardcore conceptualist, and some of his work is as tough to look at as it is to comprehend. "THE MYSTERIOUS BEING KNOWN AS GOD is an atemporal score, with a probable time-base in the region of 1019 seconds." What does this mean (lettered large on the wall) if it means anything at all? Latham insisted that his art consisted of events and not images. Yet the film in which the pages of the Encyclopedia Britannica rush past at warp speed is extraordinarily expressive in visual terms, not least for being such an antique artefact in itself by now. What it shows is an Ozymandian vision of time: whole civilisations passing rapidly away.
Latham's continuing influence on younger artists is apparent in Speak, an anthology of homages at the Serpentine Sackler Gallery that features a great variety of works, from word pieces to impromptu ping pong and billiard games to an interview with John Latham filmed by Douglas Gordon in 1999; the catalogue transcription is full of Gordon's illuminating insights, connecting Latham's one-second drawings, for instance, with the black page in Laurence Sterne's Tristram Shandy.
Cally Spooner presents a wittily ludic wall drawing, in which separate lines trace her person (at chin height) against the rise and fall of the pound and the development of her own career according to the market website artfacts.net; as if time, or indeed life, were susceptible to such meaningless measurements. And the Cuban artist Tania Bruguera, reflecting on how representative art came to be distorted by Castro's regime, explains in an absorbing film how she came to an artistic language of political gestures in the true spirit of Latham.
But most startling is Turner prize winner Laure Prouvost's darkened chamber of glass objects, each glowing in a sudden coloured spotlight on its plinth, and each a commemoration of something vital to our daily existence: a glass of water, cheap but precious; an egg frying in a pan; a scarlet human heart. Elevated by the process of being blown in Venetian glass, they are accompanied by an abrupt son et lumière conveying the alterations of time.
Prouvost was once Latham's studio assistant, and this is in part a remembrance of their life together, from the fruit they ate to the teabags drying on the radiator. But every object is more than itself. The installation is both a private story and a public narrative describing our human experiences in twinkling emblems; it is both moving and stunning.
• A World View: John Latham is at the Serpentine Gallery, London until 21 May. Speak is at the Serpentine Sackler Gallery, London until 21 May
guardian.co.uk © Guardian News & Media Limited 2010
Published via the Guardian News Feed plugin for WordPress.
Categories
Tags