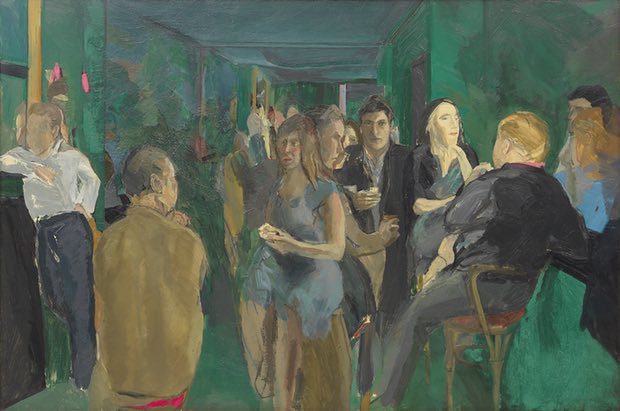 Rainy night in Soho: Andrews surveys the Colony with an outsider's eye. Photograph: © The Estate of Michael Andrews. Courtesy James Hyman Gallery, London
---
This article titled "Michael Andrews' The Colony Room I: Soho's cultural history frozen in time" was written by Skye Sherwin, for The Guardian on Friday 17th February 2017 12.00 UTC
Bar flies
Michael Andrews's painting of one of 50s and 60s Soho's most storied drinking dens, the Colony Room, is a who's who of the art scene. That hot pink collar belongs to Francis Bacon. Artists' model Henrietta Moraes is centre-stage. A chiselled Lucian Freud looks us straight in the eye. At the bar, Muriel Belcher, the club's proprietor, strikes a pose.
Party animals
Perhaps the painting says more about the artist than the crowd, though. The sense of his distance is palpable. The bar's green walls suggest an underwater world. It's like peering into an aquarium, where the fish flirt, puff up and quietly peck.
Shyness is nice
Andrews was painfully shy and later became a recluse in Norfolk. Described by the Tate director John Rothenstein as "in danger of being taken for a rumour", he worked slowly, staging very few shows in his lifetime.
Outside in
While in London, however, this awkward soul made parties his subject matter. For him, art was a way of working out what he felt about the world. He liked social gatherings because they revealed behaviour in flux, with people putting "themselves to the test", performing, succeeding or failing, as he saw it from a classic outsider's perspective.
Gagosian Gallery, Grosvenor Hill, W1, to 25 March
guardian.co.uk © Guardian News & Media Limited 2010
Published via the Guardian News Feed plugin for WordPress.
Categories
Tags