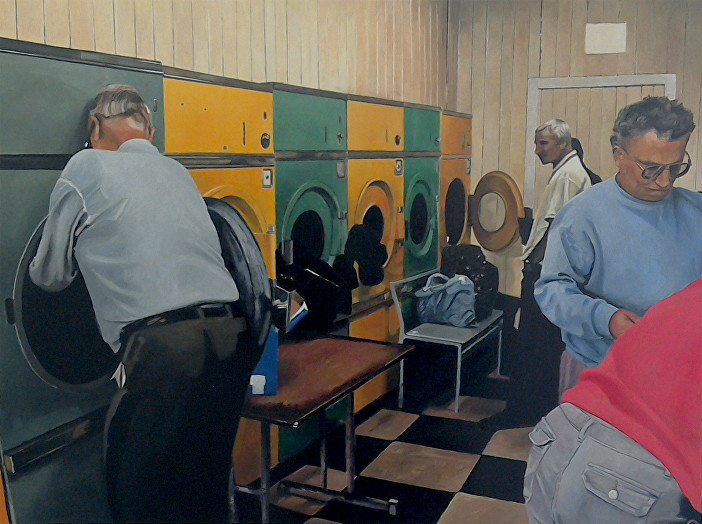 Eastwood is probably best described as a social realist, photographing local non descript scenes, launderettes, working men cafés and urban sight, such a solitary pigeon. He then uploads the photographs, manipulates the images with photoshop to enhance the mood, lighting and scale. It is then he selects the image to make into a painting, working in enamel on board, which heightens the gritty subject matter, which is suitably at times monochromatic.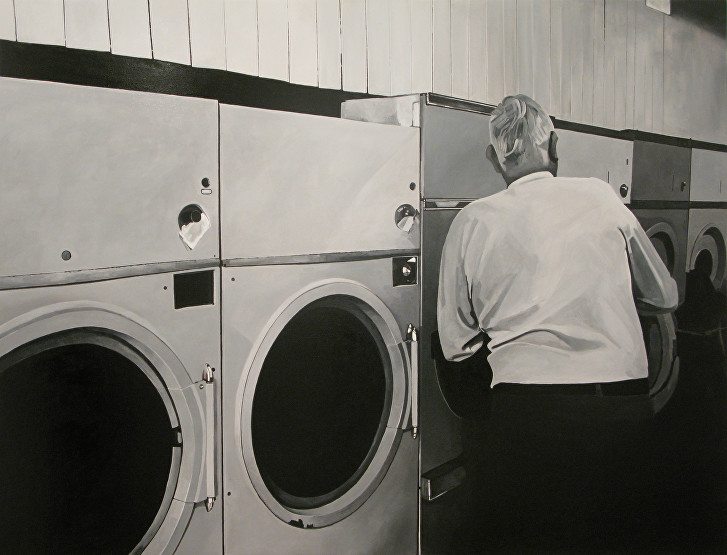 Eastwood is an artist who portrays the harsh reality of urban life. He draws inspiration from the 'Kitchen Sink' school artists such as Jack Smith and John Bratby, who reflected the world that they inhabited with an unflinching eye. It is true that Eastwood's work is not for those who like 'pretty pictures' and colourful abstracts that tie the room together, his art is one that speaks to the viewer directly about a world rarely seen at the glitzy art fairs and Mayfair openings. Perhaps we are drawn to images of the 'otherness', people who go about the mundane and monotonous life without giving too much thought about it. Yet there is a comic element to his work, it is not all doom and gloom as the titles suggest.
Eastwood describes his work as "steeped within the socio-political infrastructure." It is true that his paintings reflect a world that is tough, there are lines to wait in, laundry to be done and toilets to be cleaned, but what Eastwood does so finely is to capture these moments and subjects with a seeing eye not a critical one, his work is non-judgmental and in fact there is empathy and closeness to his subjects.
Nathan Eastwood has a solo show coming up at the Sid Motion Gallery – 'My England'.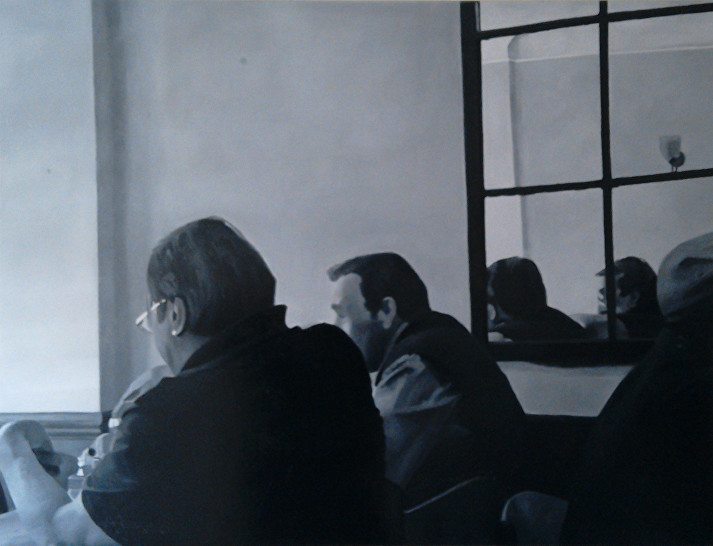 Nathan Eastwood (b. 1972) is a London based artist. He graduated from Byam Shaw School of Art in 2009. Eastwood is the winner of the 2014 East London Painting Prize and has been selected for the Threadneedle Prize, Mall Galleries, London, 2013; John Moores Painting Prize, Walker Art Gallery, Liverpool, 2012; Celeste Art Prize, T2, Old Truman Brewery London & Lyon & Turnbull Galleries, Edinburgh, 2007. Eastwood's recent exhibitions have included; Laptop & Chips at SE9 Container Gallery, Work/Recreation/Freedom at Nunnery Gallery, London, Present Tense at Swindon Art Gallery, UK, @PaintBritain, Ipswich Museum, UK, and Royal Academy Summer Show Royal Academy of Arts, London.
Categories
Tags