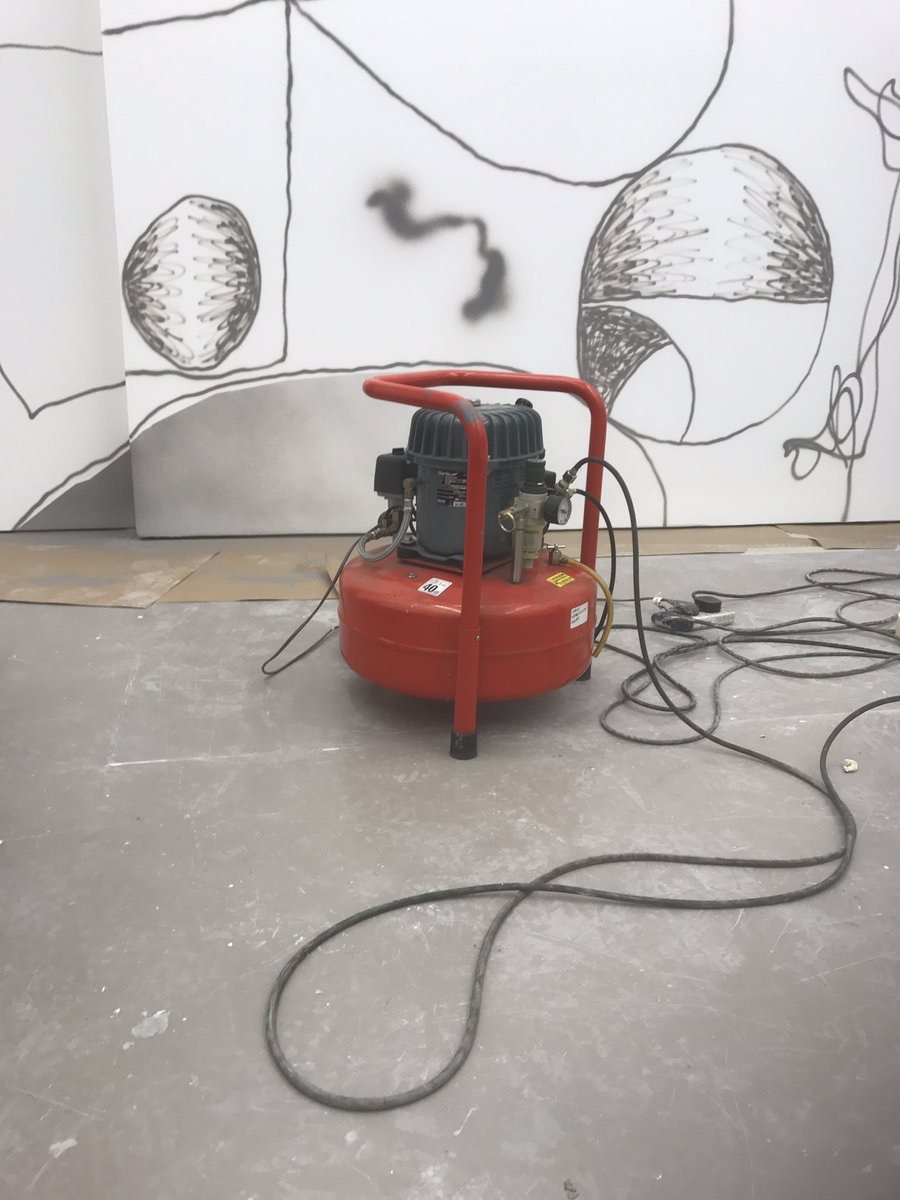 Castor is pleased to present a solo exhibition of new works by Barry Reigate, the inaugural exhibition in our new location. Produced simply with an airbrush on canvas, these large scale paintings sit somewhere between the digital and a seemingly naive primal act of doodling. Collaged elements of hatching and gradients combine, filling the canvas with movement and depth. Yet these works deny their painterly roots, sitting flat on the surface of the stretched cotton as if the result of a print process rather than from the hand of the artist.
Do Zombies Dance To 'Love in C Minor'?
I'm bored… Bored with your hairy stick with sticky coloured goo… You are dying very, very slowly.
Don't mess with my brain with your nostalgic history, your baggage full of despair & desperation. My brain, full & yet empty is already dead. Stuffed with desire but yet empty of your thinking.
I do not seek history & history cannot find me. I wander the Rhizome with gun at hand firing atoms, particles of paint, from the hands of the un-dead.
Atomic particles spray before me, firing acrylic upon a surface. The surface, a horrible thing, shallow but mountainous, full of dirty little pores, tissue and bacteria in eternal decay. Cut it and it shall bleed, become infected by history. Paintings revenge!
Let's fire again, shoot some more paint. There it goes, tiny atomic particles splattered across the canvas. Good job I masked it off, covered up those years of history. Now I can get on with it, refill the cup, adjust the pressure and fire away. Watch it ejaculate out from the nozzle, invisible and into the air and then re-emerge, appear as form, in colour onto the primer. It's magic! Look at my wand!…
Must make sure I have enough air, that I'm plugged in, attached to the grid… We all need air, or we die! A dependency, a need, air to breath, air to "make" stuff… I need it because all the life is sucked out of me, an empty vessel, a body without organs, just matter gurgling through the nozzle of a brush without the hairs. Matter, that's what gets squirted & splattered upon a surface, a horror, some 'thing'… Some form!.. What is it?.. It lives but it's dead… Does it really 'matter'?
All I have left is my dead weight and a chrome plated airgun… All this attached to an electrical breathing machine… Inhuman, I aim and fire… I missed! Dam! Dam you God! Dam you, and all your art! I'm the un-dead because you never opened up the door to heaven…
Desperate for love, the sublime, I fire again, "Splatter, Splatter, Splatter!"… All this effort and skill with no where to go but to hang on a wall and scream "Look at Me!" Desperate for attention, it wants to attract, to find love, to look deeper than the surface of it's own corpse. It wants love because it is dying. It is dying very slowly. It is the un-dead, a zombie searching for it's soul, to find something deeper than just a surface of illusion and effect.
Oh, but its fun, to stare at this thing, to look at the surface and gaze at the effect. We enjoy its own death and get entertained by it. We enjoy staring at death from a distance, on a cinema screen, a surface of depth from illusion. We are entertained from the dead… Zombies are a fun night out.
Its great to stare at surface. To see depth, from death's own lack. To seek culture, to escape the natural… Nature is dying. It's natural to die and to not live forever. If we did live forever, we would be the walking dead, seeking art for advice, asking about its history. What's the point… Staring at zombies is fun.
Art is the un-dead… Long live art! And, may the un-dead dance to- 'Love in C minor'.
Barry Reigate: Do Zombies Dance to Love in C Minor? 17th February – 25th March
Preview: Thursday 16 February 6 – 9pm Castor Enclave 8 50 Resolution Way London, SE8 4AL
castorprojects.co.uk
Categories
Tags