You will be seeing artist Henry Hussey's name come up a lot over the next few months.
For The Dark Wood group show at Transition Gallery in London (14th January – 4th February 2017), he wears his curatorial hat for the first time. For Contemporary Visions VII at Beers London (20th January – 4th March 2017), Hussey's artwork features in this annual open call exhibition and was chosen from that of over 4,100 applicants by a judging panel consisting of curator Philly Adams, gallerist Kurt Beers, collector Carlyle Byron, artist Byzantia Harlow, arts writer Hugh Montgomery and Artsy UK liaison Gemma Rolls-Bentley. At Sketch, a restaurant, bar and exhibition space in Mayfair, the artist's work is presented in a solo show in the Parlour, courtesy of a collaboration with Presenza, a curatorial platform bringing contemporary art to unique public and commercial locations outside the gallery space. Last but not least, if you happen to be in New York in March, you can also see his work in his London gallery Coates & Scarry's solo booth at Volta New York (1-5 March 2017).
Marcelle Joseph interviews Hussey to delve deeper into what drives his rich and emotive textile practice that incorporates text, imagery and embroidered and printed fabrics to create exquisitely detailed and boldly coloured works with an ominous aura. The artist's work often mines his own familial history, becoming a visual autobiography with expressive figuration and confrontational narratives. 
The Dark Wood opened on 13th January at the Transition Gallery, your first foray in curating. What inspired you to curate a group show? And what is this show about? It sounds rather sinister.
The initial idea for the show came from a visit to Johnny Höglund's studio last summer. Johnny had been ill and I saw him shortly after treatment. He showed me a work titled Time Capsule which he made during this period. The power of the piece and the emotions it evoked were staggering as it was made during such a dark period where you could easily lose yourself, yet it had a defiance and sense of purpose.
From this, I wanted to curate a show around the first canto of Dante's Inferno and this oppressive environment of The Dark Wood where you are forced to look inside yourself and be challenged to move forward. The intention was for each artist to have experienced in some way this place and to make works in response to this experience. For me, it has been hugely enthralling to see themes and motifs emerging between each artist, the most intriguing of which is the lack of faces in the show and how this element has been concealed and removed.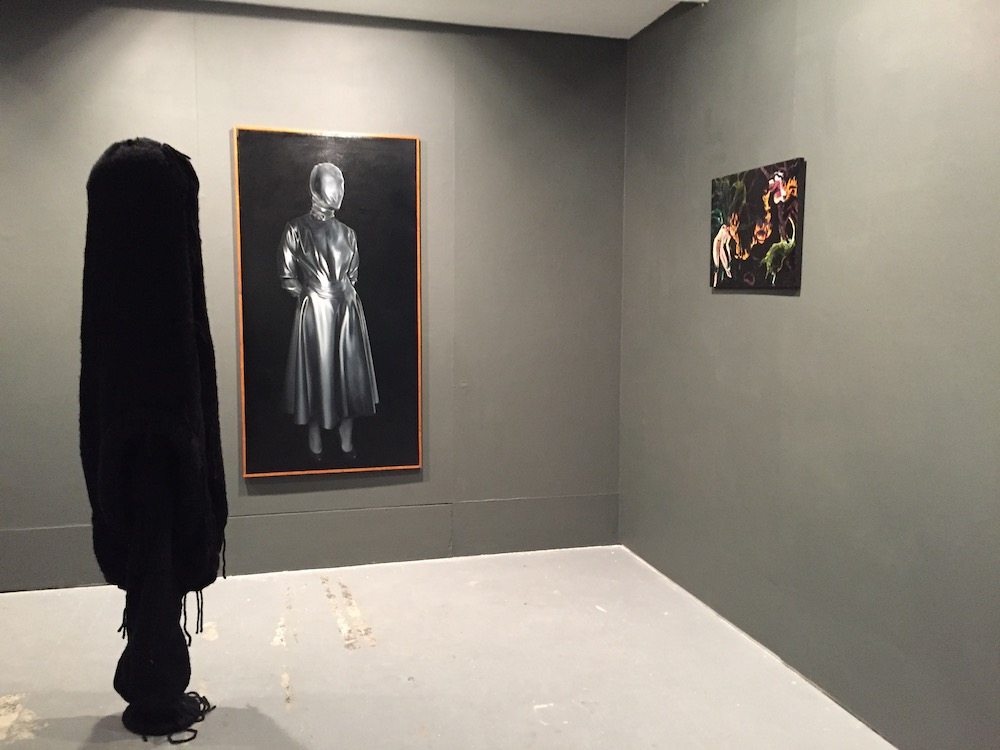 Installation shot from The Dark Wood (curated by Henry Hussey), Transition Gallery, London. Works (left to right): Sara Berman, Johnny Höglund and Dean Melbourne.
Continuing with the Dante's Inferno theme, what has been the dark forest in your life that drives your artistic practice forward?
I definitely experienced The Dark Wood after my solo show last summer as I had reached a plateau where it was difficult to aim any higher in terms of techniques or equally to avoid becoming repetitive. I have always wanted to organise an exhibition and curate it as a director would work with actors, having each of them play their roles in order to explore an over-arching narrative. For me, I look at the exhibition as a whole and consider it to be my own artwork with the dialogue between the works giving them a newfound meaning.
This process has been hugely beneficial, as it has made me reflect on my own creative practice. Through channeling their work, it has given insight into creating the exhibitions that I want to achieve for myself. By not just simply installing works, I want to achieve an atmosphere and a space that envelopes the viewer to the extent that they lose themselves and enter an environment which they have never encountered before.
You originally trained at the Royal College of Art for your MA and the Chelsea School of Art and Design for your BA, majoring in textile design. When did you decide that your calling was fine art instead of design and why?
While studying at the RCA where the MA is over two years, I became incredibly lost during the first year and was making vacuous and soulless work. I spent this time reviewing my creative practice with the dissertation being instrumental in this as it was essential in making me engage with what I was trying to express and the essence of my work. I came to the realisation that I wanted to make highly personal pieces that were a true representation of my emotions, which were in no way false or fabricated.
When I look back over my second year at the RCA, it is evident that I was no longer making design work — it was fine art. What solidified this transition was being chosen for Bloomberg New Contemporaries in 2014, as this made my work unquestionably fine art. To an extent, Laura Davis who is in The Dark Wood is in a similar situation as she studied Jewellery at the RCA yet is now making sculptures, and so she is transitioning herself from design to fine art.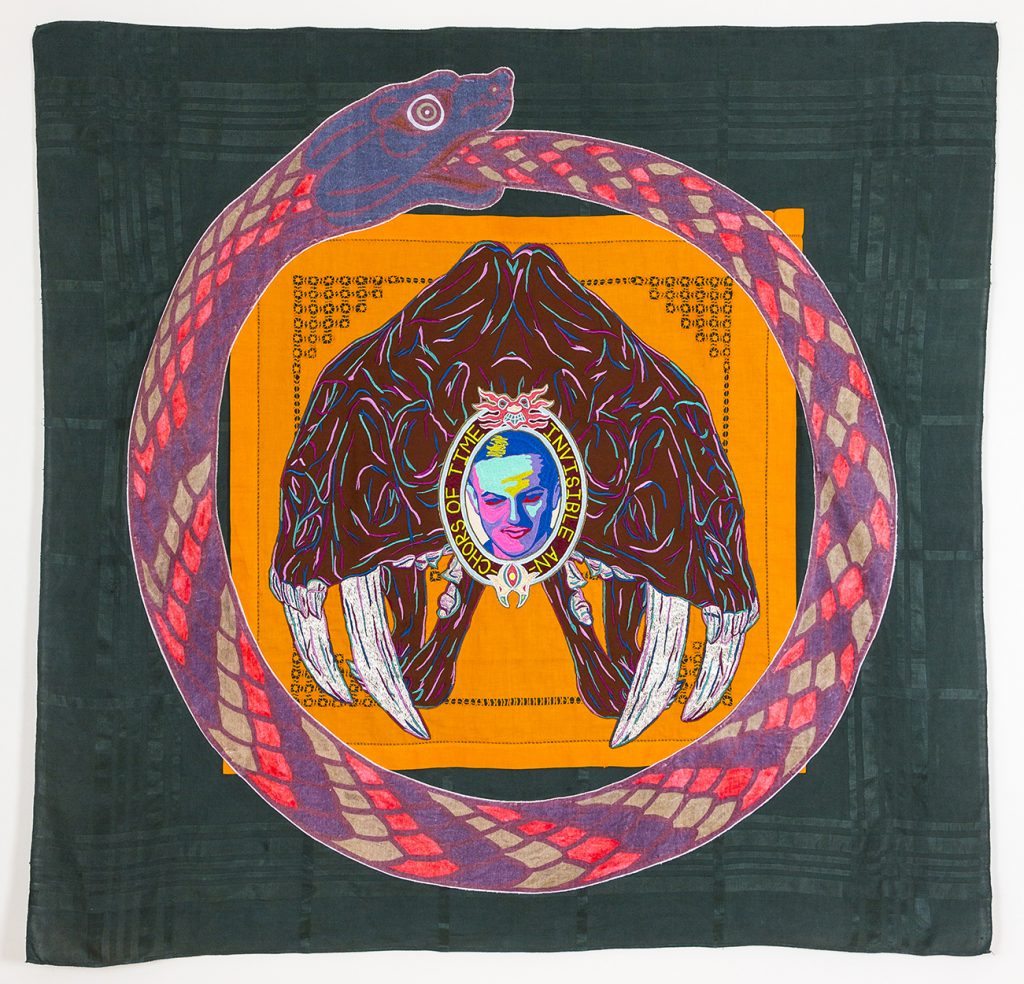 Henry Hussey, Prodigious (2015), currently on show at Sketch, London.
Let's talk about process. Your work is incredibly labour-intensive, bringing together vintage, hand-dyed and digitally printed fabric, embroidery, beadwork and lacework among other things.  How do you approach a new work from the process standpoint? Are each of these elements linked to the subject matter of the work in some way as you often work with heavily researched themes?
To a large extent, the process begins with how can I make the message of my work as direct and striking as possible. I build spectacle into my works, as I intend for them to be dramatic and have such presence that they cannot be ignored. The labor-intensive aspect of my work adds to this intensity, focusing on what I am trying to convey and giving it purpose. A historical reference point I do draw upon are union banners and those used during the UK miners' strikes as they had such palpable conviction and guttural impact.
A style of work I have developed are my word pieces. They are the most reduced and raw version of my process as they are sheer emotion and need no other imagery to reinforce the narrative. This is how I want to pursue my work moving forward to confidently reduce the level of content and strip everything back until only the bare essentials of the message are left in order to achieve clairvoyance.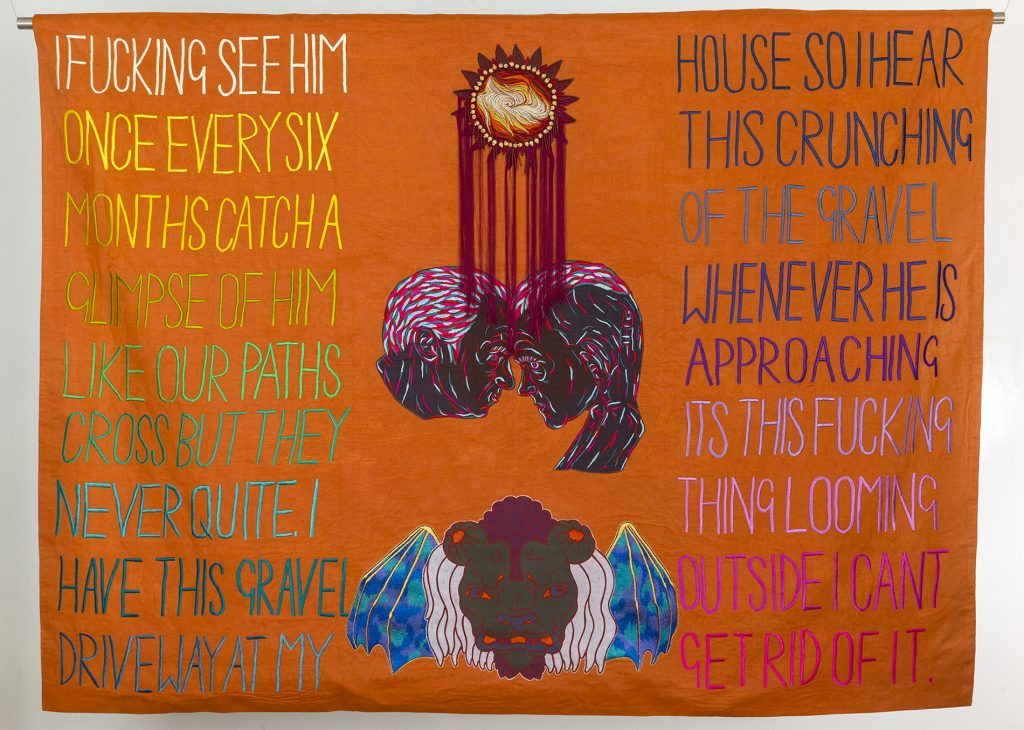 Henry Hussey, Eclipse (2015), currently on show at Contemporary Visions VII, BEERS London, London.
Returning to subject matter, your work often delves into your own autobiography, including your fraught relationship with your father. The embroidered text in the work you are presenting at BEERS London states, "I fucking see him once every six months, catch a glimpse of him like our paths cross but they never quite. I have this grave driveway at my house so I hear this crunching of gravel whenever he is approaching. It's this fucking thing looming outside. I can't get rid of it." I can only assume that this work is about your father. On this topic, do you feel your art-making has a therapeutic, healing dimension for you?
The works about my father were made as a way to expel my growing anger towards him for not acknowledging me as his son. Before I started making these works, this anger and mounting frustration had no outlet and became corrosive. Thus I chose to do something constructive with it by doing performances with theatre actors in order to tackle this personal turmoil and get that sense of confrontation. Then, from these theatrical performances, all the imagery and dialogue acted as a foundation for the works.
I have found making this series cathartic and it has formed me as a man, taking hold of my birthright and giving me a newfound resolve. I find it fascinating that victors dictate history so through the depiction of these events, I have chosen how they will be perceived. Through documenting these past encounters with my father, I have formed history in a manner I see fit so now when anyone questions these events, I have autonomy and power over what happened.
Your colour palette is varied and often quite vibrant and intense. I love the way you striate the faces in your work with a rainbow of different hues that for me link to the emotions underlying the work. How do you approach colour? Does your background in textile design inform your colour choices in any way?
It is irrefutable that my study of textiles has laid the foundation for how I utilise colour. I endeavour to tell colour stories so throughout the work, the use of colour will either reinforce the narrative of the pieces or reveal other dialogues coursing through them. The use of bright colours comes from the desire for spectacle and having the works become almost intrusive. I came to the realisation that I work in a static medium that can easily be passed so by using explosive colours you have no choice other than to take notice.
In a recent work in which I screen-printed the American flag, I wanted the text to not only have urgency in terms of meaning but also a visual urgency. An inverted American flag signals distress so by inverting the colours of the flag and screen-printing on top of the flag, it now verges on abstraction and the colours conflict with each other, creating a level of confusion and tension which emboldens the overall messages conveyed.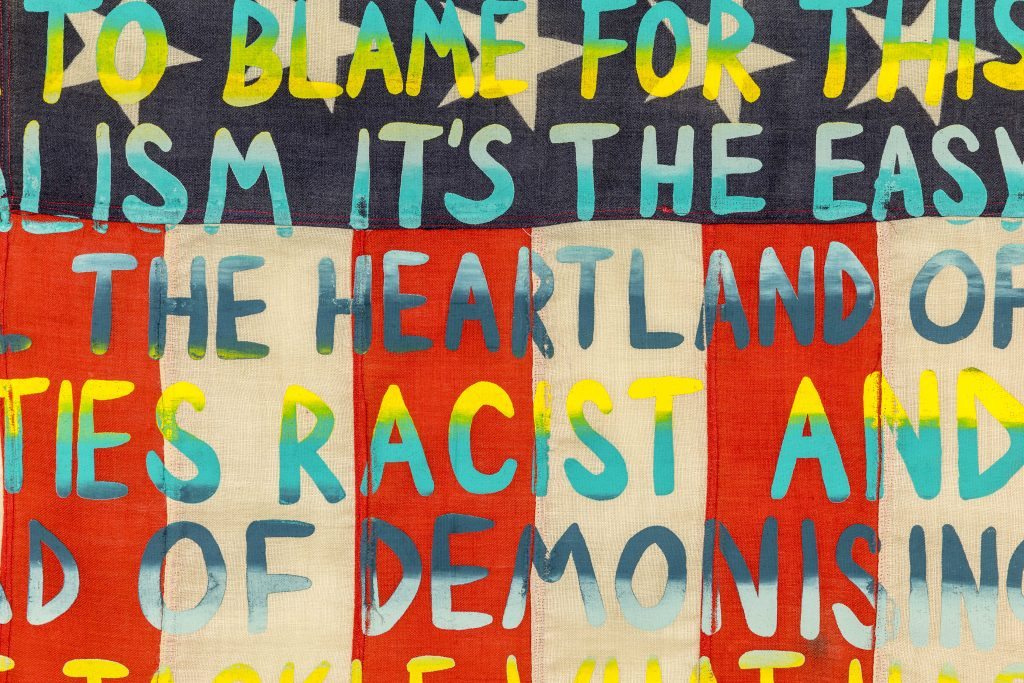 Henry Hussey, Post-Truth (2017) (detail).
Congrats on being chosen for the Contemporary Visions VII show at BEERS London! As an artist, what do you think about open call exhibitions? Do you think they are a successful and necessary platform for leveling the playing field and objectively identifying current trends in contemporary art?
Yes, to a degree, as they allow artists the opportunity to exhibit with galleries that they may not have had the chance to — either through not being brought to their attention or not fitting the galleries' programme. I think open calls work at their purest when an artist who has never exhibited or has not done so in a certain country is given this opportunity. Objectively, I do feel that they can be dangerous when they are done by a gallery to simply make money and not done with the intention of bringing new artists into the gallery with perhaps a view of bringing one of them onto the roster and continuing a relationship. Regardless of open calls, I do think it would be beneficial for any gallery to have a group show each year, introducing new artists and seeing how they are received. A gallery that presents only solo shows seems very inaccessible to an artist outside the system.

Henry Hussey, Prodigious (2015) (detail).
http://www.transitiongallery.co.uk/htmlpages/Darkwood.html
http://www.beerslondon.com/exhibitions/contemporary-visions-vii
http://www.presenza.co.uk/exhibitions-1/
http://www.coatesandscarry.com/originals/henry-hussey
About the Artist
Henry Hussey (born 1990, London) lives in Surrey. He completed his MA in Textiles from the Royal College of Art, London in 2013 and his BA in Textile Design from the Chelsea College of Art and Design in 2011. His work was chosen for Bloomberg New Contemporaries (ICA, London, World Museum, Liverpool, and Newlyn Art Gallery, Penzance) and the Summer Exhibition at the Royal Academy of Arts, London in 2014. Recent exhibitions include a solo show at Coates & Scarry, London in 2016 as well as group exhibitions such as Multiple Choices, Simmons & Simmons, London; The Names, Transition Gallery, London (both 2016); Anthology, Charlie Smith Gallery, London; Hands Off, NAM Project, Milan; Chelsea 10, Chelsea College of Art and Design, London (all 2015); Fabric, Collyer Bristow Gallery, London; and Young Blood, Cat Street Gallery, Hong Kong (both 2014). Hussey is represented by Coates & Scarry, a gallery in London that has featured his artwork at art fairs such as Volta New York, Art Central Hong Kong and ART15 London.
Categories
Tags