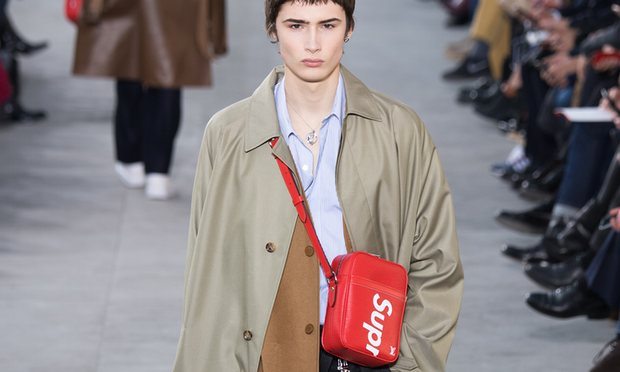 A model presents clothing from the Louis Vuitton menswear fall/winter 2017-18 collection in Paris. Photograph: Victor Boyko/Getty Images
---
This article titled "Two for one: Louis Vuitton presents collaboration with skater label Supreme" was written by Hannah Marriott in Paris, for The Guardian on Thursday 19th January 2017 18.04 UTC
"I don't call it streetwear," said Louis Vuitton's artistic director of menswear, Kim Jones. "It's American sportswear. Well, really, it's just modern menswear – it's just what people wear now."
Jones was speaking on Thursday at the Paris presentation of a collection that brought together two very different fashion brands: Louis Vuitton – the world's most valuable luxury brand – and Supreme, the cult skater label whose devoted fans have been known to pay £700 for a red clay brick embossed with its logo.
The results of the collaboration included denim jackets and red and white bumbags, backpacks, handbags and pouches featuring the logos of both brands.
The rest of the collection was inspired by New York, Jones said, and the collaborative working methods of Jean-Michele Basquiat, Keith Haring, Julian Schnabel, Robert Mapplethorpe and Andy Warhol in particular.
In practice this meant three-quarter-length camel overcoats, chunky waffle knit sweaters, chocolate brown leather mackintoshes, boxy camouflage jackets, wool and cashmere flannel suits. Though there were dandyish flourishes – berets and the occasional silk pyjama-style shirt – the overall impression was luxe but wearable.
That the Supreme label can sit so comfortably beside Louis Vuitton's 120-year old monogram logo says a great deal about the shifting luxury landscape. The Supreme collaboration certainly seems likely to set tills ringing.
Jones said it was his CEO who had first suggested the idea. It taps into a feeling that cult brands with devoted fands producing clothes with oblique logos and "in joke" slogans are becoming a dominant force in the high fashion world.
Earlier in the day, the Rick Owens fandom was out in force as men in the designer's signature tent-like tunics and cloaks gathered to see a collection with highlights including padded coats arranged around the body in complicated, Jeff Koons-style knots. And at Off-White, the label created by Kanye West's long-term collaborator, Virgil Abloh, there was a dominant look, too, among the assembled crowd, who wore jeans and hoodies covered in the brand's trademark diagonal stripes.
Those stripes were all over the catwalk, too, while an excerpt from John Berger's Ways of Seeing, which questioned the distorting nature of reproduction, played out on the soundtrack.
Reproduction – in terms of ripping off and riffing on fashion logos – is another huge preoccupation in fashion at the moment. Interestingly, notes distributed at the Louis Vuitton show also referenced "Dapper Dan", the Harlem designer who spliced together fake Gucci and Louis Vuitton insignia in the 1980s to create eye-popping garments for the likes of Salt n Pepa and LL Cool J, which have often since inspired the brands they were originally knocking off.
In 2000 the French fashion house and the skater label were embroiled in a row over the skater brand's "unsanctioned" use of a logo similar to Louis Vuitton's. This time around they seem to be getting along just fine.
guardian.co.uk © Guardian News & Media Limited 2010
Published via the Guardian News Feed plugin for WordPress.
Categories
Tags