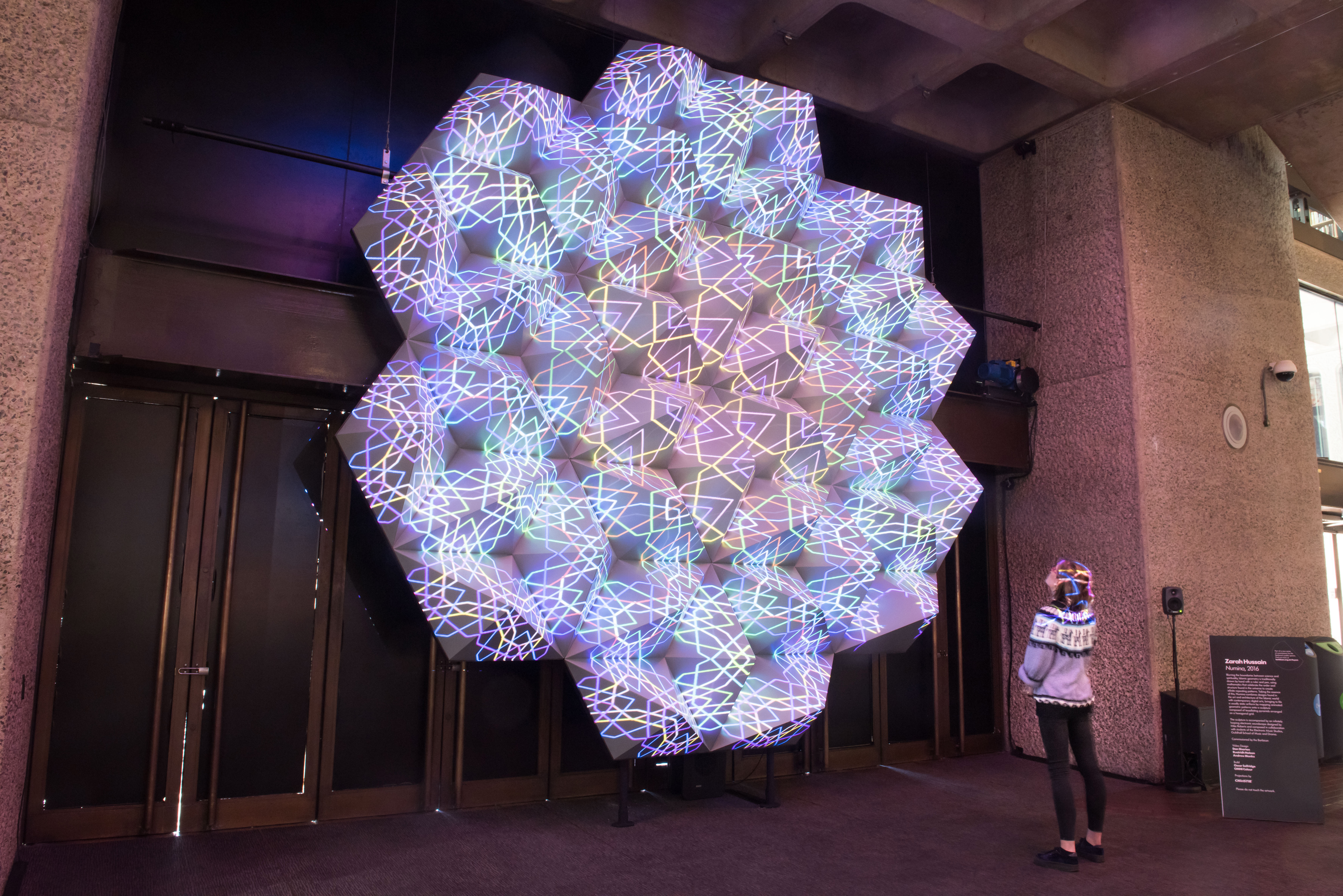 Numina by Zarah Hussain
The Barbican and Christie®, a global leader in visual and audio solutions, are pleased to announce a major five-year partnership that will see Christie providing leading visual technology to the Centre. The partnership will transform the public spaces of the Barbican, providing new platforms for its rolling programme of artistic commissions and focal points to communicate with the public in visually innovative ways.
To coincide with this new partnership, the Barbican is holding an open call for artists, collectives and designers across all disciplines to create a projected artwork that responds to the phrase 'What's going on here, then?' The winning entry will receive a £2,500 commissioning fee and have their artwork installed in the Barbican's public spaces from January to May 2017. Applications are now open and will be judged by a panel consisting of Freire Barnes, Art & Design Editor at Culture Trip; artist Zarah Hussain; Alona Pardo, Associate Curator at the Barbican and James Belso of Christie. The work will join the Barbican's existing foyer commissions, which extend the Barbican's ambitious, international artistic programme beyond the walls of its venues and into its public spaces. Two installations currently in the foyers – Numina by Zarah Hussain and let's take a walk by non zero one – already employ Christie technology. Find out more about the open call out here.
Across the Centre, Christie will supply the latest laser phosphor projectors, LED video walls, Christie® MicroTiles® modular display technology, and Christie Pandoras Box media servers to provide high performance rendering of all visuals. The displays will be seen at entrances, across the foyers and at key points throughout the building.
The partnership underlines both the ongoing and ever-evolving relationship between the arts and technology, and the Barbican's commitment to championing pioneering artists working in digital and non-traditional art forms.
Numina by Zarah Hussain and let's take a walk by non zero one, currently installed in the Barbican foyers, already use Christie technology. Numina is a vast hexagonal grid illuminated with projection mapped geometric patterns that draw on traditional Islamic art, while let's take a walk greets visitors with projections of six individuals that they then select and continue with on an audio journey around the Centre.
Zarah Hussain said,
"Having the opportunity to work with Christie projectors has been a brilliant experience for me. My work is based on very precise grids and patterns and I have been very impressed that the quality of the projection and the brightness and accuracy of the images. Without the support of Christie, a project of this scale and duration would simply not have been possible. I'm delighted to have now been invited onto the judging panel for a new foyer commission that will also be realised with the help of Christie projectors."
Find out more about the open call out here.
Categories
Tags