The desire to explore a past that she has never known, a paradise lost, is integral to the work of Iranian-American artist Kimia Ferdowsi Kline. Kimia's relationship with her Persian heritage is one that has always had to survive outside the borders of Iran. As members of the persecuted Baha'i faith, Kimia's family was exiled from Iran before she was born and threatened with imprisonment if they ever returned. Now based in New York, Kimia's paintings have been exhibited all over the United States, in both solo and group shows.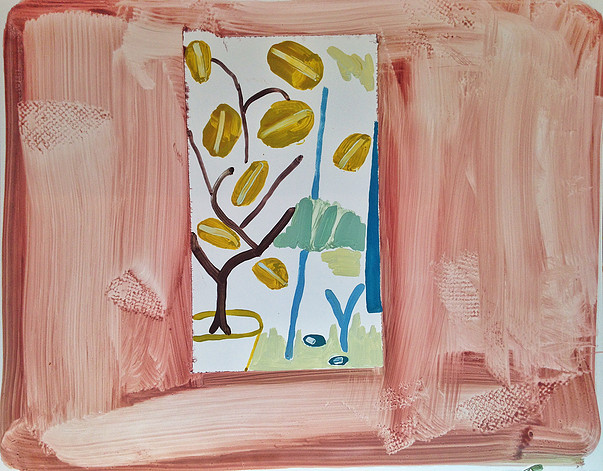 Promised Land. Kimia Ferdowsi Kline. 2016.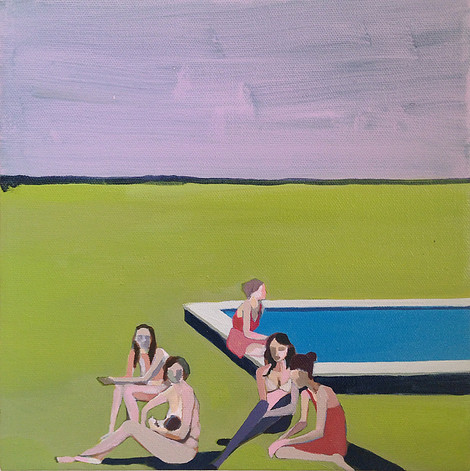 Daughters of the Half Light. Kimia Ferdowsi Kline. Oil on canvas. 2012-2015.
'When I was a little girl, the only pictures I'd seen of Iran were in black and white. I had never been there and I knew I couldn't go. And so I thought Iran was grey. I thought I came from a place without colour. When my family fled Iran and sought religious asylum in the United States, our surname was blacklisted. To this day, I'm not able to go back without the threat of imprisonment. All of the images that I had ever seen of Iran were black and white photographs that my grandparents had, or news clippings. It wasn't until I was older that it clicked for me that Iran existed in colour.'

– Kimia Ferdowsi Kline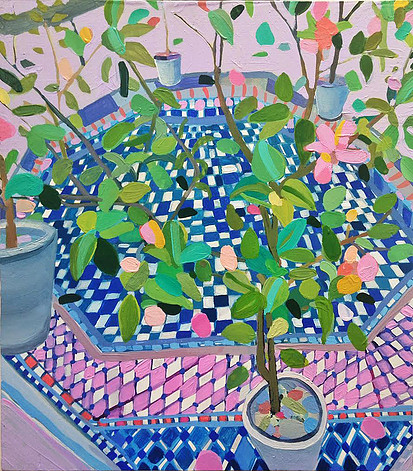 A Courtyard. Kimia Ferdowsi Kline. Oil on panel. 2014.
Andromeda And Two Arabian Fish' Kimia Ferdowsi Kline. Oil on panel. 2015.
The paintings that I've been creating since I got out of school are, in a way, love letters to Iran. My work definitely explores that gap that I feel between being over here, on this side of the pond, and not being able to go back because of the threat of religious persecution. All of my paintings are extensions of that experience – small ways of bridging that gap. Painting is the only way that I can try to relate to this kind of 'ghost homeland' of mine.

– Kimia Ferdowsi Kline

 Two Jackals. Kimia Ferdowsi Kline. Oil and oil stick on panel. 2016.
Egon Schiele was a huge influence to me. I remember the first time I saw his figure drawings… It was like a punch to the heart. He died so young and I was really attracted to his story as an outsider. Eric Fischl also influenced me a lot. I loved beautiful painterly painters like John Singer Sargent. But I feel like I've grown out of them now somehow. I'm currently very influenced by David Hockney, Matisse and Danny Fox, as well as outsider artists such as Clementine Hunter.

– Kimia Ferdowsi Kline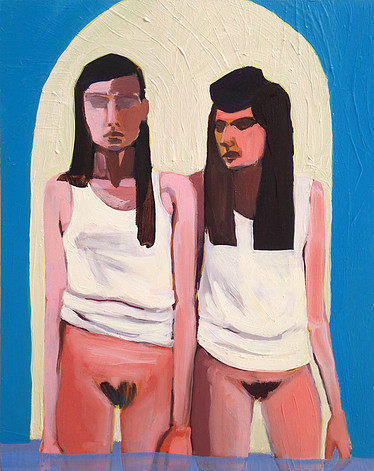 Bathers. Kimia Ferdowsi Kline. Oil on panel. 2015.
I've connected with so many incredible artists via Instagram. I've traded pieces of art that are hanging all over my apartment via Instagram. There's a visibility and an accessibility that has never existed before. All you need is an internet connection and a smartphone. It really is such a powerful tool in the art world today.

– Kimia Ferdowsi Kline
Kline's work will be exhibited in London for the first time at The World's Mine Oyster exhibition. Opening 8th December 2016 –  133 Bethnal Green Road, London.
Categories
Tags