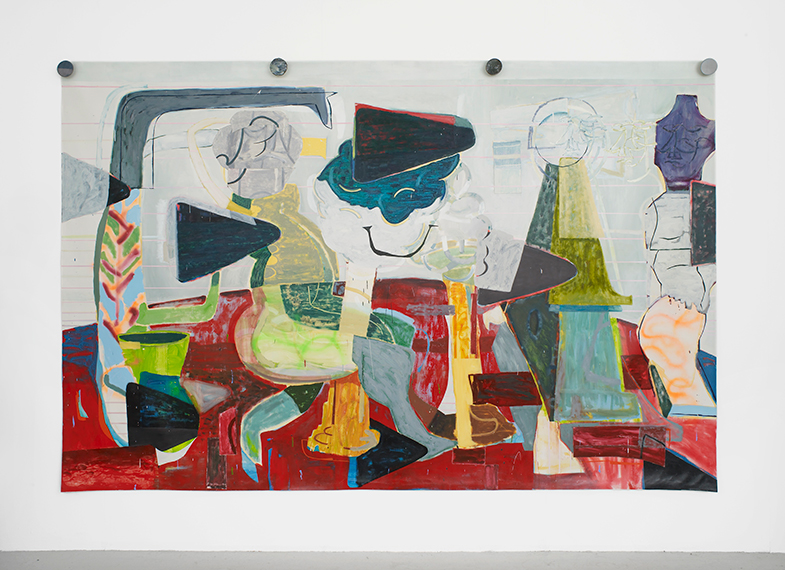 Laurence Owen Ritual to the Westfield
Laurence Owen (b. 1984, Gloucester, UK), his practice involves paintings and ceramics based in a language that has echoes of artifact and relic, he employs aspects of Folklore, Paganism and Mythology to investigate contemporary consumerism.
Owen's paintings are swirls and gestures, vivid marks and brightly coloured symbols. He draws upon various source materials, literature, music and contemporary culture to create work that vibrates with life and positivity.
"I'm interested in the fragmentation of different sources from many different elements in art, life, landscape and music, and in trying to construct them together in a false environment…I think this practice creates a kind of surreal yet familiar realm."
Laurence attended the Royal Academy Schools and received a Postgraduate Diploma in Fine Art in 2015.
This year he had a solo show at Evelyn Yard, entitled 'Channel Synthesis', he was also featured in the John Moores Painting Prize at the Walker Art Gallery, Liverpool.

Laurence Owen Imagining a new constellation 2016 oil on board 89-6-x-63-5cm-

Laurence Owen Eye-patch-mishap-2016-oil-on-board-89-6-x-63-5cm
Categories
Tags