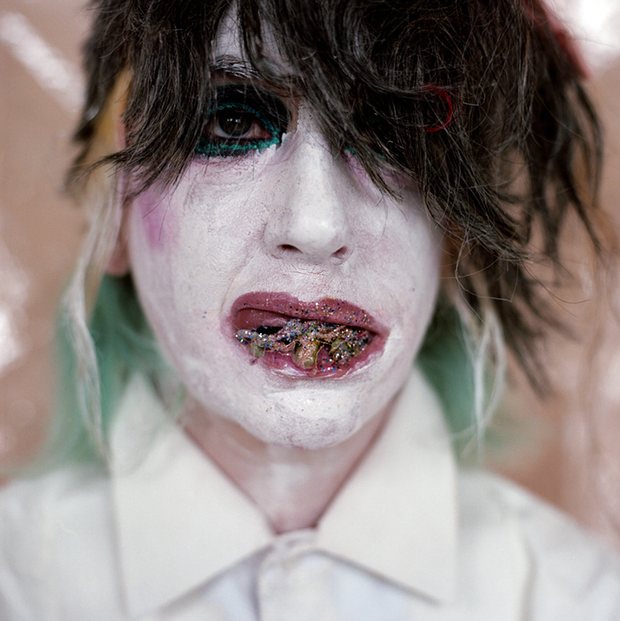 Julie Verhoeven by Annie Collinge. Photograph: Annie Collinge
---
This article titled "Frieze London 2016 to feature Julie Verhoeven lavatory intervention" was written by Mark Brown Arts correspondent, for theguardian.com on Tuesday 20th September 2016 15.15 UTC
Visitors to one of the world's most important art fairs are used to seeing artists and curators plying their trade everywhere they look. This year artists will be working the toilets, too.
Organisers of London's Frieze art fair have commissioned the artist Julie Verhoeven to make an intervention in one of its lavatories.
"It will be an enhanced experience, a total environment," said Frieze's artistic director, Jo Stella-Sawicka, reluctant to give too much away before the event in a fortnight's time. "It will be an extra special version of what you usually expect.
"We are lucky at Frieze because we have very nice facilities, but she is taking it to a new level."
Verhoeven's project is called The Toilet Attendant … Now Wash Your Hands and will feature the artist as the attendant and unpublicised guest stars, likely to be art world figures rather than household names.
It sounds fun but Verhoeven's work always has a political dimension and the toilet project will, Frieze said, also "open up space for critical thinking on the invisibility of certain working groups and labour ethics".
Verhoeven's work will be one small element in what is now a giant exercise. More than 160 of the world's leading contemporary art galleries will set up stall in Regent's Park for the 14th edition of Frieze London, while 133 galleries will be next door at the fifth edition of Frieze Masters, where older art is sold.
Victoria Siddall, the director of Frieze Fairs, said they had become known for strong curated sections and 2016 was no exception.
Particularly exciting, said Siddall, was a new gallery section called The Nineties, in which seminal exhibitions from that decade would be recreated.
She said: "There will be things that people who were in the art world at that time remember. They were important things that stuck in the mind and changed the way people thought about contemporary art."
They include Wolfgang Tillmans's first art exhibition, held in 1993 in Daniel Buchholz's gallery, then located in his father's bookshop in Cologne.
Another will be the Anthony Reynolds gallery 1996 show of Richard Billingham's startling photographs of his Black Country family, including his alcoholic father, Ray. The "squalid realist" photographs were later included in the 1997 Sensation show organised by the Royal Academy of Arts, or Royal Academy of Porn as it was that year renamed by the Daily Mail.
Other special projects will include a one-off performance by the Cuban-American artist Coco Fusco, who will be dressed as Dr Zira from Planet of the Apes and give a lecture entitled Observations of Predation in Humans.
Siddall said the range of artworks on sale would be particularly pronounced this year with more galleries selling ancient art than before, including a flint dagger for about £1,000 and an Egyptian mummy mask at several hundred thousand pounds.
Siddall said buyers were a diverse lot and often included collectors of contemporary art. "The dialogue between ancient and modern works really well," she said.
The looming issue of Brexit will feature on the Frieze talks programme but had not yet had an effect on the fair, said Siddall, other than the exchange rate making it cheaper for overseas buyers.
• Frieze London is at Regent's Park, London, from 6-9 October
guardian.co.uk © Guardian News & Media Limited 2010
Published via the Guardian News Feed plugin for WordPress.
Categories
Tags