arebyte have got together with Outset: Studiomakers to present a 'pop up arts complex'which will be spread over 1000sqm! in the heart of Clerkenwell and they want you to be part of it.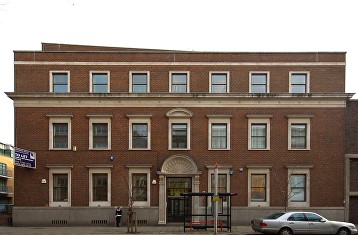 The aim is to provide Cheap studio spaces in London. So if you are an artist, designer, photographer, creative mind, small business or freelancer and you want a cheap studio space in EC1 then they need to hear from you. Everyone and everything is welcome.
Their mission is simple:
"To provide really affordable studio spaces in central London to those who need it most. By collaborating with developers we are able to offer ex-business premises at a discounted rate."
The spaces are a bit rough around the edges but will be clean, safe and big. Collaboration between studio users will be encouraged and to do this some spaces will be kept open enabling conversations to take place making exciting new things happen.
8 minute walk to Old Street Station and 7 minute walk to Barbican Station. Desks spaces from £100 PCM Artist Studios from £200 PCM Offices from £300 PCM www.arebyte.com
Onsite will be the home of LASER, a project space and extension of arebyte in Hackney Wick, featuring a series of solo and group shows alongside a fast-paced public programme and community led workshops.
OPEN DAY THIS FRIDAY 11AM – 8PM. Come and say hi! For more info: info@arebyte.com
Nimrod Vardi: + 44 753157 4666 Rebecca Edwards: + 44 745064 1411
arebyte is an art charity working mainly in New Media and Performance art, founded in 2013, named as London's most experimental space and nominated for Best Independent Cultural venue 2015. Since its inception, arebyte has curated and produced projects locally, internationally and online, receiving immense coverage in major press.
Outset Contemporary Art Fund is a hub for creative funding solutions for contemporary art with patronage at its core Under curatorial guidance, supports exhibitions, productions, museum acquisitions and capital campaigns to benefit institutions that range in scale from grassroots organisations to leading international museums. Outset's role is to establish and nurture relationships that allow patrons and corporate organisations to support selected art projects through financial assistance and strategic advice.
Studiomakers is an initiative led by Outset in association with Second Home, the Greater London Authority, PLP Architecture, Create and Bolton & Quinn. In response to the Artists' Workspace Study, a report commissioned in 2014 by the Mayor of London, which predicted the possible loss of up to 3,500 artists' workspaces in London in the next 5 years, Studiomakers aims to provide entrepreneurial solutions in response to serious funding needs. Partnering with organisations in the property industry – from local authorities to landowners and private developers – the initiative looks to retain existing and create new affordable artist workspaces in London and the UK.
About Mark Westall