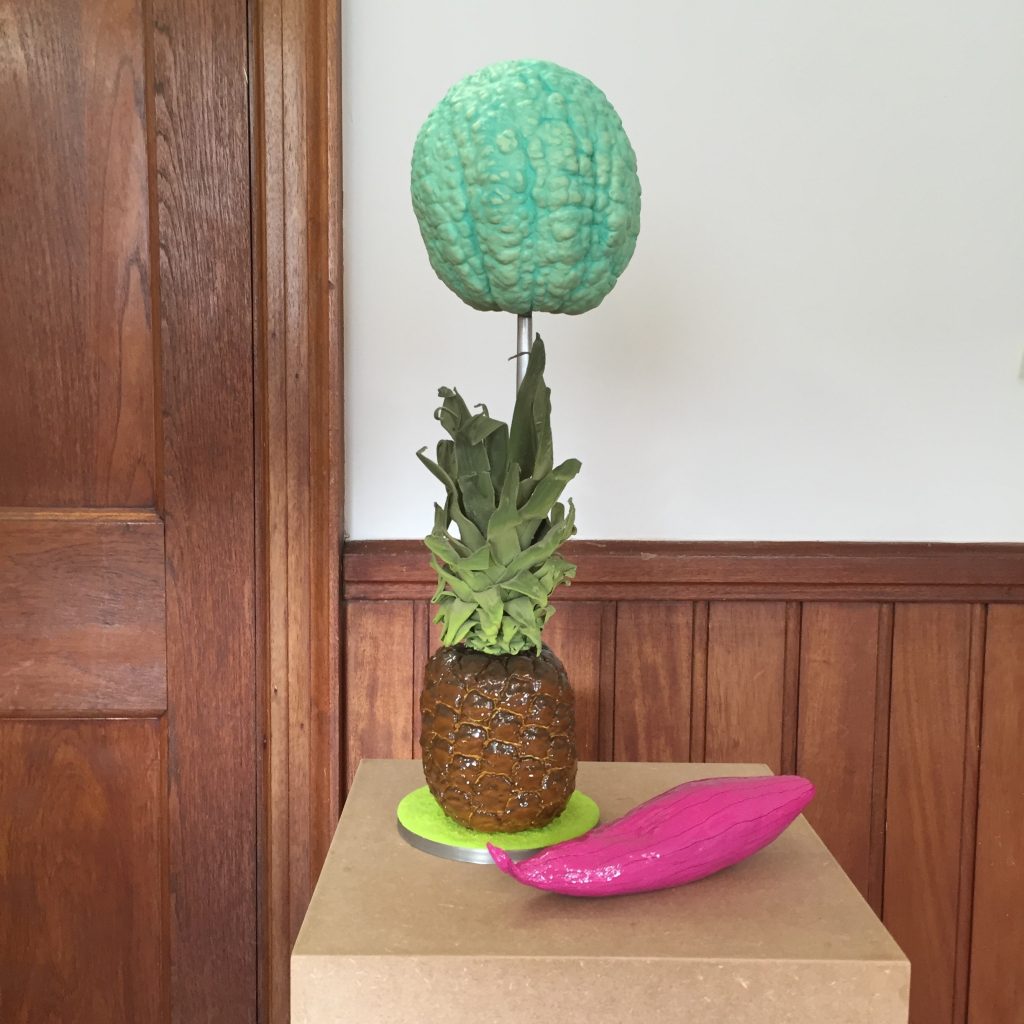 London-based sculptor Jonathan Trayte mines the tropes of today's food obsessed society in Polyculture, his first solo exhibition in a public gallery in the UK. After showing his work at the Royal Academy of Arts in 2015 as one of the five finalists of the Converse x Dazed Emerging Artists Award, Trayte's work rises to new heights at The Tetley, a centre for contemporary art and learning, located in the former headquarters of the world-famous Tetley Brewery in Leeds.
Having worked his way through university in Canterbury in one of the UK's first daily farmers' markets with an on-site food hall and restaurant using only locally-sourced produce, Trayte draws from his culinary background, creating beautifully made, voluptuous and often vibrantly coloured casts of food in bronze, ceramic or concrete that comment on contemporary society's production, marketing and consumption of food. Trayte is particularly fascinated by the global food packaging industry and its attempt to entice us, which results in his own work having a highly glossy finish, recreating the industry's similar attempts to create a seductive appeal. For this exhibition, in fact, Trayte picked the brains of Professor Charles Spence at the experimental psychology laboratory at Oxford University, to understand how consumer decision-making is manipulated in commercial environments using various means, materials, lighting and temperatures.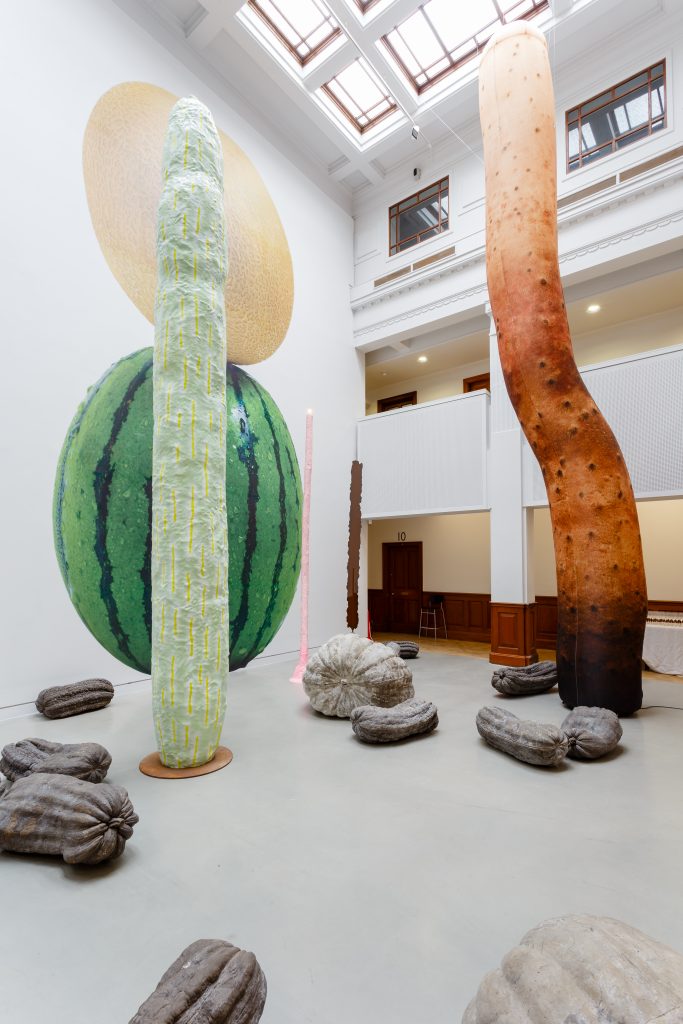 Exploring the boundary between food and sculpture, Trayte has created for this show a dramatic installation in the double-height central gallery of The Tetley that includes several tall, thin sculptures resembling cucumbers and other more exotic Asian vegetables – one pink plaster sculpture and another yellow-veined mint green sculpture hark back to the blobby sculptures of the late Franz West and the eight-metre tall inflatable sculpture name-checks Anthea Hamilton. The backdrop to this sculptural installation is a nine-metre tall vinyl wallpaper of a cantaloupe sitting on top of a watermelon. With all of this phallic imagery in the foreground and coupling melons in the background, the viewer is forced to contemplate the marketing of foodstuffs in modern society and how we consume products based on the strength of their advertising campaign.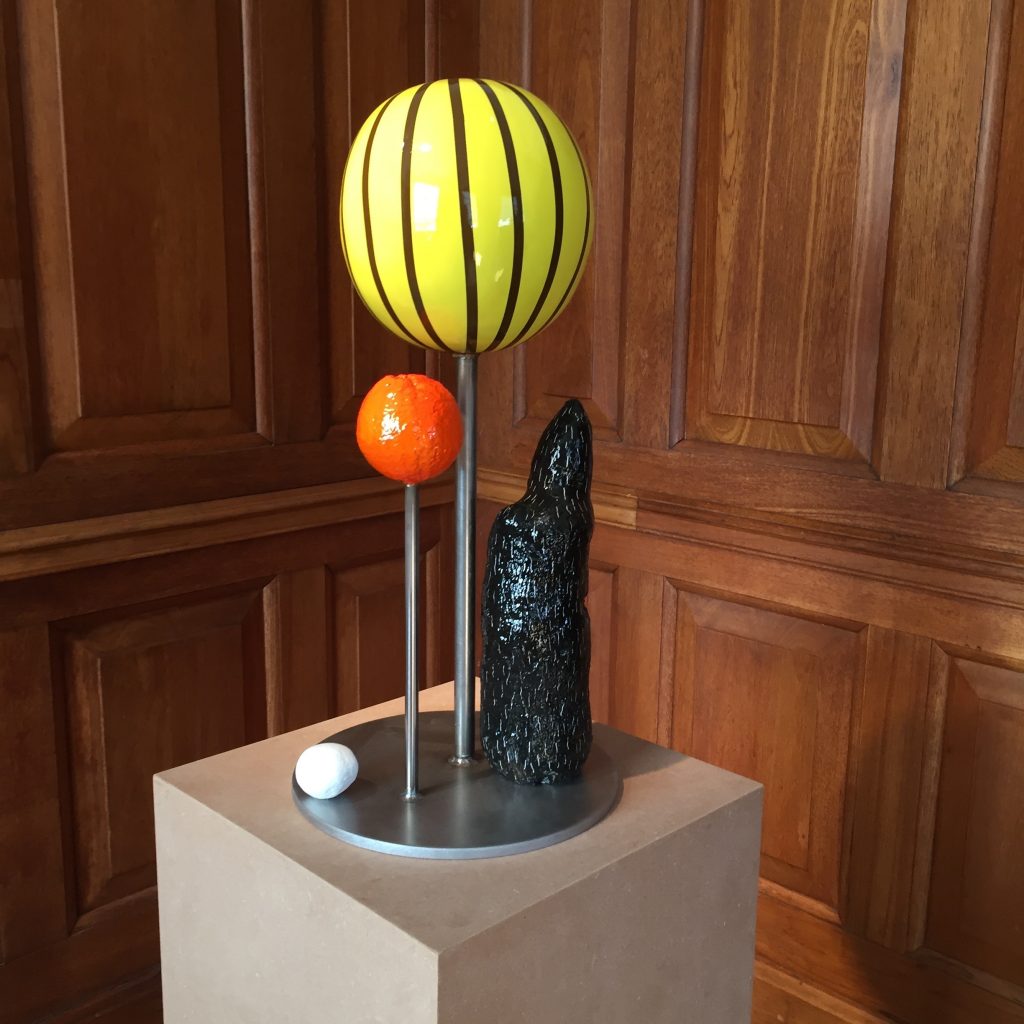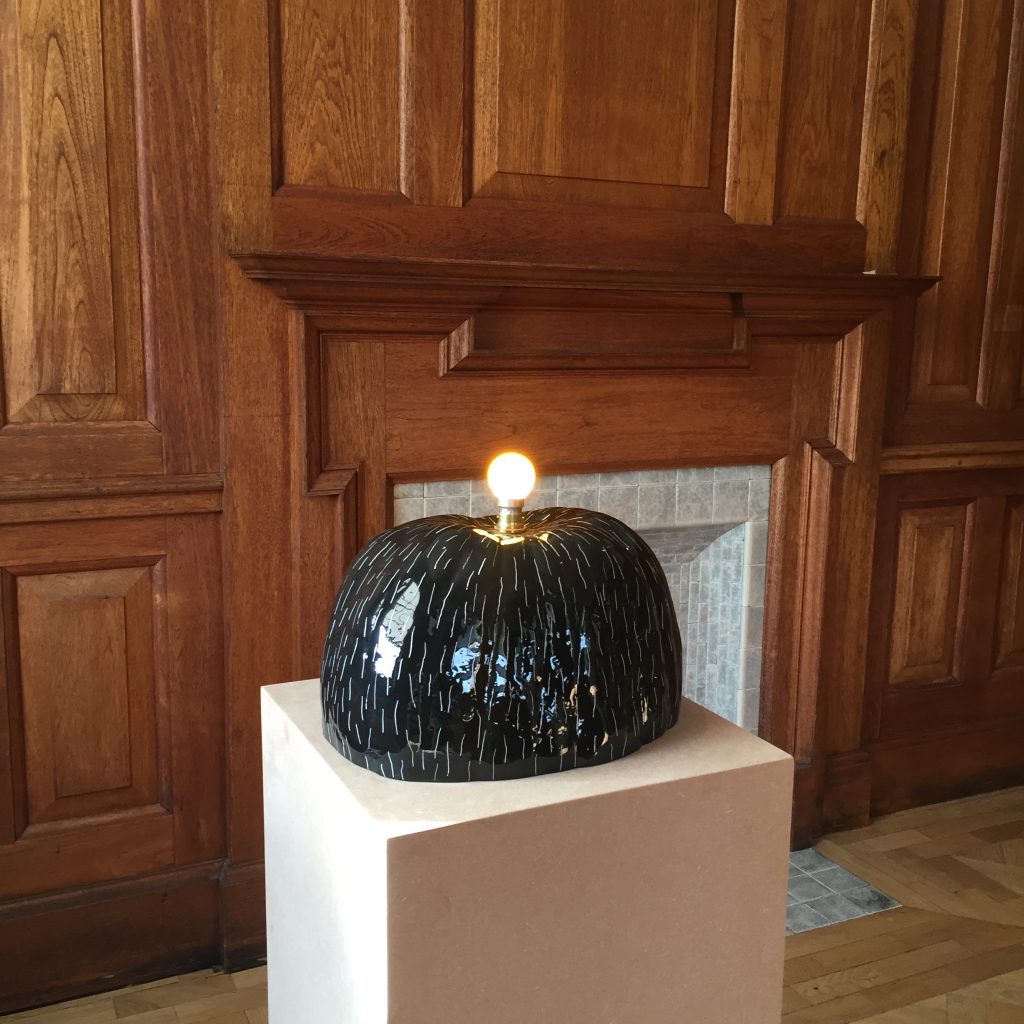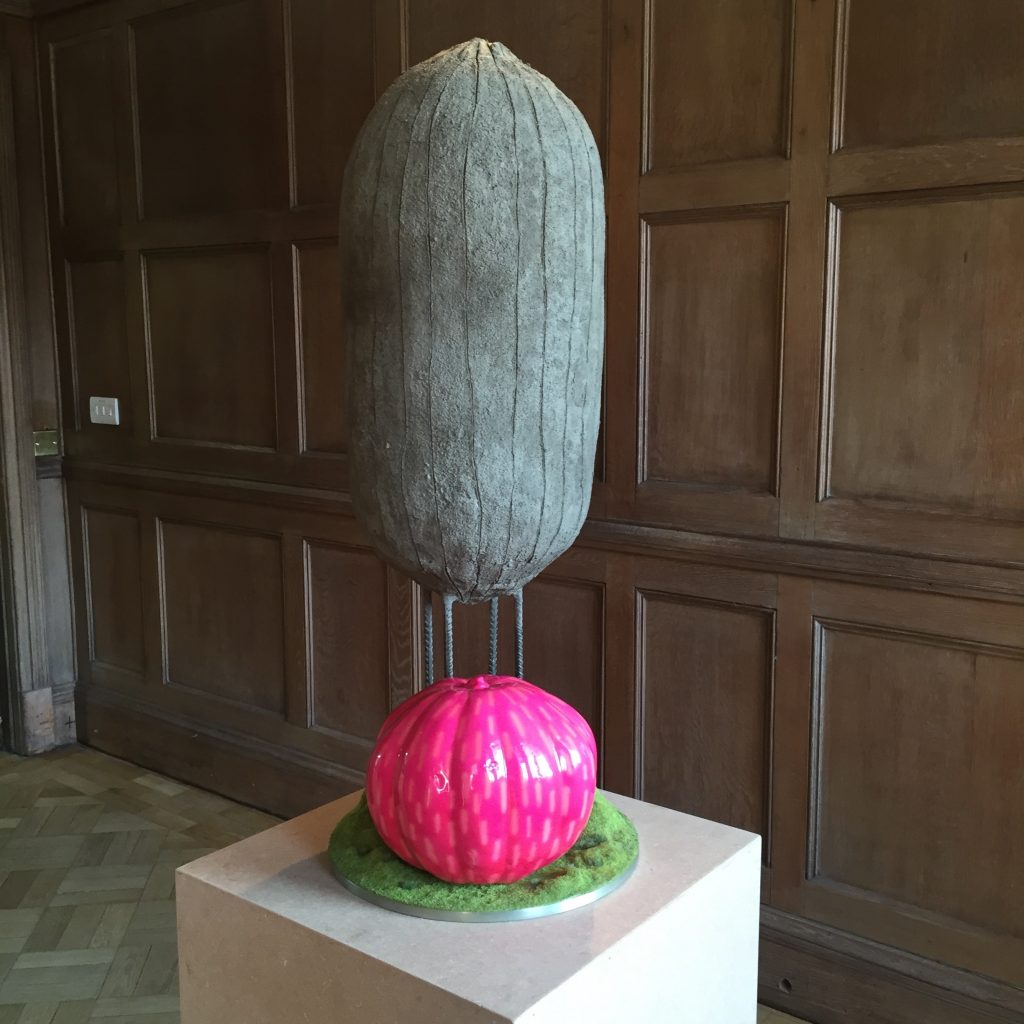 In the seven other side galleries of The Tetley that encircle the central gallery, Trayte has assembled a menagerie of sculptures that feature two or three food-related sculptures of various textures and materials, rising up from a stainless steel base and often incorporating a naked light bulb like those found at an early morning produce market. An ominous video features in one of the final galleries, showing footage of empty conveyor belts in motion from an undisclosed meat factory that the artist was granted permission to document. Food farming and photosynthesis take place in the final gallery in a sculpture made up of an aquarium filled with aquatic plants and live shrimp and including the essential LED grow light. The title of this artwork is worth mentioning: Vessel for the Contemplation of Real Time Bare-Root Intercropping (2016).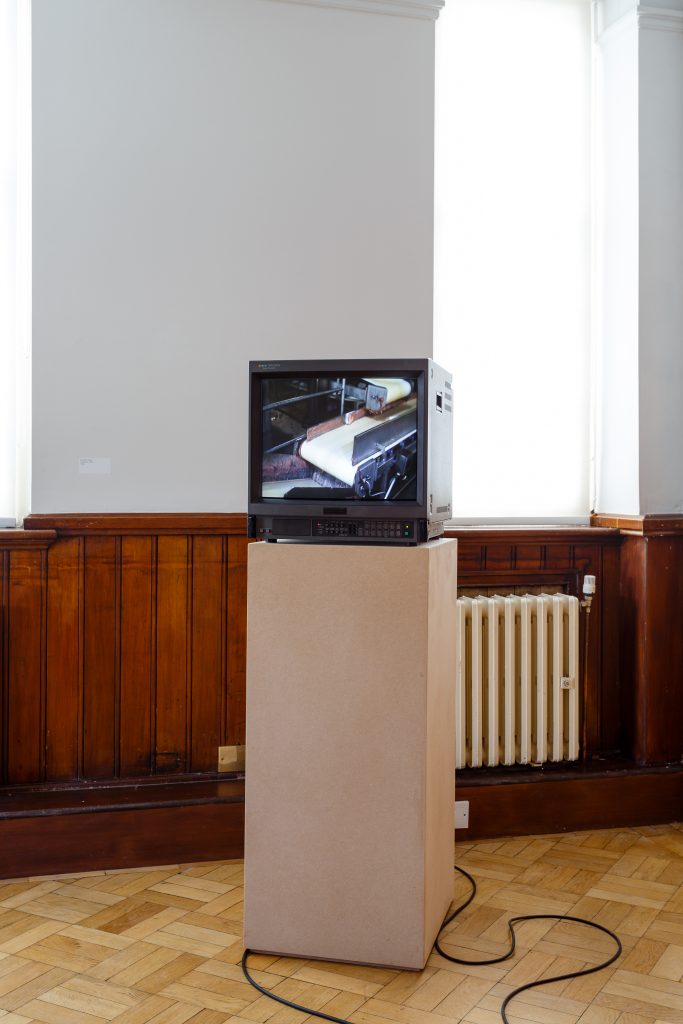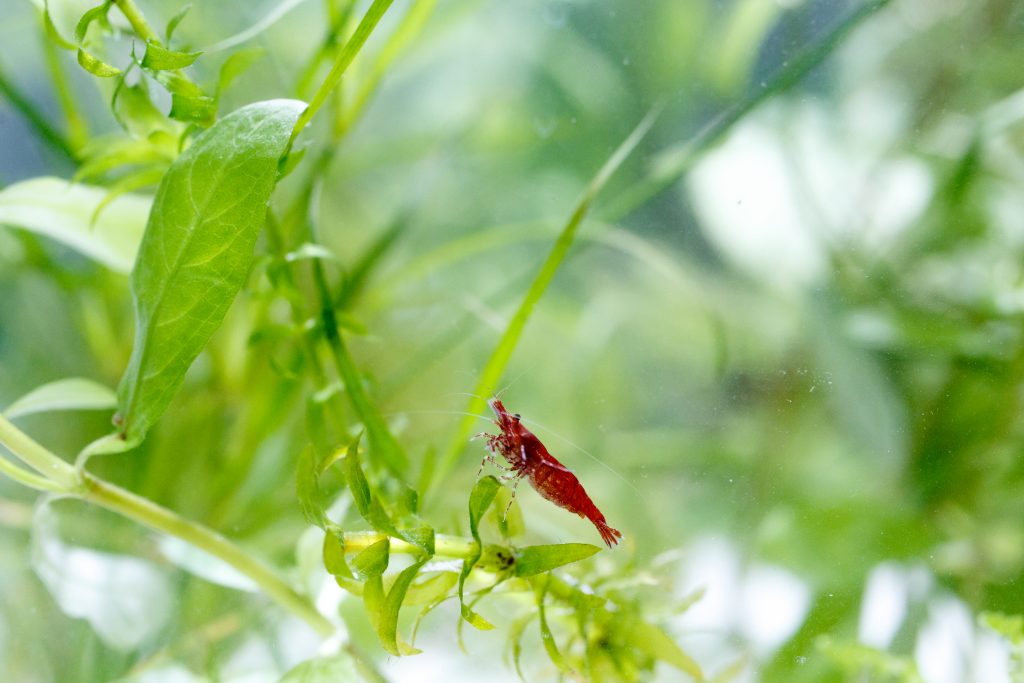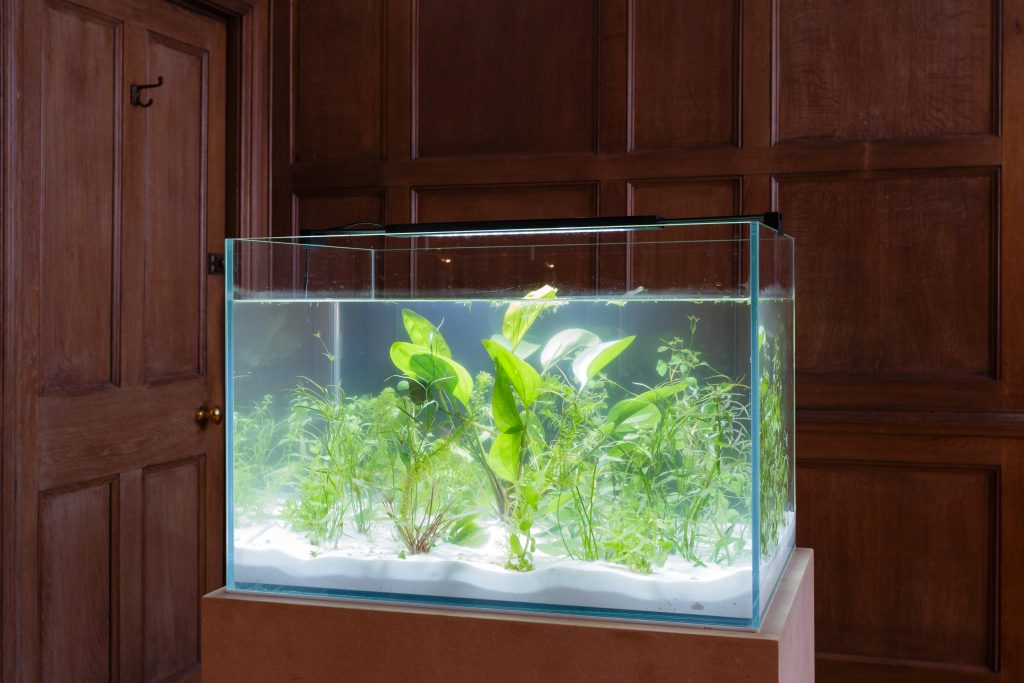 ?
On the ground floor of this art space, there is more food for thought as it features an active restaurant and bar named Bar & Kitchen where Trayte is also exhibiting a whimsical range of limited edition, semi-functional ceramics with custom-made display cases. These ceramics are the results of a recent international residency embarked on by the artist. Other ceramics in the show include of a stack of about twenty dozen near-perfect 1:1 casts of eggs next to indeterminate machinery from a futuristic food factory painted a lurid baby pink.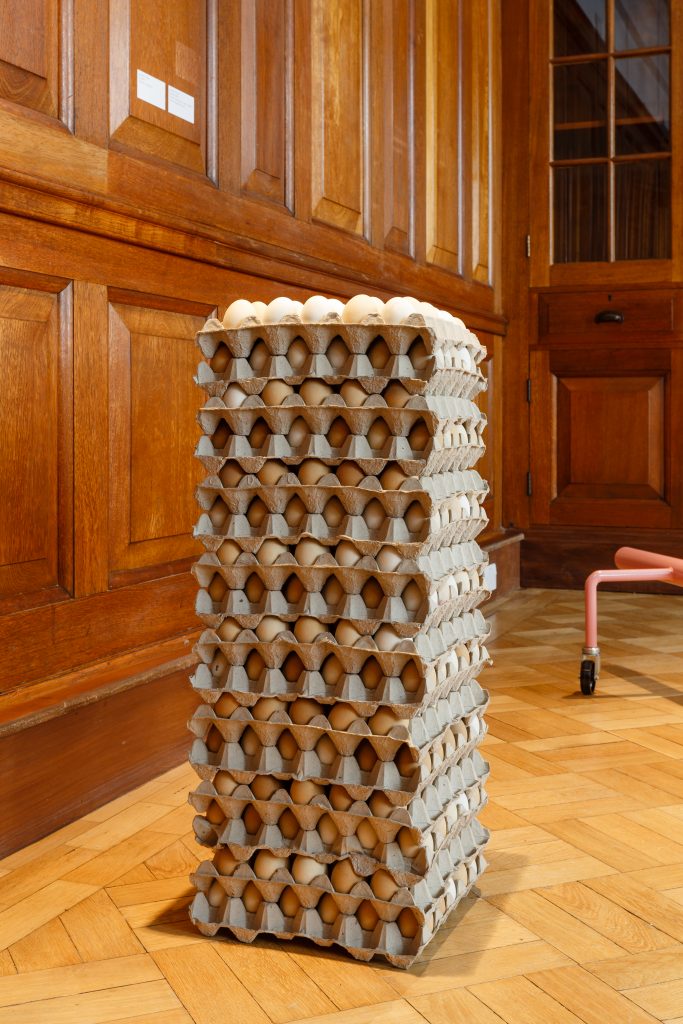 ?
Don't miss an evening of food and performance on Wednesday, 5th October when the artist and Feast editor Laura Mansfield come together to curate a dinner celebrating the launch of the latest edition of this trade magazine, focusing on the theme of decoration. This is a ticketed event so please see The Tetley's website for details.
Jonathan Trayte: Polyculture (22 July – 9 October 2016) at The Tetley, Leeds. thetetley.org
About the Artist
Jonathan Trayte (born in 1980 in Huddersfield) lives and works in London after graduating with a PG Dip from the Royal Academy Schools, London in 2010. His recent solo exhibitions include those at Istanbul Art Project, Istanbul (2014), Identity Gallery, Hong Kong (2011) and Simon Oldfield Gallery, London (2010). Group exhibitions include Converse x Dazed Emerging Artists Award 2015 at Royal Academy of Arts, London (2015); Union of Voices at Horatio Jnr, London (2014); Sculpture al Fresco III at Great Fosters, UK (2013); Josh Lilley Gallery, London (2012); Bloomberg New Contemporaries (2011 and 2009); Poppy Sebire Gallery, London (2011); and Franks-Suss Collection, Saatchi Gallery, London (2010).
About the Venue
The Tetley is a centre for contemporary art at the heart of Leeds South Bank. It is operated by registered charity Project Space Leeds (no.1148716) founded in 2006, and is housed in the landmark building of the former headquarters of the Joshua Tetley & Son brewery.
Categories
Tags