Cornelia Baltes graduated from the MA Fine Art degree at the Slade. She previously studied communication design at the Folkwang University of the Arts, Essen, Germany.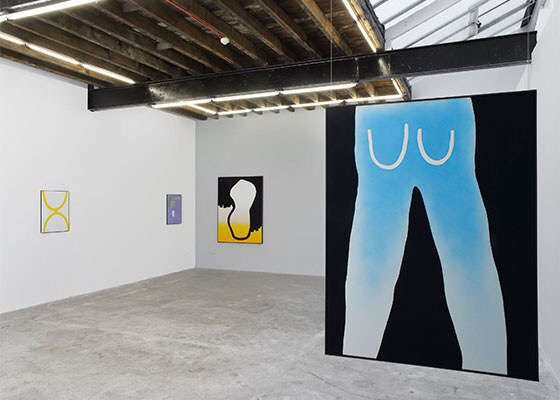 Drunk Octopus wants to fight, installation view, Limoncello, 2016
Cornelia challenges the notion of what painting is and what it can be. The work at times mischievously escapes the confines of the picture frame, her loose abstractions, blocks of colour, strong lines all make for an art that defies explanation.
Cornelia covers all media, incorporating painting, photographs, sculptures and installations; throughout her work there is consistent minimalism and playfulness of gesture. Much of her work stems from observations of the everyday, aspects of clothing, human facial expressions all condensed down to the elemental.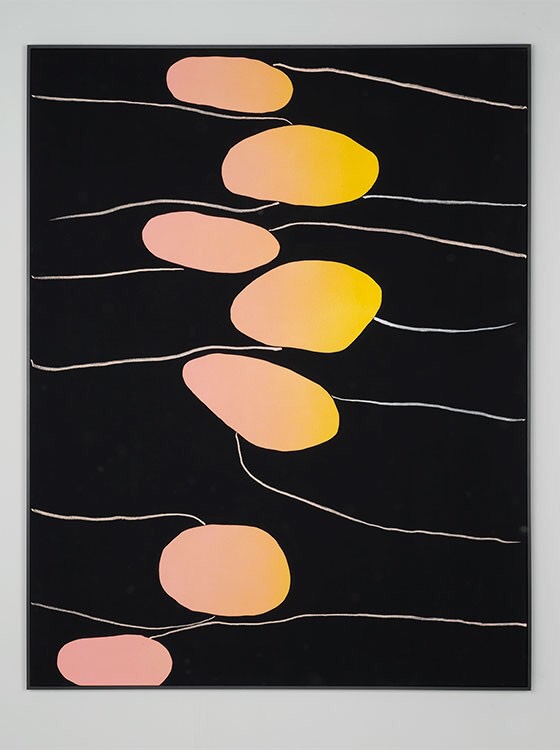 Hendrik, Acrylic on Canvas, 160 x 120 cm, 2016
Baltes most recent exhibition at Limoncello, amusing entitled, 'Drunk Octopuss wants to fight' sees canvases suspended back-to-back from the ceiling, again defying how painting should be seen traditionally flat on the wall. The palette have a soft graduation of colour, from a orange hue to yellow, from yellow fading into white, contrasting the thick black lines and mark making.
The work is idiosyncratic and quirky. The titles suggest portraits in part, such as 'Hendrik', 'Steve' and 'Monika', reduced down to referencing their clothes, we have a pair of jeans shown from the back, the pockets crudely expressed by two white lines, again the graduation of colour is subtle and expertly handled.
Everything here is implied and suggested, there are comic hints and amusing allusions to real world stuff. Vigorous marks and powerful lines temper the graphic style, disrupting the flat colours and carefully controlled shading. The overall effect is a kooky coolness, run through with frisky humour.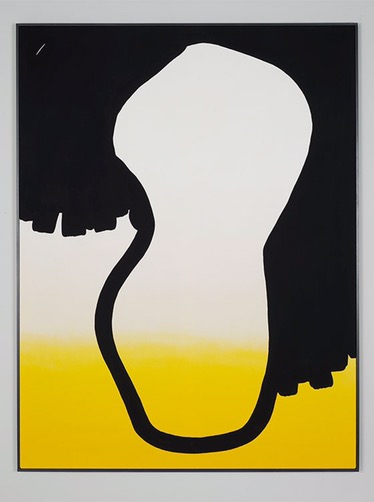 Cindy, Acrylic and Oil on Canvas, 180 x 140 cm, 2016
Baltes is definitely a young artist to watch out for. Artsy highlighted her solo presentation at Liste and she has recently been in a group show in The New Gallery, Milan. Previously she was selected for the prestigious Bloomberg New Contemporaries exhibition in October 2011 and was a finalist in the John Moores Painting Prize (2010).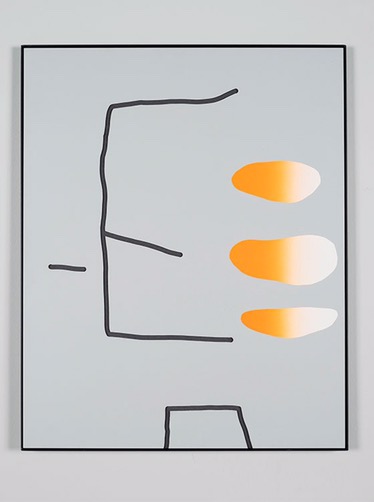 Feathers, Acrylic and routed black MDF, 69 x 55 cm, 2015
Categories
Tags