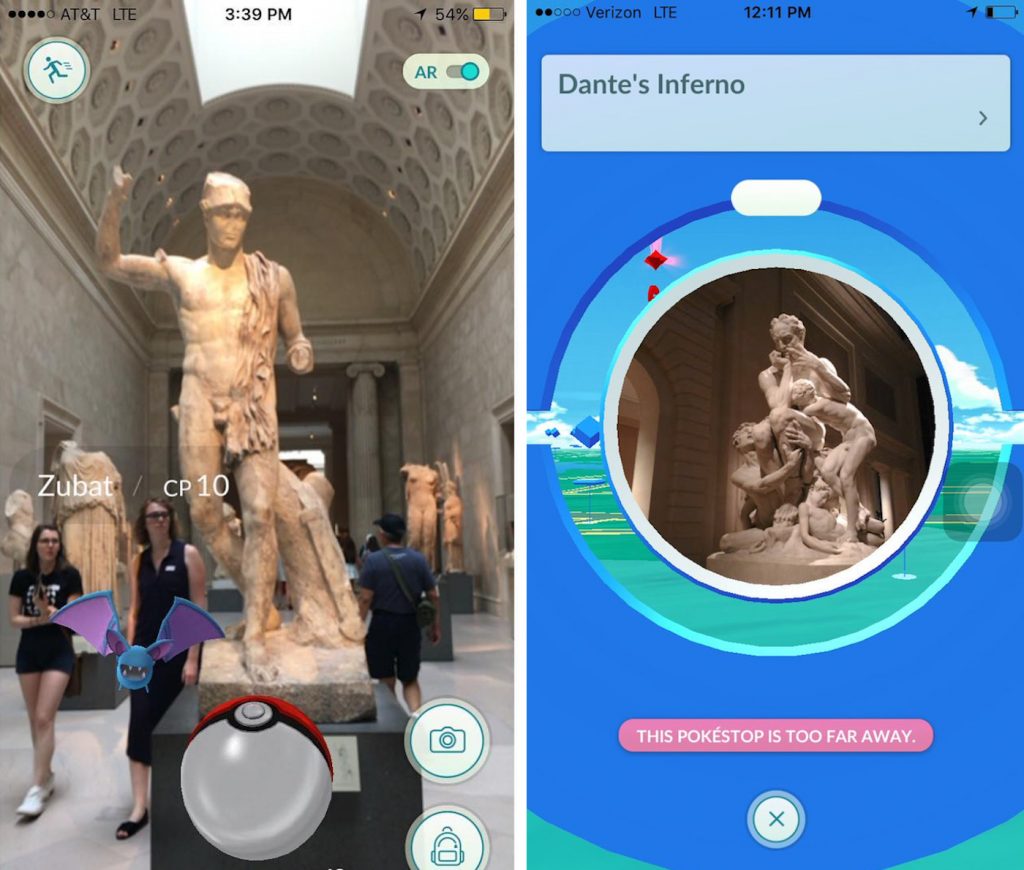 Screenshots of Pokémon Go when played at the Metropolitan Museum of Art (photos by @jeanettehayes/Instagram and @museummammy/Twitter)
Since Pokémon Go launch last week in the USA many museums have witnessed increased attendance as players have swarmed to them in hopes of catching some Pokémon, as the institutions are integrated with the game.
Pokémon Go is now the most downloaded smartphone app in the US, with its daily active users greater than Twitter's, users roam the real world to discover and virtually catch Pokémon. It's a location-based, augmented reality game. Besides being filled with Pokémon, many museums also house "gyms," where you train Pokémon, and Pokéstops — areas, marked by blue pins on a virtual map, where you can find free supplies, from Pokéballs to potions.
A huge number of Pokéstops, as described in the game's release, are museums, historic buildings and markers, and even public artworks. At the Metropolitan Museum of Art, for instance, Jean-Baptiste Carpeaux's "Ugolino and His Sons" is a Pokéstop — although it is labeled in the interface simply as "Dante's Inferno." Meanwhile, Pikachu seems to be drawn to the electricity of a Dan Flavin at Crystal Bridges Museum of American Art, and Charmander's has even been spotted hanging around the British Museum's Parthenon Marbles galleries (despite no UK release yet) as well as Boston's Museum of Fine Arts. Also, the Art Institute of Chicago is lit, featuring a whopping 14 Pokéstops.
Who knows if Pokémon Go will really result in visitors' increased interest in or engagement with art or historic objects, but it would be a great by product. Via: hyperallergic.com
Categories
Tags