Jamie Fitzpatrick was born in 1985 and graduated with an MA in Sculpture from the Royal College of Art last year. He is represented by Vitrine Gallery.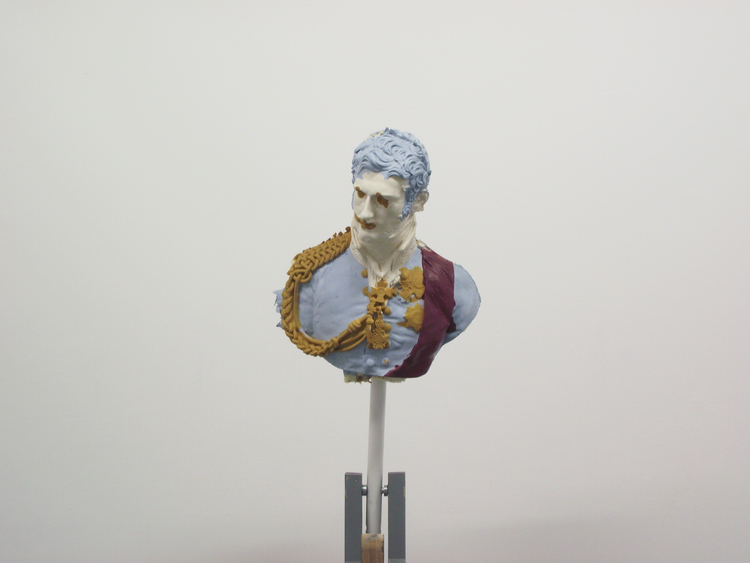 Jamie's practice deals with comic distortion and grotesque, described by Frieze Magazine as 'a mash-up of Paul McCarthy and Phyllida Barlow'. Jamie creates figures that question authority, power and control with an emphasis on cultural conditioning. The pieces are built up from fragment of cast statues, foam and coloured wax, in such a way that suggest subversion of traditional representation of masculinity and nationhood.
They are bizarre creations, mutated caricatures conducting some kind of strange theatrical performance, including movement again subverting the role of static sculpture. We are in the realm of absurd, the ridiculous and the surreal. This is the stuff of dreams and nightmares. A stage set of oddities and a weird assemble of characters and discordant forms.
Seen by some as a critic of memorial statues that pay homage of individuals of rank and status, as he states, 'my practice creates large-scale sculpture with the express intention of undermining them and through humour rendering them dumb and absurd'.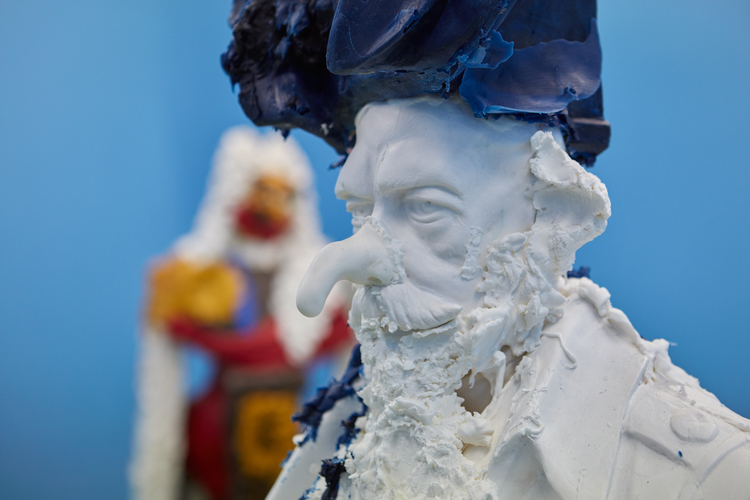 We have with Fitzpatrick's practice a distinct language that plays with historical figures and motifs. Yes, we can cite influences, from Velázques to the modern Masters of distortion Guston and Condo. Yet Fitzpatrick retains an individuality that is bold and dynamic, his work is uncompromising, raw and strikingly effective.
Fitzpatrick has already made waves in the art world, having been featured in the 'XL Catlin Art Prize' at Londonnewcastle Project Space and UK/Raine at the Saatchi Gallery and shown in the 'New Contemporaries' ICA, London.
He is represented by Vitrine and had a recent solo show there entitled '(loudly) chomp, chomp, chomp'.
He is without doubt a rising star and is being seriously collected by those in the know.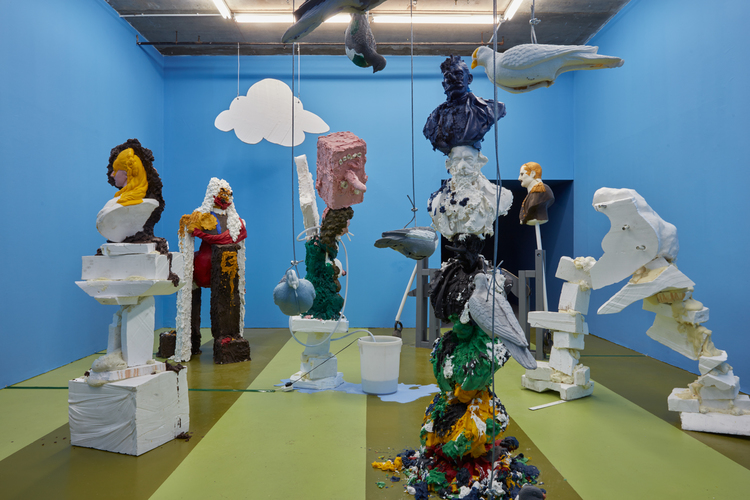 Categories
Tags