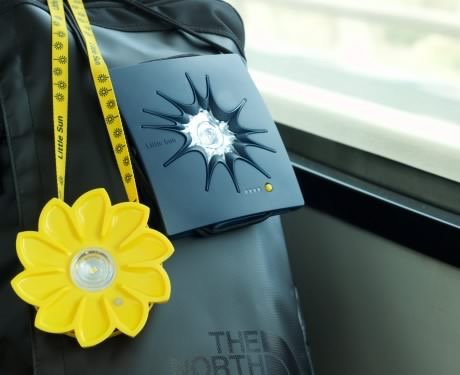 Following its successful Kickstarter campaign last September, Little Sun, the global solar project founded by artist Olafur Eliasson and engineer Frederik Ottesen, has launched its long-awaited solar phone charger, Little Sun Charge.
Little Sun Charges sold in areas with electricity will make solar energy available in areas without electricity at locally affordable prices – strengthening communities from the inside.
Featuring an intuitive charge and battery indicator, a powerful battery (4400mAh) and a handy inbuilt lamp, Little Sun Charge is as useful to those wanting a smart, portable way to charge their phone, camera, e-reader, MP3 player and other small devices on the go, as it is for those living without electricity in Sub-Saharan Africa. Little Sun Charge is designed to withstand all your adventures – music festivals, biking, hiking or just kicking back at the local park. It comes with a lanyard and carabiner hook, which enables Little Sun Charge to be attached to a backpack or slung around the body to charge it in the sun while out and about, or it can be used as a standing lamp with the optional custom-made stand.
Little Sun Charge is now available for everyone to order online via the freshly designed website www.littlesun.com.
Olafur Eliasson is the 2016 artist for the Palace of Versailles with Little Suns for sale onsite, making every person a '(Little) Sun King' – holding the power of the sun in their hands.
Little Sun will spread this good energy around Europe this summer with a charging station at We Love Green festival in Paris, a sunlight graffiti booth at the Sonar festival, Barcelona, and with eco fun at Hoffest Brodowin, close to Berlin.
Categories
Tags