At FAD we love art that crosses cultural boundaries, art that tries to instigate debate, art that tries to make a difference and not least art created by artists who are aware of and interested in the world outside of art. Olafur Eliasson is such an artist; interested in renewable energy, sustainability, ways of working and living and above all, ways of making the world work better and with his studio team in Berlin, he produces projects that he wants to improve the world.
As Olafur says,
"The art world is now one of the few places left where we are allowed to debate and
investigate issues without conflict: we talk, debate, disagree but still remain friends"
One such project is Green Light, conceived by Eliasson as a metaphorical green light for refugees and migrants in Austria and beyond. Green Light consists of an artistic workshop and learning platform surrounding the making of lamp modules designed by Eliasson and held at TBA21, the organisation founded in 2002 by patron of the arts Francesca von Habsburg and sited in Vienna's Augarten, a large park in the Austrian capital. The lamps are assembled on-site from materials and components that are made available at TBA21–Augarten. In addition to Augarten's regular visitors, young refugees, migrants, and university students are invited to take part in this process of collaborative artistic practice and learning, giving rise to a space of exchange and encounter for contributors from a range of linguistic, social, geographic, and educational backgrounds.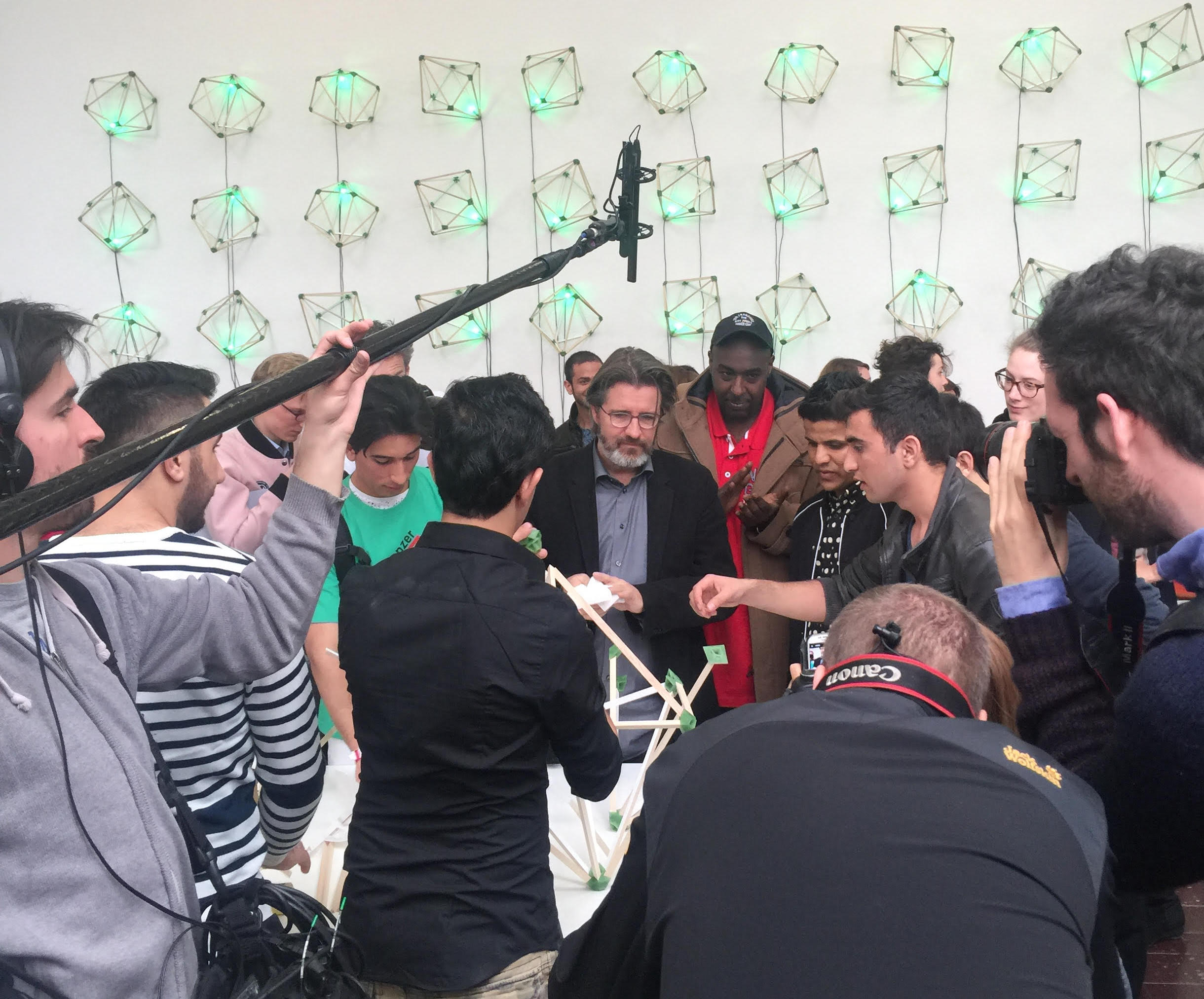 Olafur Eliasson at the launch of the Green Light project at TBA21-Augarten in Vienna last week. The artist is with several of the refugees who are part of the initiative.
Through the process of making the lamps the different groups of contributors get to know each other and become confident enough to start to talk to each other and get to know each other. There is no longer a 'them and us'.
Olafur Eliasson says,
"It is my hope that Green Light will shine light on some of the challenges and responsibilities arising from the current refugee crisis in Europe and throughout the world. Green Light is an act of welcoming, addressed both to those who have endured hardship and instability in their home countries and to the residents of Vienna. It invites them to take part in the construction of something of value through a playful, creative process. Working together in an artistic context, in dialogue with the regular visitors of the Augarten, participants build both a modular light and a communal environment, in which difference is not only accepted but embraced. Green light attempts to question the values of similarity and otherness in our society and to help shape our feelings of identity and togetherness."
The crystalline Green Light lamps are polyhedral units fitted with small, green-tinted light fixtures. Made predominantly from recycled and sustainable materials and designed to be stackable, the modules can function either single lamps or be assembled into much larger intricate light fixtures suitable for larger spaces such as restaurants, hotels etc. At TBA21–Augarten, the lamps are steadily expanding into the exhibition space creating a growing exhibition.
As well as the manufacture of the Green Light – there is a parallel education and talks programme
taking place during the course of the the three-month Green Light project at TBA21–Augarten. Within the framework of this program, artists, thinkers, students, refugees, migrants, and collaborating organisations have been invited to host and to be part of a weekly changing series of workshops, seminars, performances, screenings, lectures, and artistic interventions responding to socio- and geopolitical, cultural, and personal issues and narratives of migration and arrival through collaborative creative activities and critical discourse.
Olafur Eliasson's Green Light project at TBA21 also shines a light on some of the complexities of and issues caused by international asylum laws. As long as refugees have not been granted asylum in any European country, they do not have the legal right to earn a living or to access free education. Refugees without legal status in Austria are not allowed to receive any compensation for work.
As a result, the refugees who are taking part in the Green Light project are volunteers in a three-month-long artistic workshop and a shared learning curriculum. All proceeds from the project go to supporting the educational platform of Green Light–shared Learning and the organizations such as Red Cross Vienna, Caritas and Georg Danzer Haus, as well as other initiatives that help refugees in Austria.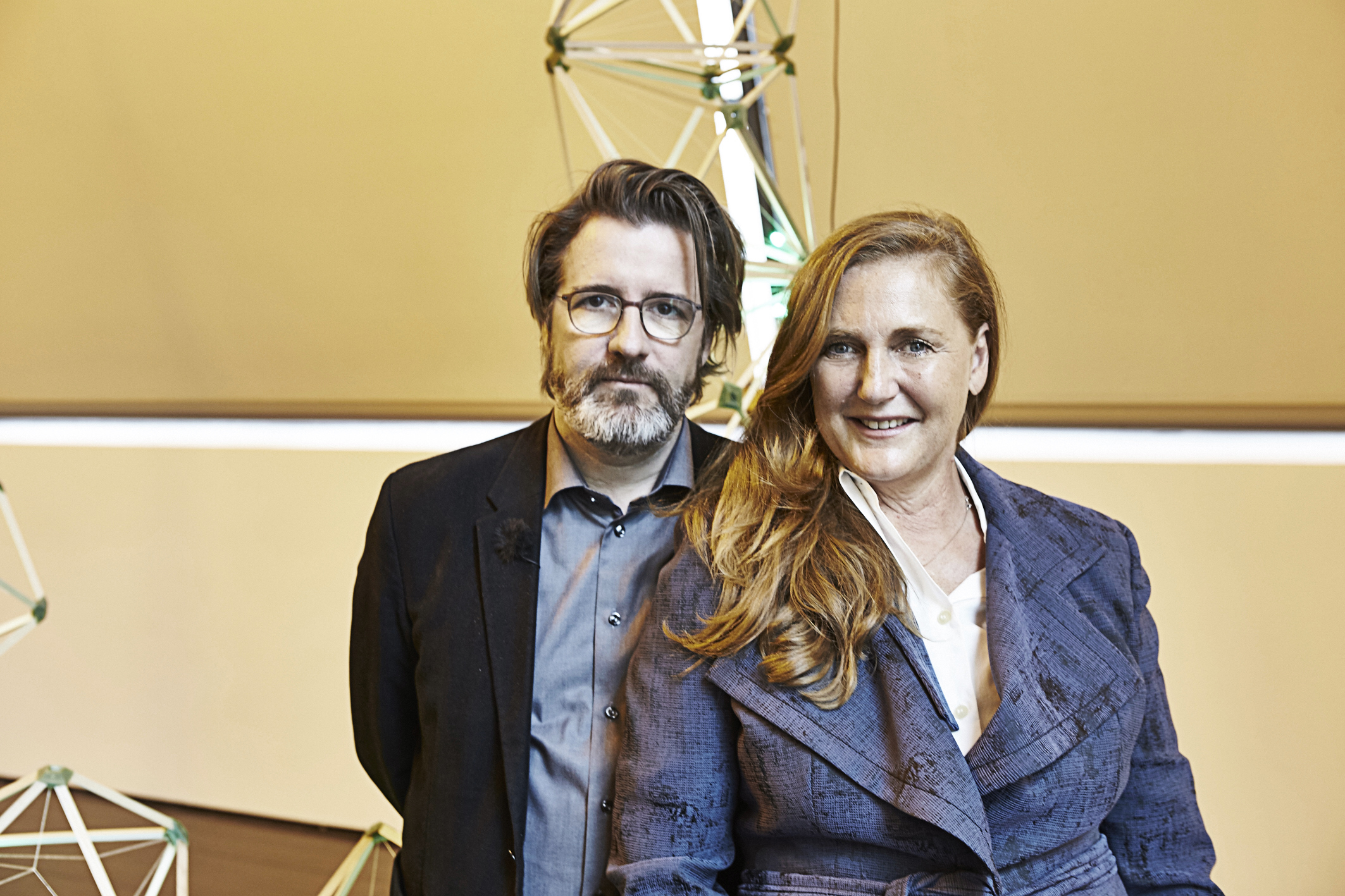 The Green Light project was made possible by Olafur's friendship with the Founder and Chairwoman of TBA21 Francesca von Habsburg. The two met in Berlin when Francesca was searching for artists that she could commission, collect and collaborate with.
Francesca believes in the power of art to improve the world, and since 2015 TBA21 has been focused on becoming an agency of change. Supporting Olafur and Green Light fits perfectly with the goals of the organisation.
Francesca says
" I can only work with artist and projects that I believe in fully. I am an emotional person and make decisions based on feelings. I believe in Olafur as an artist and and believe in what his practice is trying to achieve. We have created a template with the Green Light project which we hope will spread around the world to change peoples perception of the refugee crisis. Working with NGO Medair we hope to take Green Light to the refugee camps of Lebanon. We hope to work with partners in South America and take the Green Light template to the favellas."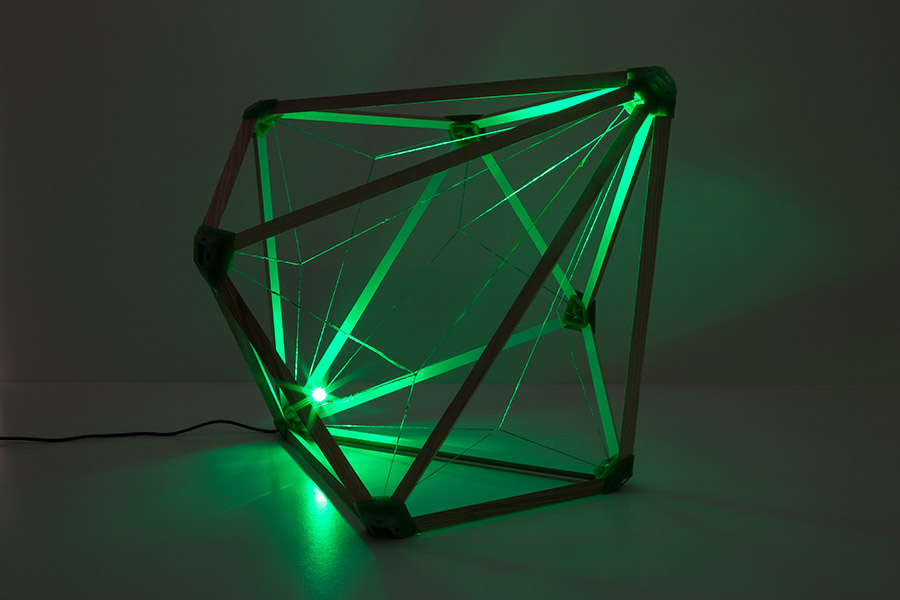 Olafur Eliasson, Green light, 2016 Photo: María del Pilar García Ayensa / Studio Olafur Eliasson
Support the Green Light project by purchasing a lamp
The Green Light lamps can be ordered with a donation of €300 or obtained by participating in the artistic workshop at TBA21–Augarten, Vienna and benefitting from a production price of €250. The donation supports the Green Light educational project and TBA21's partner organisations and charities: Red Cross Vienna, Caritas Vienna, and Georg Danzer Haus, all organisations that help refugees in Austria.
About The Artist
Olafur Eliasson's art is driven by his interests in perception, movement, embodied experience, and feelings of self. Eliasson strives to make the concerns of art relevant to society at large. Art, for him, is a crucial means for turning thinking into doing in the world. Eliasson's diverse works – in sculpture, painting, photography, film, and installations – have been exhibited widely throughout the world. Not limited to the confines of the museum and gallery, his practice engages the broader public sphere through architectural projects and interventions in civic space.
Eliasson was born in 1967. He grew up in Iceland and Denmark and studied, from 1989 to 1995, at the Royal Danish Academy of Fine Arts. In 1995, he moved to Berlin and founded Studio Olafur Eliasson, which today encompasses some ninety craftsmen, specialised technicians, architects, archivists, administrators, programmers, art historians, and cooks.
Since the mid-1990s, Eliasson has realised numerous major exhibitions and projects around the world. In 2003, Eliasson represented Denmark at the 50th Venice Biennale, with The blind pavilion, and, later that year, he installed The weather project in Tate Modern's Turbine Hall, London. Take your time: Olafur Eliasson, a survey exhibition organised by SFMOMA in 2007, travelled until 2010 to various venues, including the Museum of Modern Art, New York. Innen Stadt Aussen (Inner City Out), at Martin-Gropius-Bau in 2010, involved interventions across Berlin as well as in the museum. Similarly, in 2011, Seu corpo da obra (Your body of work) engaged with three institutions around São Paulo – SESC Pompeia, SESC Belenzinho, and Pinacoteca do Estado de São Paulo – and spread out into the city itself. In 2014, for Riverbed, Eliasson built a landscape within the Louisiana Museum of Modern Art in Humlebæk, Denmark. Also in 2014, Eliasson's exhibition Contact was the inaugural solo exhibition at the Fondation Louis Vuitton in Paris. Verklighetsmaskiner (Reality machines), at the Moderna Museet in Stockholm in 2015, became the museum's most visited show by a living artist.
Eliasson's projects in public space include Green river, carried out in various cities between 1998 and 2001, and the Serpentine Gallery Pavilion 2007, designed together with Kjetil Thorsen. The New York City Waterfalls, commissioned by Public Art Fund, were installed on Manhattan and Brooklyn shorelines during summer 2008. Ice Watch brought melting icebergs from Greenland to Copenhagen in 2014 and to Paris on the occasion of the COP21 Climate Conference in 2015. Your rainbow panorama, a 150-metre circular, coloured-glass walkway situated on top of ARoS Museum in Aarhus, Denmark, opened in 2011, and Harpa Reykjavik Concert Hall and Conference Centre, for which Eliasson created the facades in collaboration with Henning Larsen Architects was completed that same year.
As a professor at the Berlin University of the Arts, Eliasson led the Institut für Raumexperimente (Institute for Spatial Experiments; 2009–14), a five-year experimental programme in arts education located in the same building as his studio (www.raumexperimente.net).
In 2012, Eliasson and engineer Frederik Ottesen founded Little Sun. The social business and global project provides clean, affordable light to communities without access to electricity; encourages sustainable development through sales of the Little Sun solar-powered lamp, designed by Eliasson and Ottesen; and raises global awareness of the need for equal access to energy and light. www.littlesun.com
Eliasson and architect Sebastian Behmann founded Studio Other Spaces, an international office for art and architecture, in Berlin in 2014. As an architectural counterpart to Studio Olafur Eliasson, Studio Other Spaces focuses on interdisciplinary and experimental building projects and works in public space. www.studiootherspaces.net
Eliasson lives and works in Copenhagen and Berlin.
Categories
Tags