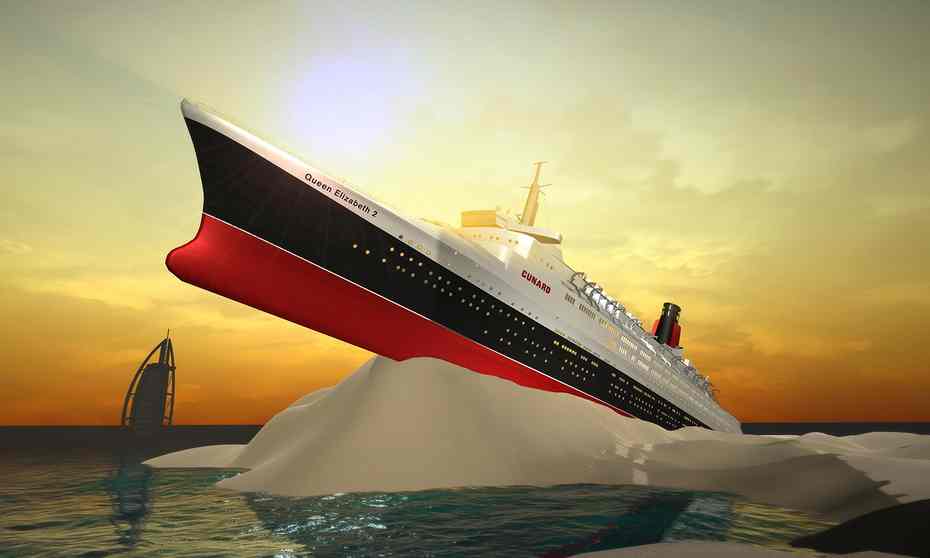 Lawrence Lek's QE3. Photograph: Courtesy the artist and Ikon Gallery, Birmingham
---
This article titled "Glasgow rules the waves" was written by Adrian Searle, for theguardian.com on Monday 11th April 2016 13.11 UTC
It was close to midnight when the 10-year-old boy on the mini-bike burned rubber and roared down the street next to Glasgow School of Art. His ride was part of Mega Hammer, a night of performances orchestrated by Marvin Gaye Chetwynd at the opening of Glasgow International festival. Chetwynd herself appeared semi-naked, daubed in red paint and resplendent in papier-mache breast extensions, and the performances were a lively, ribald mix of the gender-queer and human elephants. A trio of swimsuit-clad women sang about "fucking their way to the top" and did alarming things with party supplies. One could not wish for more.
Although there is a great deal of variety in this festival that sprawls across 75 venues – from communal studios to restaurant basements, from Georgian houses to abandoned Gorbals courtrooms, from smart galleries to wrecked public buildings – the energy is sporadic. New commissions are few and far between, and sometimes the atmosphere of the venues overshadows the art. But Sarah McCrory's second shot at directing the festival is more than an advance on the first. Women artists predominate, there's a good balance between local and international talent, larger and smaller stories, as well as strategies for artistic survival.
Much of Glasgow School of Art burned down in a 2014 fire. Over at Tramway, as part of McCrory's official programme, the German-born artist Lawrence Lek has an idea. The decommissioned QE2, the Cunard ocean liner built in Clydebank in the early 1960s and now in a Dubai dry dock, should return to Glasgow and become a new home for the art school. Its return voyage is depicted in Lek's digital film QE3, accompanied by a broken-backed model of the ship.
Occupying a corner of Tramway's largest space, it sits behind metal barriers designed by the Turner prize-winning Glasgow artist Martin Boyce. Boyce's interruptions to the space guide us round American artist Sheila Hicks's monstrous tower of woven and crocheted fibres, much of it bundled and contained in fishing netting. The tower is a sort of woven ejaculation, rising from soft rocks as plump as pillows, and gushing toward the roof. Hicks's Mighty Mathilde & Her Consort is an impressive and singular gesture.
Mika Rottenberg's films, on the other hand, are daft journeys round iceberg-lettuce farms, Asian cultured-pearl factories, and surreal rooms she has built in New York. I didn't understand this work when I saw it in the last Venice Biennale and I don't understand it now. Understanding is often overrated. With Rottenberg and her flower-sniffing giantess-protagonist, at large in a world of mad machinery and sliding doors, it is best just go with it. Rottenberg's world is one of futile work, mystery and misery, as inexplicable as our own – but funnier.
Migrations of objects and ideas are at the heart of Amie Siegel's 2013 film installation Provenance, also at Tramway. One of the best works in the festival, Siegel's film follows the changing fortunes of the furniture that French architect Le Corbusier and his colleague Pierre Jeanneret created for the modernist architecture they designed in the Indian city of Chandigarh. Much of this furniture has now made its way to Europe and the US, ending up in swanky apartments and staterooms on private yachts.
The furniture is not so much "rescued" as over-restored and fetishised, its allure enhanced by a picaresque backstory of origins, migrations and arrivals, photography shoots and upholstery workshops, dealers and auctions. In a nice circularity, Siegel's sumptuous film also ends up in a London auction, where we watch it going under the hammer and becoming yet another marketable commodity fetish. Even the whispered telephone bidding has an air of the illicit and the perverse.
You can sell anything – or at least try to – in the art world. In the rundown 1960s Savoy shopping mall, a number of artists associated with London's Open School East and the Peckham art scene have taken over several units. Outrageous clothing from the Acid Prawn fashion label (transparent polythene trousers, anyone?), sculptural wreckage made from beans and pulses and tobacco, scraps of fabric and upholstery stuffing compete seamlessly with the stuff of retail and the palmist's and podiatrist's cabins. The mall is already funky in a way many of the more self-conscious art interventions in the festival fail to be.
Too many highly crafted sculptures and vaguely symbolic installations take up too much space, although Claire Barclay's installation in the ruins of Kelvin Hall is an impressive mix of the intimate and industrial. Bright woven sacks filled with coal dust, shiny metal drooled with pungent coal tar, sheets of cut, carved and flopping pink rubber, steel cages and obscure machine-parts all have their place in this rambling sculpture. Barclay's work harks back both to Robert Morris and 60s formalist sculpture as it negotiates material differences, the detail and the larger gesture, the feminine and the masculine. But what do these terms mean nowadays? Much of the sculpture in the festival plays on such tropes.
In comparison, Cosima von Bonin's huge installation on the ground floor at the Gallery of Modern Art feels like it is going through the motions. The Cologne artist's giant soft-toy seafood, skateboarding clams and sofa-surfing crustacea are a mannered and inconsequential cast of characters. None of this undersea life knows quite what to do with itself.
With its photographic darkroom-cum-yurt, its giant floppy figures, its clunky car, road-trip movies, kimonos, plants and groovy soundtrack, Tamara Henderson's installation in the Mitchell Library avoids the craft trap by sheer wilfulness and exuberance – although, as with Von Bonin, filling a big space with lots of stuff doesn't necessarily make for real complexity, only impenetrability. Like a lot of art now, Henderson's work feels provisional, a way of getting things to talk to one another, and turning the audience into actors in the drama, scrabbling to find the plot.
Over at Wasps studios, we get a lecture by a cartoon version of artist Andy Holden. His on-screen avatar is part hipster, part 1970s Open University don. Holden takes us through the history of animations and how the physical laws of the cartoon world ("Any body suspended in space will remain in space until made aware of its situation"; "Any violent rearrangement of feline matter is impermanent"; "Everything falls faster than an anvil") deviate from the everyday Newtonian universe. It's a hugely entertaining melange of redundant erudition, linking the sublime violence of Disney and Looney Tunes to quantum physics and Stephen Hawking.
Laws of Motion in a Cartoon Landscape is worth an hour of anybody's time. The real point is that the precariousness of the cartoon predicament mirrors modern life, with gravity against us as we try our best not to fall. Don't look down.
guardian.co.uk © Guardian News & Media Limited 2010
Published via the Guardian News Feed plugin for WordPress.
Categories
Tags