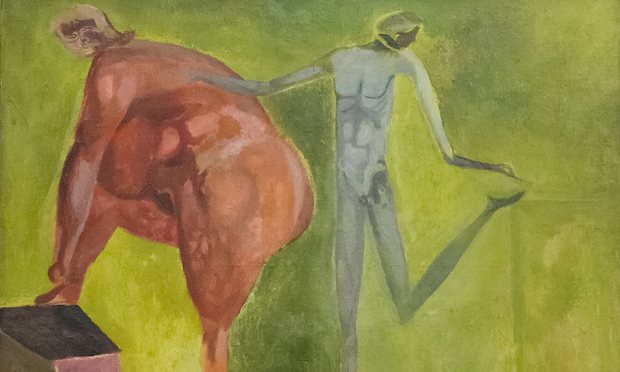 The doctor will see you now … a detail from Leonard Rosoman's Fattipuffs and Thinnifers, hanging at the RCGP. Photograph: Justin Grainge
---
This article titled "Where is London's latest secret art space? Better ask your GP" was written by Maev Kennedy, for theguardian.com on Thursday 3rd March 2016 15.10 UTC
The contorted body of a man is stretched out, writhing in pain (or terror), inches away from doctors sipping coffees and eating sandwiches, just off London's Euston Road.
Elisabeth Frink's Spinning Man II is one of a series of sculptures inspired by soldiers who parachuted into occupied France during the second world war – but whose chutes never opened. The figure knows he is twisting and falling into oblivion. Frink saw heroic courage when she heard about these men; curator Michael Regan sees helpless terror.
"It's all about the body," says Regan, who included the sculpture in the first art exhibition to be held in the cafe of the Royal College of General Practitioners in London. "We're taking a chance obviously, but we wanted people to feel the connection between them and the art."
Nearby, there are three more works by Frink, including her Walking Madonna and a bigger than life-size, intimidatingly naked man who the artist herself describes as "thuggish". There is also a touching cast by sculptor Eduardo Paolozzi's of his own gnarled hands; a tender mother and child bronze by Henri Gaudier-Brzeska that contrasts with the small, ferocious warrior figures of Michael Ayrton; and a gigantic head of a man by John Davies.
Just around the corner, protected by covers from the light spilling into the space, is one of one of Barbara Hepworth's remarkable hospital drawings, in which surgeons carrying out an ear operation appear as quasi-angelic figures. The Hepworth sits opposite John Bellany's image of himself lying in a hospital bed, connected to a drip, which he began work on hours after undergoing a liver transplant operation at Addenbrooke's hospital in Cambridge in 1988.
This beautiful Grade II listed terracotta and mosaic hall, unexpected respite from the grim canyon of one of London's most congested roads, was originally built in 1906 as the headquarters of an assurance company, and was taken over by the GPs in 2012 after sitting empty for years.
Although the building is always busy with medical conferences, administration matters and nervous doctors coming in for exams, the art isn't just calming clinical nerves. The decision was recently taken to open the ground floor cafe to the public, since when it has been discovered by hundreds of local office workers too. It even became a sanctuary for Jeremy Corbyn in the fraught weeks leading up his election as Labour party leader.
Terry Kemple, president of the college, said the pieces for this first exhibition have been chosen to reflect the continuity of care his members provide, from birth to death – as well as to highlight contemporary health issues, as in Leonard Rosoman's Fattipuffs and Thinnifers, and the jolly chain-smoking drinkers of William Roberts' Saturday Night (At the Local).
All works are on loan from a remarkable private collection of mostly 20th-century art assembled in little more than a decade by advertising entrepreneur Chris Ingram. Pieces are regularly displayed at his local gallery, The Lightbox in Woking, but this is the first time most have been seen in London.
Space dictated the startling placing of the largest and most recent piece in Ingram's collection, a gigantic painting by the American artist Aleah Chapin of a grey-haired woman sitting naked on a rock, screaming or yelling in triumph. Regan couldn't hang any pictures on the terracotta walls, so Chapin's work fills the entire space at the end of the serving counter.
The catalogue notes the piece was specifically chosen 'as a celebration of ageing, but also as an example of one of the most pressing issues facing contemporary general practice". She could certainly persuade anyone wavering from the path of healthy eating to reconsider the contents of their lunch tray.
• Health and the Body: the Ingram Collection is at the Royal College of General Practioners, London, until 29 May.
guardian.co.uk © Guardian News & Media Limited 2010
Published via the Guardian News Feed plugin for WordPress.
Categories
Tags