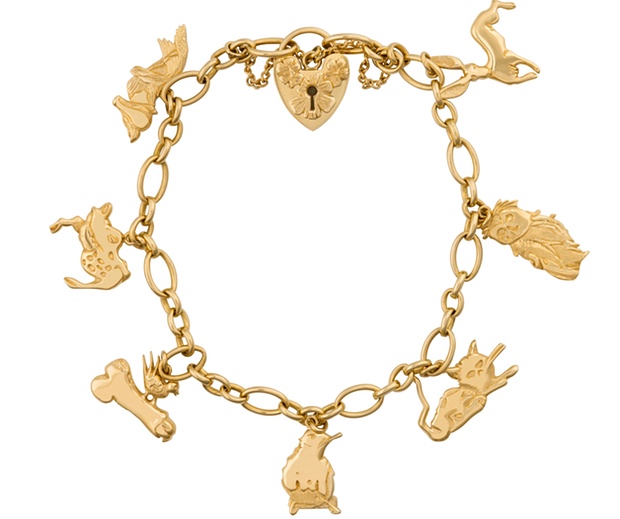 Charming … bracelet, with tiny penis, from Tracey Emin and Stephen Webster's new jewellery range. Photograph: Accooper Neg & Print
---
This article titled "Tracey Emin's luxury penis bracelet works like a charm on me" was written by Jonathan Jones, for theguardian.com on Wednesday 20th January 2016 15.26 UTC
Tracey Emin is a British great. I keep surprising myself with how much I admire her work. Recently I was wandering a big painting exhibition at White Cube in Bermondsey. Three artists in the show really stood out in my eyes: Picasso, Lucian Freud and Emin.
Emin's unique touch works on a big scale, in her huge drawings, paintings and embroideries, but it communicates just as well in tiny, exquisite forms, for instance a charm bracelet, which is one of the pieces she has created in collaboration with Stephen Webster for her new venture into designer jewellery.
A tiny 18-carat gold penis is one of the charms hanging from Emin's bracelet. An even tinier bird perches on top of it. Other creatures on this enigmatically beautiful item of wristwear include a frog, a hare and a cat. This little luxury sculpture translates Emin's idiosyncratic drawings in to three dimensions without losing her sketchy freedom. The result has a feeling of ancient Roman or Celtic magic. Phalli regularly appear in Roman art as protective charms. Can this one help you conjure up a demon lover from the woods?
Emin and Webster's wider range includes a necklace with a heart roughly "drawn" in threadlike gold and another featuring the words "With You I Breathe" in the artist's distinctive scrawl. David Cameron has an Emin text hanging in 10 Downing Street. Now you can own one too – and wear it on your wrist.
This collection reveals Emin's artistic strengths in glittering miniature. First, she is never derivative. When people attack the popular conceptual art of today it is often on the – quite pertinent – grounds of appropriation, with the likes of Jeff Koons and Damien Hirst's fondness for advertising images and anatomical toys.
Emin has never appropriated anything except her own life. There was no earlier Tracey Emin for her to borrow from. She is original because she is an original. A unique person telling stories of a singular life.
Second, she rides roughshod over the boring distinction too many people feel they must draw between concept and craft, idea and object. The words that animate Emin's jewellery – "More Passion" says one piece – are the same kind of words that pervade her art, in neon or embroidery or scribbled on a drawing. Words as art goes back to the founders of conceptualism in the 1960s such as Lawrence Weiner. Yet, Emin replaces their dryness with human warmth. Her statements are personal and poetic. The forms they take are sensual and beguiling.
And it's this totally relaxed but intelligent mixing of new and traditional forms of expression that makes Emin a truly eloquent artist. She has something to say, something to show. Her art is all about being alive today – really, fully alive, open to fears and pain and joy. What you see is what you get, said Andy Warhol – and what you get from Emin is an honest art of love, loss and longing. It works like a charm.
guardian.co.uk © Guardian News & Media Limited 2010
Published via the Guardian News Feed plugin for WordPress.
Categories
Tags