Ikon is to present a major exhibition of fluorescent light works by Dan Flavin (1933-1996), one of the most important post-war American artists. Taking his dictum
"It is what is and it ain't nothing else"
as a departure point, Ikon's exhibition explores Flavin's straightforward rejection of illusionism whilst asserting the importance of the context of artistic experience over art for art's sake. The exhibition capitalises on the variety of interiors that Ikon Gallery has to offer, and is informed by Flavin's refreshing "situational" approach to making and thinking about art.

Dan Flavin, untitled (in honor of Harold Joachim) 3, 1977. Pink, yellow, blue, and green fluorescent light 8 ft. (244 cm) square across a corner CL no. 410 © 2015 Stephen Flavin/Artists Rights Society (ARS), New York; courtesy of David Zwirner, New York/London
One of the earliest works in this exhibition is alternate diagonals of March 2, 1964 (to Don Judd), made shortly after Flavin centred his entire artistic practice on the use of fluorescent light. The bright red and yellow are Judd-like, and likewise the fluorescent lamp combinations of white, pink, red, yellow, blue and green in untitled (to Don Judd, colorist) 1-6 (1987), also exhibited at Ikon. These standard colours are as beguiling as they are industrial and ordinary, together bathing the exhibition space in pale radiant light.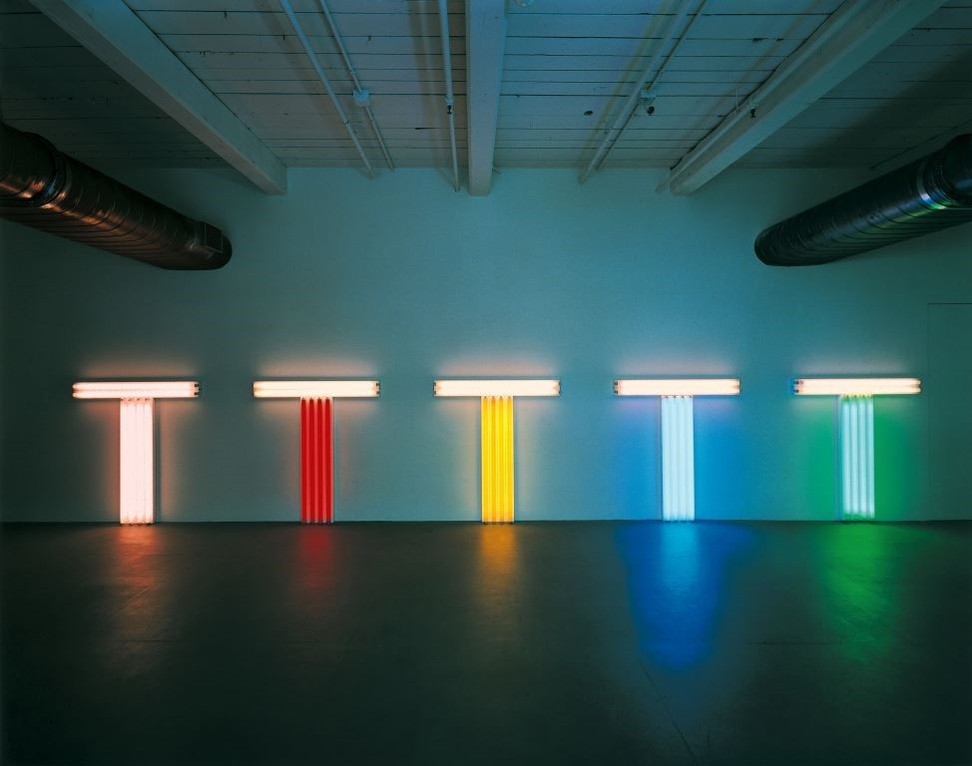 Installation view, Dan Flavin, untitled (to Don Judd, colorist) 1-5, 1987, MASS MoCA; courtesy of David Zwirner, New York/London
Flavin dedicated many of his works to other friends, members of his family and colleagues. At the heart of Ikon's exhibition is untitled (to Barnett Newman) one, two, three and four (all from 1971), an installation that frames the corners of the room and alludes to the older artist's celebrated series of four paintings, Who's Afraid of Red, Yellow and Blue. The work conveys both Newman's disdain for the picturesque in art and Flavin's interest in architectural environments: the possibility of
"infinite specific expression in relation to specific space."
The emphasis on interior corners is very characteristic. pink out of a corner (to Jasper Johns), at the beginning of Ikon's exhibition, is a strong statement of intent from 1963. An 8' lamp between two walls, it eradicates darkness from an extremity of a room to the point of obliterating any proper perception of it. Flavin was very aware of the traditional placement of religious icons in corners, like the Russian Constructivist Kasmir Malevich much admired for his black squares, but instead he made icons of light, with what he referred to as "blank magic".
The last room in Ikon's exhibition is devoted to Flavin's Tatlin "monuments," reiterating the integration of Flavin's work with the environment it occupies. Untitled (to Dorothy and Roy Lichtenstein on not seeing anyone in the room), made in 1968, also involves white light but in this case the 8' fluorescent fixtures are installed vertically in a doorway to an empty room, facing inwards, like bars reminiscent of a prison cell. Inspired by Lichtenstein's 1961 painting, I can see the whole room! … and there's nobody in it!, it epitomises Flavin's preoccupation with the continuity of his work into architectural spaces, as is made clear, literally, by his illumination of them – to the point that the fluorescent fixtures are "somewhat betrayed by [their] physical presence into approximate invisibility".
Ikon Gallery, 1 Oozells Square, Brindleyplace, Birmingham B1 2HS www.ikon-gallery.org

Untitled (to Dorothy and Roy Lichtenstein on not seeing anyone in the room)
About Mark Westall