My #ArtThing of 2015 was: The passing of Chris Burden.
"Very few artists held as much interest as Chris Burden without descending into gimmicks or compromise. His influence on contemporary art and culture will be permanent and definitive. As the art world becomes even more detached from reality, Burden's absence will be a reminder of its potential. "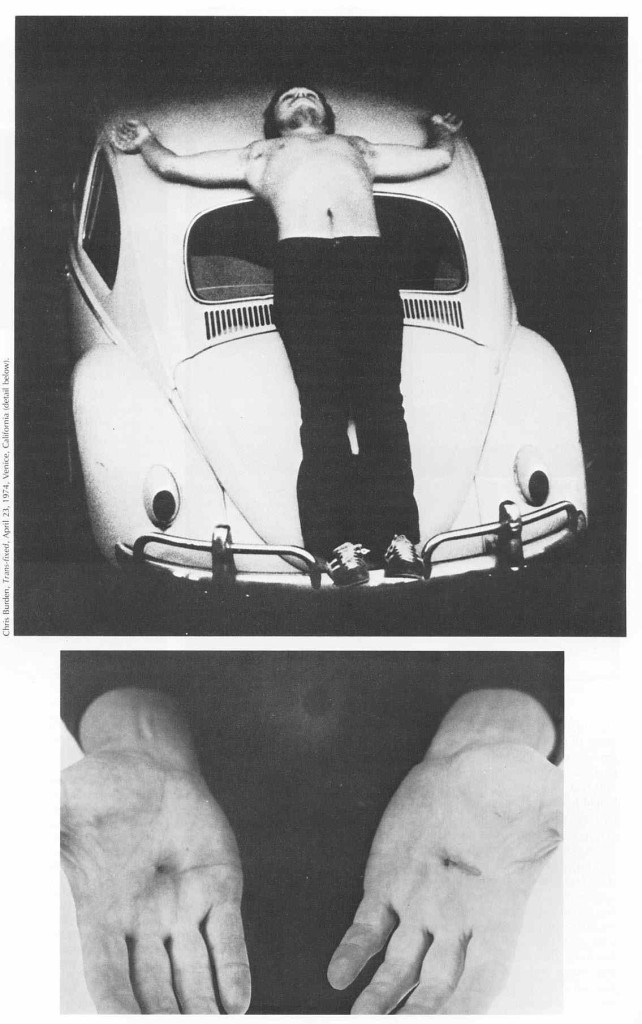 Here is something I wrote about him:
Chris Burden, who had shocked the art world since the early 70s with his particular brand of cerebral, artistic brutality, died on Sunday the 10th of May at the age of 69 – 18 months after being diagnosed with melanoma.
Burden lived and worked in Topanga Canyon, California with his wife, multi-media artist, Nancy Rubins and developed one of the most interesting, innovative, humorous and hostile legacies of work produced in the last century. From being crucified to a car, electrocuted, shot and stabbed to creating some of the most complex and beautiful sculptures of our time, Burden has flourished in one of the most varied and important artistic careers imaginable.
Burden's early career saw the artist using himself as the medium – pushing the boundaries of endurance – performing feats to intentionally strain and distress his physical and mental well being.
In 1971, while still a student, Burden performed '5 Day Locker'. For 5 days Burden was locked inside locker number 5, at the university of California, which he had rigged with 5 gallons of water, accessible from a cavity above, and an empty 5 gallon bottle in a cavity below. Burden completed the 5 days with his then wife Barbara sleeping outside of the locker to ensure he didn't completely lose the plot. This was the beginning of his artistic relationship with self assessment through placing body and mind under immense pressure.
'Shoot', also performed in 1971, was perhaps the most notable of Burden's early performances. The piece consisted of Burden being shot in his left arm at close range by a friend. The act, to many, seen as an anti vietnam protest or critique and solidified the artist's contentious notoriety.
Throughout the 70s Burden consistently maintained momentum with each performance gaining him more and more interest while the concepts became increasingly convoluted and gnarly. In 72 he hijacked a Television program bringing his own film crew to an interview he'd been invited to, by a local Californian station. He held the interviewer at knife point and threatened to kill her if the station stopped live transmission. After his performance he destroyed the stations copy of the tape leaving his recording to be the only documentation of the experience.
"T.V. Hijack was ultimately about who is in control over what's presented through the media."
The escalation of violence in the performances and the interest in mass communication, via television, were amalgamated with a strong sense of humor. From 1973 to 77 Burden produced a series of videos that were broadcast on local TV stations, throughout the country, with Burden often having to conceive cunning plans to convince the media to sell him advertising space, as an individual was not allowed to advertise themselves without being connected to some form of business. The videos commented on the artists desire for control as did the constant self analysis and testing of fortitude.
Many performances ensued, throughout the 70s, with each one as satisfyingly gruesome and thoughtful as the last but always developing into something more external. In the 80s Burden became more devoted to his sculptural practice and the idea of 'artist as the medium' became less and less abundant in his work. He would build huge mechanical installations and dig up massive areas of gallery floor whilst always maintaing a strong social commentary and interest in the human condition.
In 2005 his piece 'Ghost Ship' saw a self navigating yacht sail between Fiar Isle in Scotland and Newcastle upon Tyne in a sinister but peaceful voyage . The boat was completely unmanned – an excursion in to distant dominance.
The sculptures developed in his later years explored control of a different nature. The intense, focused aggression and quasi-masochistic obsession with control had progressed into a completely different entity. He was an artist who was driven by the beauty surrounding him rather than the chaos and the means by which to tame it.
His monolithic swan song ' Metropolis II' was 4 years in the making. A kinetic maze of toy cars and trains whizzing round twisted tracks forming a magnificent, buzzing mass of energy.
There is a peace to the perpetual motion and painstaking management needed to maintain such a piece of art. Although the methods and the mediums dramatically change as the artist matures the sentiment and energy remain, which is a wonderfully rare occurrence.
There are very few artists that can hold as much interest as Chris Burden. His adaptability and constant stamina to create work so fascinatingly diverse is inspirational and transcends generations. His influence on contemporary art and culture will be permanent and definitive and the he will be sorely missed from an ever diluting art world.
Categories
Tags