Step into the Lowry space and be spirited away into a dystopic parallel universe were humans are coded and computer viruses exhibit a myriad of organic colours, where digital data uses up warehouse space and our physical forms are reflected back to us as pixels of snow and straw, where the atmospherics of the building are collected and contained into the notes of a musical score, where we can recreate ourselves digitally at the expense of our privacy, where we can be mapped by the most common words we exchange with others and where our photos can be stolen and broadcast. Then you recall that this is happening Right Here, Right Now.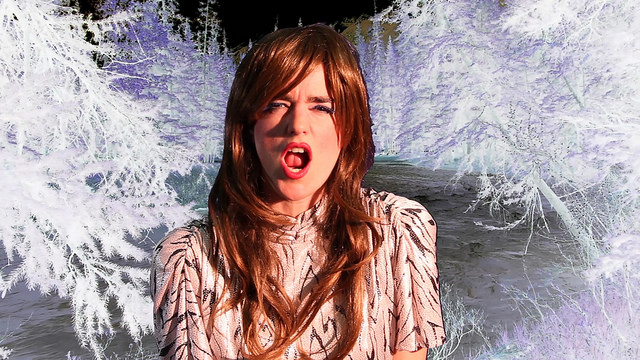 Artist Elly Clarke, #Sergina by The Lowry
Be it music, colour, language, data, code, physical plants, the questions are posed and we are forced to reconsider our accepted norms, our "Oh wait! That's happening" moments. Right Here Right Now is a multi-visual, multi-sensual collection of installations which deconstruct and disrupt our everyday thinking, forcing us outside the confines of our comfort zone and to confront our daily realities head on.
In this unique flagship digital exhibition by the most frequented art space in the North West, Lucy Dusgate and company have united over sixteen artists from all over the world, offering a space to display work that has been in the reach of festival goers and only exhibited for short durations. At the Lowry, they have had the chance to exhibit for a longer window than is usually available to them. This particular cohort of artists comprises a mixture of creatives who would be described as "emerging" next to artists that have already made a name for themselves.
What is interesting is that the Lowry as a whole promotes an atmosphere that is playful, welcoming and fun for all the family. This extends into the exhibition space, with enticing installations that encourage interaction rather than a static, stuffy and pretentious piece that succeeds in alienating new generations of artlovers.
With a mixture of humour, wit, ingenuity and cynicism, Right Here Right Now delivers certain challenges we have to face.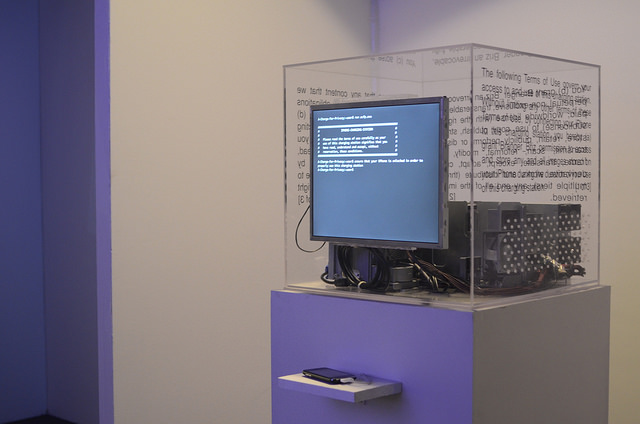 Branger Britz – A Charge for Privacy – 2011 – Computer Monitor and flat screen
by The Lowry
The first and most alarming of which is the question of data. Can we really trust those in charge of our data? While we all merrily record every moment of our existence on our mobile phones, snapping photos at every opportunity, Branger Briz is Right Here to remind us that there is a cost to our so-called private data, by offering us the opportunity to charge our mobile phone gratis in A Charge For Privacy (2011). An offer you cannot refuse, you may think. However, by accepting, you are giving permission for your photos to be downloaded and then displayed. Eerily, Stutterer (2014) by Thomson and Craighead gives us an insight into the traces we leave behind after we are gone, in the form of video clips. Taking as its inspiration the DNA sequence as decoded by the Human Genome Project over 13 years, it comprises years of television footage taken over the course of 1990-2003, each clip beginning with the letter of our DNA code. The sequence will not finish playing out until 2080, going all the way through our genetic code. It is disarming to see memorable moments from the past repeated, with familiar faces, younger and some of which have passed on, haunting us through the television screen.
Given that we offer up our data freely, how do we know the data we are given in return is trustworthy? Nikki Pugh takes on the mantle of seeing how well data matches reality in Colony (2015), featuring a pair of adorable protagonists, two mechanical robots. Having been taken around Salford Quays, they know the lie of the land and will react when GPS data previously programmed in them does not agree with the actual journey they undertake.
Then we move on to the question of the cost of data, or the environmental trade-off. Transferring files, streaming videos and sending copious amounts of marketing emails is the norm in our society. It is more streamlined than hosting columns of filing cabinets in our offices or hoards of bookcases in our homes. And yet we are confronted in Timo Arnail's video installation Internet Machine (2014) which demonstrates the sheer reality of the internet – What it means for the environment and space. Internet Machine shows us the interior of the Telefonica data centre in Spain. With over 45000 servers and dirty cables to boot, it's a far cry from our mental image of the Cloud, and is very much reliant on high volumes of electricity. Stephanie Rothenberg's Planthropy (2014) explores another facet of reality being obscured from us, ie modern day charity. Rothenberg's charity plants hang beautifully encased in their own mini greenhouses awaiting public non-monetary donations sent via their unique Twitter hashtag which then waters them. This is a physical illustration of our offerings and the difference they can make. With direct debits leaving our bank accounts unnoticed on a monthly basis, without the pain that comes with parting from money, are we ignorant of the positive effects of our generosity? And do we avoid our moral responsibility, easing our conscience by giving charitable donations and then washing our hands of our chosen cause?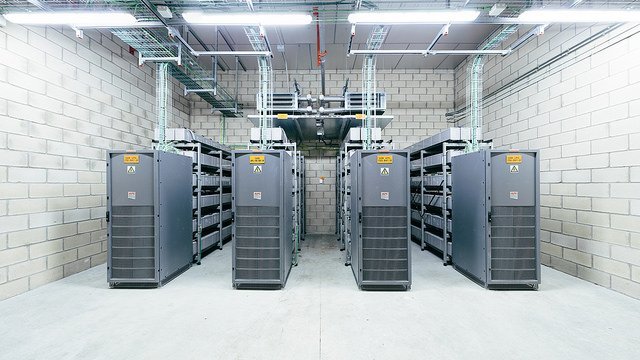 Timon Arnall – Internet Machine – 2014 – Video Instalation by The Lowry
While debating the importance of digital data over physical form, the question begs to be asked: data or organism, are we really that different? Certain of the works go far enough to convince us that there is a lot more similar about invisible bits and bites and living things. With Thomson and Craighead's Corruption (2014), we can see corrupt video files which initiate computer viruses represented in colourful forms and displayed in lightboxes, lending them a natural and random appearance. In much the same vain, Robert Henke takes a simple laser beam, aims it at a plastic sheet and projects the effect of this destruction of the plastic on a screen in Destructive Observation Field (2014). This provides a mystical and mesmerising feast for visitors who are treated to an intense kaleidoscopic light show, rendered all the more spectacular by the fact that this is randomness at its best with no guarantee that these patterns will be repeated.
Ed Carter's Barographic (2015) transforms the atmospheric pressure of the Lowry building into a musical score to be performed on Saturday 6th February at the same venue. Using measurements from the physical world, the numeric data collected forms something mathematical and at the same time ethereal and very much organic.
With the digital capabilities surrounding us, the boundaries are limitless for what we can create with our own data. R Luke Dubois' A More Perfect Union shows us that we can now be mapped based on the emotions we give away online, having recreated the US census to show the strength of loneliness, shyness or kinkiness in various states. Dubois used the profiles on several dating sites to discover the most frequently-used words in different regions and towns and has renamed all the places on the map accordingly.
Whether young or old, you are bound to find entertainment in the gallery through engaging works such as fuse's Snowfall (2009-ongoing) or Daniel Rozin's Darwinian Straw Mirror (2015), which both allow you to stand in front a webcam and become part of the artwork reflected as snow or straw. Other works simply have the power to mesmerise, surprise and shock for example Emily's Video (2013), a voyeuristic overview into the reactions of participants observing an unrevealed video from the Darknet produced by Eva and Franco Mattes. Raise an amused eyebrow at pop diva, Elly Clarke's Sergina (2013-15) who questions instant messaging as a form of connection since the instant gratification of such media cheapens genuine relationship.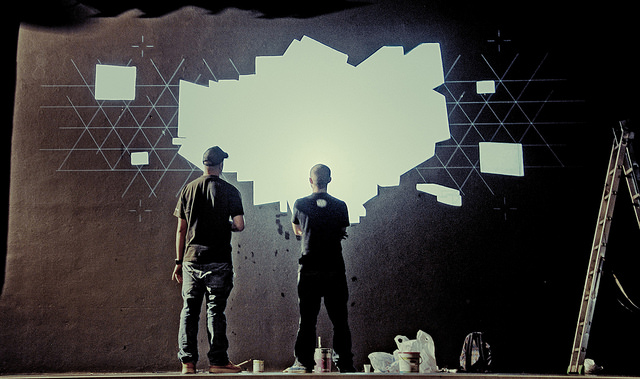 fuse – Snow Fall – 2009 ongoing – Interactive projection by The Lowry
Right Here Right Now is a clean, sophisticated look at contemporary digital arts and is quirky and interactive in its offerings. This exhibition raises the bar for digital exhibits and showcases all the works to their full advantage. It is difficult to leave the space unchallenged and feeling slightly less comfortable about the digital revolution. Nevertheless it is worth being taken on this journey to feel a little more prepared for the digital innovations that lie ahead.
Until 28th February the Lowry Pier 8 Salford Quays Manchester M50 3AZ
www.thelowry.com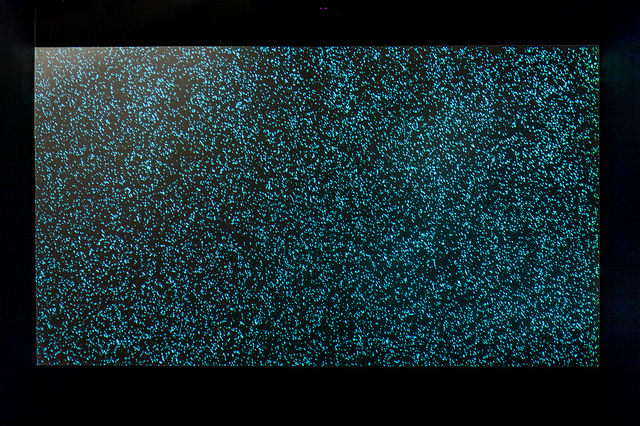 Categories
Tags