Create have announced the findings of its Panic! survey, which was delivered in association with Goldsmiths, University of London, University of Sheffield and LSE as part of major new project Panic! What Happened to Social Mobility in the Arts?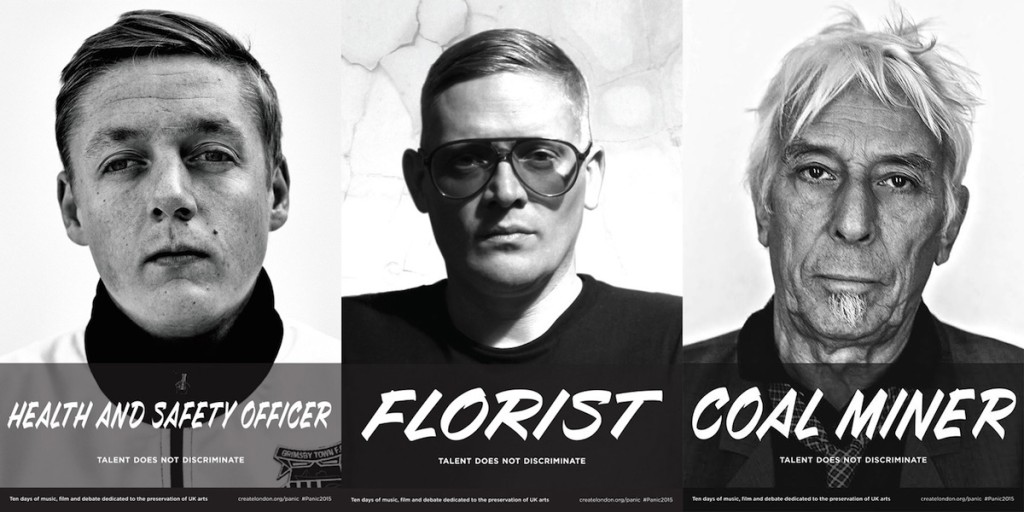 The survey provides the most wide-ranging picture to date of working life across the core sectors of the cultural and creative industries in the UK. The findings provide hard evidence for the common impression that the arts sector is a closed shop where most people are middle class and it also makes revealing discoveries about how gender and ethnicity can affect a career in the arts and how higher wage earners view the sector in comparison to lower wage earners. The survey comes at a crucial time for the arts sector, with further cuts to funding expected in the government's spending review on 25 November 2015.
In total 2,539 people working in all core areas of the cultural industries contributed to the survey by way of an open call on theguardian.com in September and October 2015. Museums, galleries and libraries; performance and music; and visual arts were the best represented categories and although the survey found significant discrepancies in the way people working in the arts view the sector, it showed overwhelmingly that the arts can be a precarious industry where support structures from families are essential to allowing those working in the industry to succeed.
The most revealing findings of the survey are:
Those that earn over £50,000 p/a are most likely to believe that they got there through hard work, talent and ambition. Those earning under £5,000 p/a are most likely to believe that it's not about what you know but who you know.
The majority of white people in the arts don't acknowledge the barriers facing BAME people trying to find a foothold in the sector. Women are more likely than men to have worked in the arts sector for free and once paid are generally paid less than their male counterparts.
The survey also found that an overwhelming majority of respondents working in the arts (76%) had at least one parent working in a managerial or professional (i.e. 'middle class') job whilst they were growing up and that over half had at least one parent with a degree whilst growing up. When this is paired with the fact that nearly 90% of respondents had worked for free at some point in their career, the Panic! research paints a bleak picture that if young people don't have parents that are able to support them in their pursuit of a creative career then it is an extremely hard to break into the industry.
More key findings:
88% of our respondents working in the cultural industries have worked for free at some point in their careers.
38% of our respondents working in the cultural industriesdo not have a contract.
30% of BAME people think ethnicity is very important to getting ahead, whilst only 10% of white people believe ethnicity is very important to their chances of getting ahead.
32% of women are likely have done unpaid internships as opposed to 23% of men.
On average men working in the cultural industries earn 32% more then women working in the sector.
What do these findings mean to the UK's creative and cultural sector? The Panic! project will host a season of debates, music and film bringing together people from across the political spectrum to reflect upon the findings of the survey and encourage government, cultural institutions and businesses to reflect on their part in the situation.
The season, which starts this Thursday (26th November) and is delivered by Create in partnership with the Barbican, the Guardian, Goldsmiths University and British Art Show 8, will discuss the state of pop, the future of London, the economic value of a diverse cultural sector, and the impact of debt on creativity.
About Panic! What Happened To Social Mobility in the Arts? 26th November – 4th December 2015
www.createlondon.org/panic
Panic! What Happened to Social Mobility in the Arts? is a season of music, film, art and debate investigating the state of the cultural sector in the UK over a nine-day period this winter.
The line-up will include performances by Darkstar, Richard Dawson, Sivu and Sleaford Mods (DJ set) at a specially commissioned concert at Oval Space, London; a series of debates in London and Leeds, delivered in partnership with Guardian Live, with speakers ranging from Stuart Maconie to Pauline Black, Adham Faramawy, Frances Corner and Femi Adeyemi as well as a host of journalists, academics and industry professionals; an evening of screenings and debate at Barbican Cinema with filmmakers Cecile Emeke and Destiny Ekaragha; and Ahmet Ö?üt's Day After Debt (UK) at British Art Show 8, touring the country from Leeds Art Gallery.
?Accompanying Panic! will be a visual campaign conceived by British art director Peter Saville to exemplify the current climate in the arts. Launching today, the campaign features iconic faces from theatre, film, TV, art, literature, fashion and music tagged with the occupation of the principal earner in their families growing up, raising the question, 'Could these important cultural players have any chance of success in 2015?' A number of well known faces have lent their support to the campaign, including David Bailey, Jo Brand, John Cale,
Giles Deacon, Christopher Eccleston, Estelle, Paterson Joseph, Sarah Lucas, Ken Loach, Samantha Morton, Grayson Perry, Janet Street Porter and Thomas Turgoose.
Panic! will not just debate the issues surrounding social mobility in the arts but actively contribute to helping young people from diverse backgrounds find employment in the sector. The Creativity Works: Panic! employability programme will see Create's partners, The Barbican, Goldsmiths and The Guardian offer work placements to 20 young people from diverse backgrounds. These placements will not only benefit the participants, but will demonstrate the hugely positive impact that young people from a range of backgrounds can have on arts organisations.
All elements of the Panic! programme will investigate the effects of housing costs, benefits changes and low salaries on access to arts jobs and also the impact of rising higher education fees, reduced arts provision in schools and the proliferation of unpaid internships in the creative industries. The programme will also reflect on the findings of a new national research survey, commissioned by Create and delivered by Goldsmiths.
Further details can be found at www.createlondon.org/panic
Categories
Tags