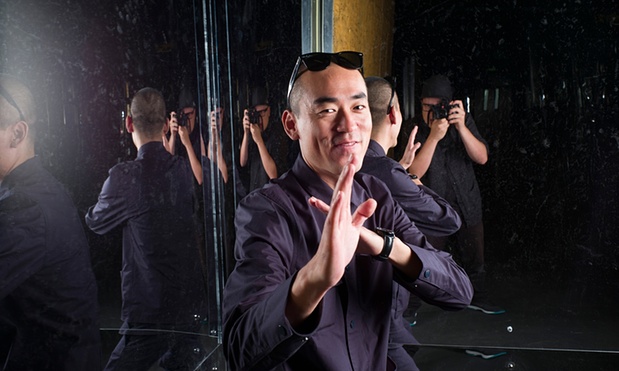 Zhang Ding says the ICA's Enter the Dragon installation will involve 26 musicians, bands, producers and DJs. Photograph: Graeme Robertson for the Guardian
This article titled "Musicians prepare to battle like Bruce Lee at Institute of Contemporary Arts" was written by Hannah Ellis-Petersen, for theguardian.com on Wednesday 14th October 2015 11.08 UTC
The Institute of Contemporary Arts is to host a two-week installation during which live bands will perform in a hall of mirrors inspired by the Bruce Lee film Enter the Dragon.
The "mutating sound sculpture", brainchild of Chinese artist Zhang Ding, will involve 26 musicians, bands, producers and DJs. Each night two of them will play on opposite sides of the London gallery. The artists will each play their own songs to an audience of 100 before gradually collaborating in a live improvisation.
Musicians taking part in the installation, also called Enter the Dragon, include Bo Ningen, the Japanese acid punk band, the electronic musician Tapes, Vision Fortune, the experimental drone duo, and producer Lord Tusk.
Ding said he was inspired by his passion for martial arts and music: "I was very interested in martial arts films and I started to think about how I could bring together music and martial arts. Like in music, in martial arts there are different styles and schools, and so I wanted to find a way to bring this old eastern philosophy of communication when fighting, but between bands instead – they are competing but also drawing on each other. And so I wanted to find a point where western and eastern people are familiar, which is why I chose Bruce Lee's Enter the Dragon."
Ding visited several music venues across London in his search for emerging talent for the project. The ICA also worked with Hackney-based station NTS Radio, associate artists at the gallery. NTS advertised an open submission for musicians through its website and also linked up with several UK and international NTS-associated musicians to ensure the project included a variety of new talent.
Matt Williams, the show's curator, said: "Each performance is going to be so unique so it's all very much an experiment – none of us know what's going to happen."
Ding, who has made several pieces involving live music including transforming a Shangai art gallery into a nightclub, said the ICA project was as much about watching the audience as the improvising bands. "The most important thing is they feel like this is a party," he said. "By doing this project, I have almost given up the identity of the artist; it involves everyone putting themselves into the installation – I was just the starting point, the person who will lead the audiences and the musicians into the space – what they do when they 'enter the dragon' is up to them."
Tabitha Thorlu-Bangura, from NTS radio, who helped compile the programme of artists, said there had been a wide variety of submissions, with musicians "energised by the prospect of something this experimental and a little bit different".
Thorlu-Bangura said she was looking forward to seeing Bill Kouligas perform with Amnesia Scanner; British-born, Berlin-based house music producer Heatsick v London-based music producer Lukid; and electronic musician Tapes against R&B singer Throwing Shade, a pairing she predicted would be "weird but great".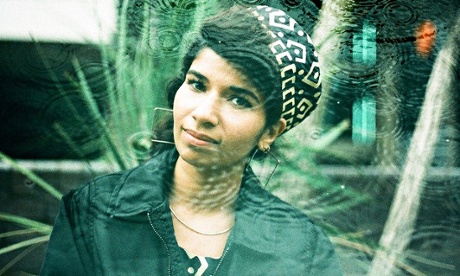 The installation highlights the ICA's increasing interest in the amalgamation of music and contemporary art. In recent months, the gallery has collaborated with artists such as Björk's producer Arca, who played his first live show in the gallery, and techno DJ Evian Christ, as well as hosting nights by Boiler Room and the London-based label Blackest Ever Black.
"I arrived here five years ago and the ICA was in a very difficult period of its life financially, and we had to scrap the music programme because it just wasn't viable," Williams said. "So we started working with associate artists, like band Factory Floor and now NTS, to develop a relationship with musicians and find ways to put on gigs, but also make it a visual experience. Now we are seeing a real explosion of those collaborations between art and emerging music, not just at the ICA but in galleries across the country."
• Enter the Dragon, in collaboration with K11 Art Foundation, runs until 25 October. Tickets are available here.
guardian.co.uk © Guardian News & Media Limited 2010
Published via the Guardian News Feed plugin for WordPress.
Categories
Tags