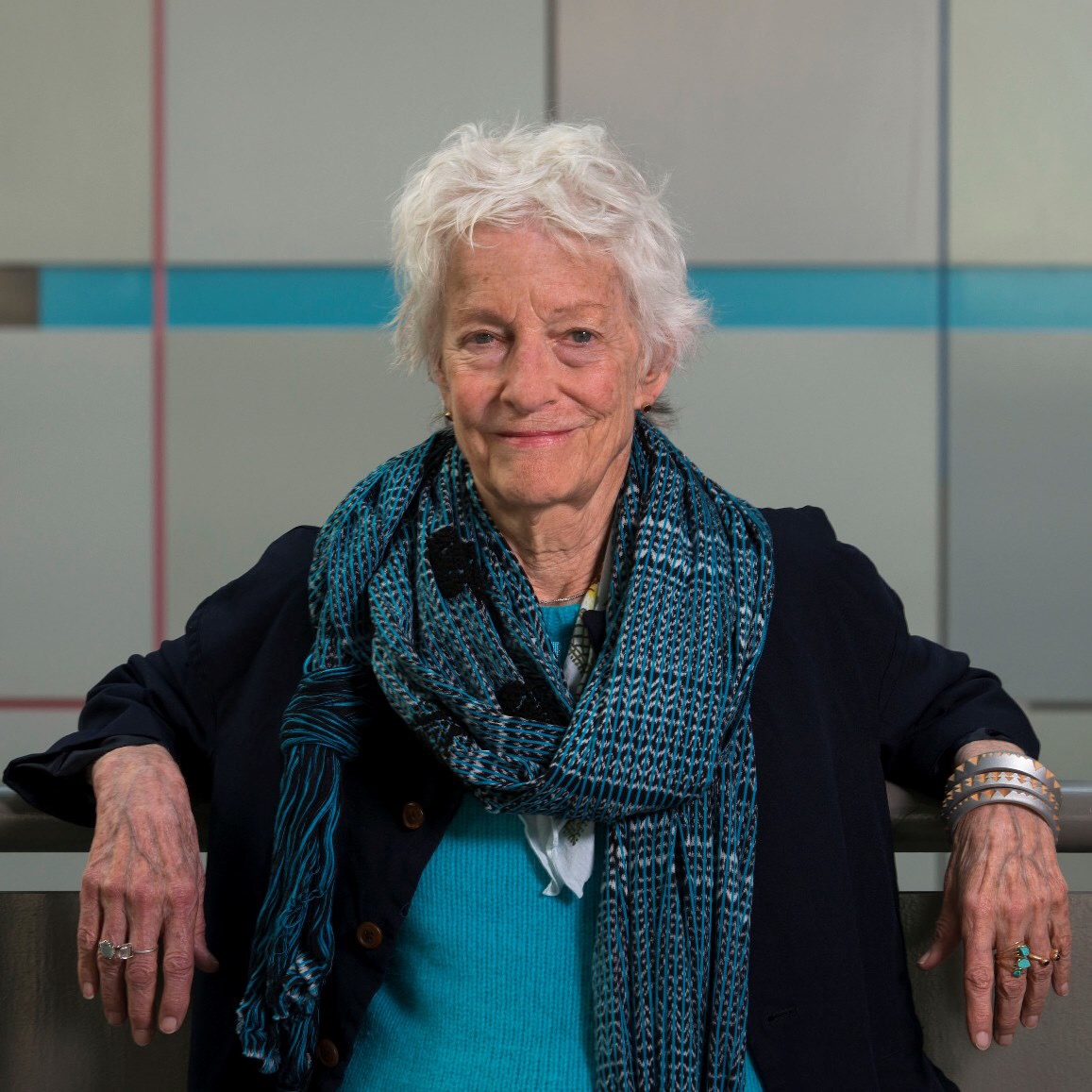 Joan Jonas photographed at MIT in 2014.Photo by L. Barry Hetherington
The Whitechapel Gallery Art Icon honours the lifetime achievements of one of our greatest artists. The award will be presented to Joan Jonas at a special gala dinner hosted by Whitechapel Gallery Director Iwona Blazwick OBE on 25 February 2016.
Joan Jonas lives and works between New York and Cape Breton, U.S. and emerged as a key figure in the performance art and feminist movements of the 60s. The year 1979 saw Jonas' UK debut at the Whitechapel Gallery. She presented video works and series of live performances titled The Juniper Tree, which incorporated movement, sound, film, mirrors and props in a reinterpretation of the Brothers Grimm fairy tale of the same name.
Over six prolific decades Jonas has built a reputation as one of America's most influential multimedia artists. Trained in art history and sculpture, her body of work is distinctive in its layering of sound, images and ideas in sophisticated and ethereal multimedia collages, encompassing video, drawing, installation, sound, performance and text. She draws regularly from literary influences – from Dante's epic Divine Comedy to the Icelandic writer Halldór Laxness' writings on the spiritual aspects of nature, which served as an important reference point for They Come to Us without a Word (2015), her recent critically-acclaimed work for the U.S. Pavilion at the Venice Biennale (9 May – 22 November 2015).
Jonas was chosen as the third Whitechapel Gallery Art Icon by a panel of art experts chaired by Iwona Blazwick, including Stephen Deuchar, Director, The Art Fund; Ann Gallagher, Director of Collections (British Art), Tate; and Jackie Wullschlager, Chief Art Critic, The Financial Times.
To celebrate the Whitechapel Gallery Art Icon 2016, guests are invited to buy tickets to a celebratory gala dinner at the newly restored Christ Church Spitalfields, located in the heart of east London, on Thursday 25 February 2016. An auction of works by leading contemporary artists, led by Sotheby's Oliver Barker will also take place. All funds raised support the Whitechapel Gallery's Education and Community programmes, which work with thousands of children and young people each year.
Whitechapel Gallery Director Iwona Blazwick OBE said,
'Joan Jonas is an icon of the American avant-garde and has been a true pioneer since her early experimentation in performance and conceptual art. She has embraced artistic exploration since the 1960s with the then brand new medium of video and she continues to use technologies to inform her work both as an artist and as professor emerita at MIT. The natural world and how we live in it, the ritual, the mythological are amongst her inspirations; the places and cultures she encounters all make their way into her effervescent performances, videos and installations. On behalf of the jury, we are honoured that Joan accepts this award in recognition of how her intimate and moving practice has had a deep resonance on successive generations of artists.
Whitechapel Gallery Art Icon 2016 Gala Dinner
Thursday 25 February 2016
Christ Church Spitalfields, London E1
Tickets: £495 per person or £4,950 for a table for 10. Bookings articonaward@whitechapelgallery.org
Categories
Tags