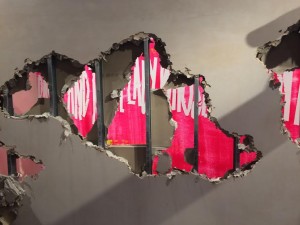 At a time where it is becoming progressively difficult for artists to exist in the capital, it would be easy to become envious of artists such as Eddie Peake.  Struggling creatives are increasingly making the exodus to the coast or overseas in the hope that they will find a more affordable practice, but also in the fear that they may lose relevance, by not being attached to the frustratingly beautiful, gentrified mess that is London.
Eddie Peake's unusually rapid rise to fame could arguably be down to his near perfect artistic, incubation conditions. The son of artists Phyllida Barlow and Fabian Peake, Eddie has followed all the right channels, seemingly, without a hitch and adapted an unmistakably unique approach to his creative practice.
A generation of clean cut young artists making very clean expensive art, Peake is part of a sort of post YBA movement who are developing a sophisticated language. Work that is highly sexually charged and peppered with doses of street/counter culture whilst remaining aesthetically polished. Contemporary art that resonates with the 'Wavey Garms' generation. A celebration of nostalgia and popular culture and everything that goes with it.
At the age of 34 Peake has achieved a huge amount and this is, as I said, probably down to his background, education etc, but it is also down to the fact that he is a really good artist and has managed to produce definitive, genre defiant work that appeals to a completely new audience.
The Forever Loop beautifully utilises the Barbican's The Curve space to create a heady adventure through Peake's growth and development as a person and artist. A series of scarfed, Perspex bears playfully, accompany the audience whilst choreographed performances, by nude dancers in fresh white Reebok Classics, erupt around you to bursts from Dj Brockie and MC Det.
The video work is integral to the narrative of the journey – documenting performances and experiences throughout Peake's life and career. His signature masked-off type adorns the curved wall of the space giving an extra dimension to the narration. Opulent sculptures of gold whale bones and contorted mock ivory decorate a dance floor whilst dancers writhe on a chaise longue representing an appealing decadence that could easily be sneered at.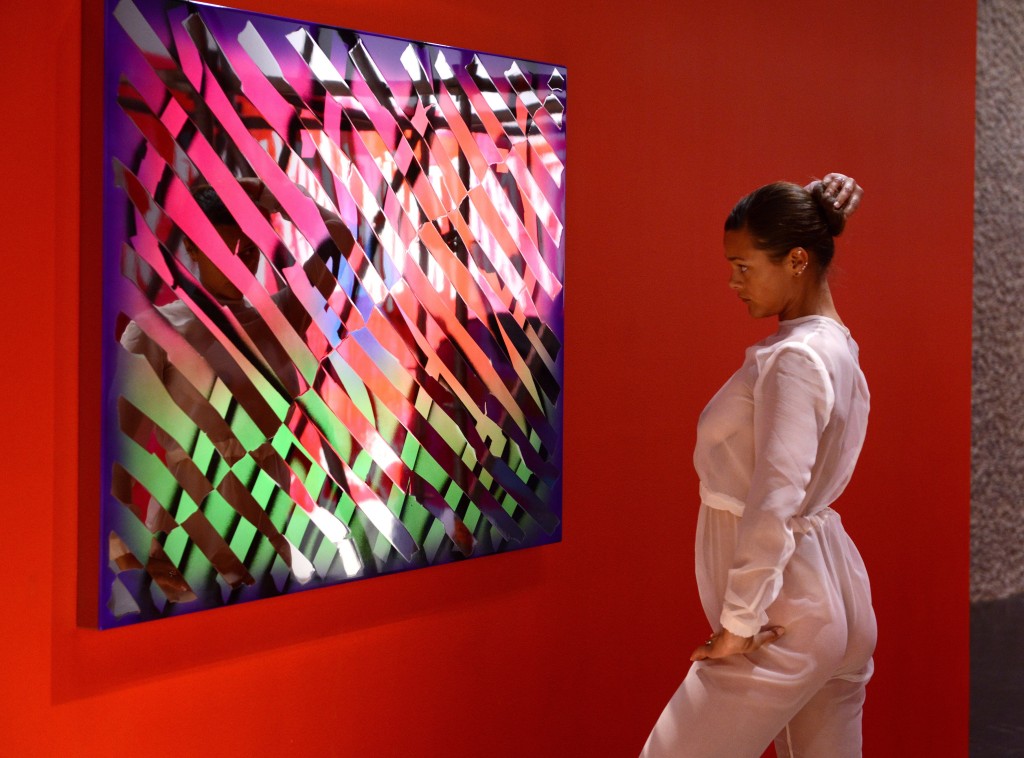 An animation, from a past project with musician Gwilym Gold, accompanies a sculpture of a slack figure with a transparent cubed head containing the autobiographical trappings to Peake's thoroughly modern life. A roller skater in a sheer jump suite cruises the space periodically stopping to elegantly gesture. The charming use of all the performers removes any shock or sexuality to their nudity and they become smoothly functioning organic machines – rhythmically gyrating through the entanglement of reflection.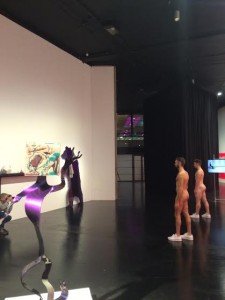 Peake's work is becoming extremely important and relevant to a demographic that perhaps was once afflicted by a level of alienation from the art world. It represents the beauty and nourishment that can be gained from art but written in a language that can be understood by a generation raised on sexuality, Off-Key Moschino, Air Max, Jungle and Ecstacy which is a generation Peake firmly belongs to.
The Forever Loop runs until the 10th of January at the Barbican Centre's Curve Space. All other info can be found HERE.
Categories
Tags