Film London has announced the six moving image artists shortlisted for the prestigious Film London Jarman Award: Adam Chodzko, Seamus Harahan, Gail Pickering, Alia Syed, Bedwyr Williams and Andrea Luka Zimmerman.
This year's shortlisted artists were chosen for bodies of work representing uncompromising power, beauty and humour. Their work shows the breadth of practice within contemporary filmmaking, from extraordinary documentaries and lyrical storytelling to mesmerising works that interweave glimpses of the past with digital technologies.
The Jarman Award recognises and supports artists working with moving image and celebrates the spirit of experimentation, imagination and innovation in the work of emerging artist filmmakers. The Award is inspired by visionary filmmaker Derek Jarman.
For the first time the accompanying Jarman Award Tour will span England, Scotland, Wales and Northern Ireland. Showcasing work by the six shortlisted artists from 29 September – 22 November 2015 in 12 major venues around the UK.
The Film London Jarman Award is unique within the industry in offering both financial assistance and the rare opportunity to produce a new moving image artwork. The Award is presented in association with Channel 4 and the Whitechapel Gallery.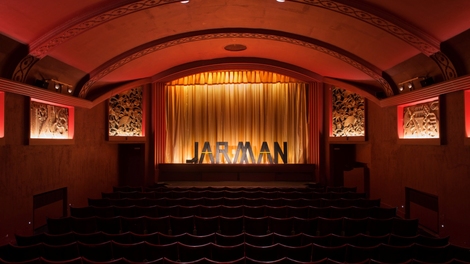 The winner of The Film London Jarman Award will be announced on 30th November 2015 at a special ceremony at the Whitechapel Gallery. The winner will receive prize money of £10,000. Channel 4 will also support the award by commissioning a number of the artists to produce new films for their acclaimed Random Acts arts strand.
The Jury who selected this year's shortlist are: Iwona Blazwick OBE, Director, Whitechapel Gallery; Andrea Lissoni, Film and International Art Curator, Tate Modern and Film London Board Member; Pegah Farahmand,Editor, Random Acts, Channel 4; Stephen Sutcliffe, Artist; Maria Palacios Cruz, Deputy Director, LUX and Sol Papadopoulos, Producer, Hurricane Films.
flamin.filmlondon.org.uk/jarmanaward
About The Artists
Adam Chodzko
Adam Chodzko is an artist whose multidisciplinary practice explores the interactions and possibilities of human behaviour in the gap between how we are and how we could be. Exhibiting work nationally and internationally since 1991, working across media, from video installation to subtle interventions, and with a practice that is partly sited within the gallery space and partly within the wider public realm, Chodzko's work explores our collective imagination in order to suggest how, through the visual, we might best connect with others. His artworks invent new relationships between our value and belief systems, examining their affect on our communal and private spaces often by using existing documents and fictions that control, describe and guide these systems and spaces. Chodzko's practice operates between documentary and fantasy, (often using a form of "science fiction", in order that art might propose alternative realities), conceptualism and surrealism and public and private space, often engaging reflexively and directly with the role of the viewer.
Since 1991, he has exhibited at numerous venues around the world including Tate Britain; Tate St Ives; Venice Biennale; Royal Academy, London; Deste Foundation, Athens; PS1, NY; Ikon Gallery, Birmingham; Kunstmuseum Luzern; Henry Moore Institute, Leeds; Yorkshire Sculpture Park; Athens Biennale; Istanbul Biennial; Benaki Museum, Athens; and Folkestone Triennial. Chodzko has previously received awards from the Paul Hamlyn Foundation and the Foundation for Contemporary Arts, New York, and an AHRC Creative Research Fellowship. He lives and works in Whitstable, Kent.
Seamus Harahan
Seamus Harahan's video, installation, film and sound based practice engages directly with place. His starting point is not the making of art; instead his strategy is to forget and just film the social and cultural environment around him. Harahan uses his video camera – a relatively accessible and moderately affordable technology – to take hand-held, seemingly amateur footage, the contents of this footage, locating himself and locating others, through found activity occurring around him. The main subject is often the urban environment, its incidental detail and fugitive nature. Music is a vital element in all of Harahan's works, with songs used as soundtracks or informing the composition, title or duration of individual pieces. The artist takes songs from an eclectic range of sources, including reggae and hip hop as well as English and Irish traditional music.
Harahan was a director of Catalyst Arts Belfast from 1996-98. His work was featured in Assembly, A survey of Recent Artists' Films and Video in Britain 2008–13 at Tate Britain, London. Cold Open received the Jury Award at Ann Arbor Film Festival, Michigan, in 2014. He represented Northern Ireland in the 51st Venice Biennale in 2005 and received a Paul Hamlyn Award for Artists in 2009. He was artist in residence at Centre Culturel Irlandais, Paris, in spring 2015. He lives and works in Belfast and is represented in London by Gimpel Fils.
Gail Pickering
Gail Pickering's work in moving image, performance and installation intersects with a wide array of historical references including representations of social ritual, amateur culture and collective filmmaking. Exploring their malleability through fictions and interruptions, Pickering develops a multi-layered montage variously staged and rewritten through voice, mimicry and polyphonic narratives. Allowing her own subjectivity and those of the actors and performers with whom she works to enter this process, the work reflects on the fragmentary relationships we have to history and society. Pickering's often large-scale installations extend this experience by actively involving the viewer as they move amongst architecture of moving images.
Gail Pickering lives and works in London, completing her MFA at Goldsmiths in 2001. Her work has been shown widely including recent solo exhibitions at BALTIC Centre for Contemporary Art, Gateshead, 2014-15, and Centre d'art Contemporain de la Ferme du Buisson, Paris, 2014. Her work was included in the 58th London Film Festival at the BFI; Assembly A Survey of British Artists Film and Video, Tate Britain, both 2014; the British Art Show 7, In The Days Of The Comet, Hayward Touring, 2010-11; X Baltic Triennial, CAC, Vilnius; Event Horizon, Royal Academy of Arts; Volatile Dispersal, Whitechapel Gallery, all 2009; Here We Dance, Tate Modern; Neither Either Nor Or, Kunstverein Stuttgart; Nought to Sixty, ICA; Gail Pickering, Gasworks, London, all 2008. Her performance works include Not Yet No Longer, ICA, London and Arnolfini, Bristol, both 2012 and Mad Masters, South London Gallery in 2008. Her ICA commissioned film Karaoke was broadcast on Channel 4 as part of Random Acts.
Alia Syed
Alia Syed's films examine memory, representation and colonialism through narratives constructed from personal and historical realities. Her two most recent works combine her interest in storytelling with a compelling presentation of history as a visual narrative; using diverse subjectivities to reframe both the time flow of the river Thames and the regeneration of the city of Glasgow respectively. Her unique approach sutures different subjective positions in relation to culture, diaspora, and location, specifically in relation to gender and notions of cultural difference.
Syed's films have been shown at numerous institutions around the world including BBC Arts Online (currently); The Triangle Space: Chelsea College of Art, London, (2014); Los Angeles County Museum of Art (2012?13); 5th Moscow Biennale (2013); Museum of Modern Art, New York, (2010); Museo National Centro de Arte Reina Sofia, Madrid, (2009); XV Sydney Biennale (2006), Hayward Gallery, London, (2005); Tate Britain, London, (2003); Glasgow Museum of Modern Art (2002); Iniva, London, (2002); The New Art Gallery Walsall (2002); and Tate Modern, London (2000). Syed's films have also been the subject of several solo exhibitions at Talwar Gallery in New York and New Delhi. Alia Syed was born in 1964 in Swansea, Wales, and lives between London and Glasgow.
Bedwyr Williams
Bedwyr Williams works across various media including performance, video, sculpture and text, often bringing them together as larger installations. He is interested in the friction between the deadly serious and the banal aspects of modern life. Often he satirises the role of the artist and that of the curator against this backdrop creating cruel, absurd scenarios for them to appear in.
Video, in recent years, has become of particular interest after a decade working with spoken word performance. This new film work mixes media and involves collaboration using humour and bathos to explore issues and subjects including, our insignificance in the universe (The Starry Messenger, 2013) a hoarding dystopian future (ECHT, 2014) and buildings with odd angles (Hotel 70º, 2015).
His most recent work Century Egg, 2015, made during, a residency with the Museums of Cambridge University, ponders the idea of preserving objects and the moment when 'things' become archived 'things'. It will be presented at the British Art Show in 2015.
Recent and forthcoming solo shows include Whitworth, Manchester, UK; Visual Centre for Contemporary Art, Carlow, IR; g39, Cardiff, UK; Vestjyllands Kunstpavillion, DK (all 2015); Tramway, Glasgow, UK for Glasgow International; Oriel Mostyn, Llandudno,UK (2014); 55th Venice Biennale for Welsh Pavillion,Venice, IT, (2013); IKON, Birmingham, UK (2012); and Kunstverein Salzburger, Salzburg, AT (2011).
Andrea Luka Zimmerman
Andrea Luka Zimmerman is a filmmaker, artist and cultural activist. Andrea grew up on a large council estate and left school at 16. After coming to London in 1991, she went to Central St. Martins where she now teaches.
She is co-founder of the artists' collective Fugitive Images (I am here and Estate: Art, Politics and Social Housing in Britain). Her new essay-film Estate, a Reverie, tracks the passing of the Haggerston Estate in East London and the utopian promise of social housing it offered, with a spirited celebration of extraordinary everyday humanity. Filmed over seven years, Estate reveals and celebrates the resilience of residents who are profoundly overlooked by media representations and wider social responses, and asks how we might resist being framed exclusively through class, gender, ability or disability, and through geography even.
Her essay-film Taskafa, Stories of the Street (66mins, 2013), about resistance and co-existence and voiced by John Berger, is told through the lives of the street dogs of Istanbul.
A founding member of Vision Machine, she worked in the USA and Indonesia, exploring the impact of globalisation, power, and denied histories. Her PhD (UAL 2007) examined the relationship between spectacular (Hollywood) and spectral (covert and special military operations) representations of political violence. From this period developed her essay-film Prisoner of War (2016), exploring US militarism and foreign policy through a character study of one of its most enduring rogue agents.
In 2014, she won the Artangel Open award for her collaborative project Cycle (2017) with Adrian Jackson (Cardboard Citizens).
About Mark Westall