The London Open Whitechapel's triennale exhibition has just opened. 48 of the most dynamic and exciting artists have been chosen from an entry of over 2100 and FAD will be chatting to a selection of the artists over the coming weeks up next we have Ben Woodeson.
1. Have you always felt yourself an artist?
Not at all, I spent quite some years riding motorcycles and travelling, I did any job that wouldn't tie me down and spent all my money on bikes and travel. That being said, my family background is quite "arty", my grandfather was the painter and gallerist Jack Bilbo and although we never met, I've always been surrounded by his works and the wild stories about him. I think that did contribute to my going off and doing other things… However, you can run, but you can't hide, and looking back I think there was an inevitability to my becoming an artist.
2. Can you tell us more about your work and what are the main ideas you would like to express?
It's All Good Fun is to put it bluntly, two great big sheets of glass hanging from a rope… I'm tiptoeing the line between attraction and repulsion, safety and risk, excitement and boredom. I'm interested in making works that make people hesitate, stuff that makes them wonder, WTF? What if I…? What if it…? It's All Good Fun is stable, but it doesn't seem it. The piece hangs, swinging gently from any passing disturbance, nine foot of balanced glass. We see it, but only just, the clear glass means it's there, but also not there. It's a bit slapstick, a quiet trap for the unwary.
I want to challenge people, the works are teasing, how far will you go? Or in fact how far will I go? They're beautiful, fragile, vulnerable, easily damaged or destroyed by someone not paying attention, but it's a symbiotic relationship, they're vulnerable to us, but we are certainly vulnerable to them… They're deliberately dangerous… not super crazy dangerous, but kind of teasing dangerous, sharp edges and balanced weights. Pay attention, don't sleep walk.
3. How do you start the process of making work?
Sometimes a situation or an object will inspire a work, other times the intention comes first. So for example, "Point Taken" which is currently on show at Berloni Gallery was inspired by a decrepit old table left out in the street. I was walking the dog, saw the table, bingo, instant idea, next thing the poor dog was sharing it's walk with a table… I took the table into the studio and spent a few weeks looking at and thinking about it. Cogitating as it were. I then cut a slot through the table and precariously wedged an eight foot sheet of glass towering above head height.
Other works such as It's All Good Fun which is the work in The Whitechapel show are very much idea led. How can I hang a big sheet of glass so it's safe-ish but simultaneously precarious and a bit scary? What compromises do I need to do so that the piece can actually exist?
4. Do you consider the viewer, when making your work?
I use myself a bit like a piece of litmus paper, if I'm scared or a bit nervous around the work, then it's kind of going in the right direction so I suppose I'm using myself as a sort of pseudo-viewer. I'm not interested in actually hurting people, so I have to consider how the people will actually interact with the works. Some of the pieces are deliberately so fragile or ephemeral that they pretty much self-destruct, others are conceptually part of the same conversation but have a more stable existence. Some are deliberately dangerous, some are more vulnerable than dangerous, some are both.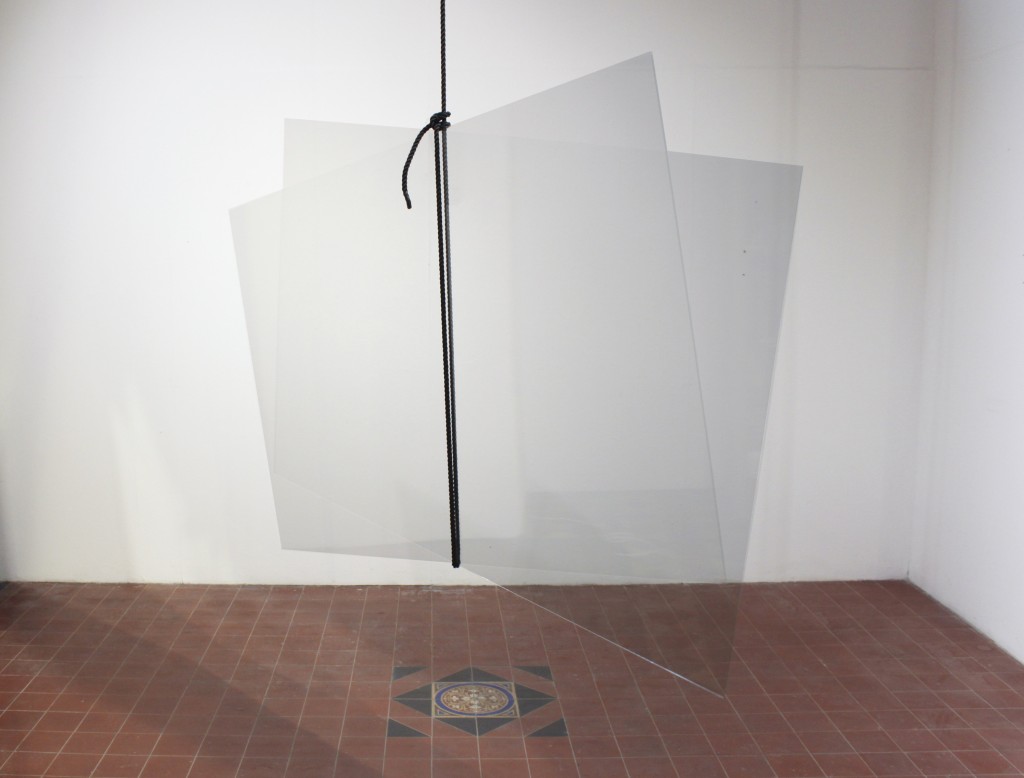 It's All Good Fun
5. Name 3 artists that have inspired your work.
Roman Signer is my art babe, his odd experiments and videos are my version of catnip. Chris Burden who recently passed away and Gordon Matta Clark are both tremendously inspiring, but if I had to pick one work rather than an artist then it would unquestionably be Der Lauf Der Dinge by Fischli and Weiss. Their video was fundamental to my early development, it just blew me away. With all these choices there are strong concepts underlying the work, but to me, most of all there is this fundamental interest in materials, an engagement or material experimentation that really floats my boat.
6. What defines something as a work of art?
In the hope of seeing an ever expending field of interesting and challenging art I would say the intention of the artist, but then of course we end up trying to define what makes a successful work of art…
7. How was it finding out you had been chosen as part of The London Open?
Thoroughly exciting!

8. How have you found working with the Whitechapel Gallery on the exhibition?
The Whitechapel have been a dream to work with. Curating an exhibition of fifty artists will always be fraught with problems, and that is before you throw a deliberately dangerous work into the mix. I've found the curators and technical staff to be thoughtful, proactive and very satisfying to work with.
9. What plans do you have to continue to pursue your art career in 2015?
I am doing an "in conversation" with curator Kit Hammonds and artist and lecturer Joanne Lee at my solo show obstacle at Berloni Gallery on Margaret St at 3pm on Saturday 25th July. All welcome.
10. Final Question – if you had £49,000 to buy art who would you invest it in?
Mine of course… Seriously though I've long coveted the framed images that Roman Signer does or Gordon Matta Clark's collages…
Get more details on The London Open: HERE
Categories
Tags