Off Kilter,
adjective phrase. Definition: something not perfectly balanced, different from the usual or expected
Off Kilter: An Age of Oil, Dadiani Fine Art's fifth exhibition, is a group show comprised of abstract, conceptual, figurative, surreal and symbolist paintings.
The hang for the exhibition takes for it's inspiration the process made famous by Burroughs all the titles of the artworks where placed in a hat and the hang was decided by the order they where then drawn from the hat.
Eleesa Dadiani, the gallery's director, says:
"The only element that unites the 10 featured artists is that they all paint in oil. In bringing together these wildly disparate voices, the presentation celebrates that medium in all its myriad forms, while affirming its enduring potency and capacity to delight and surprise."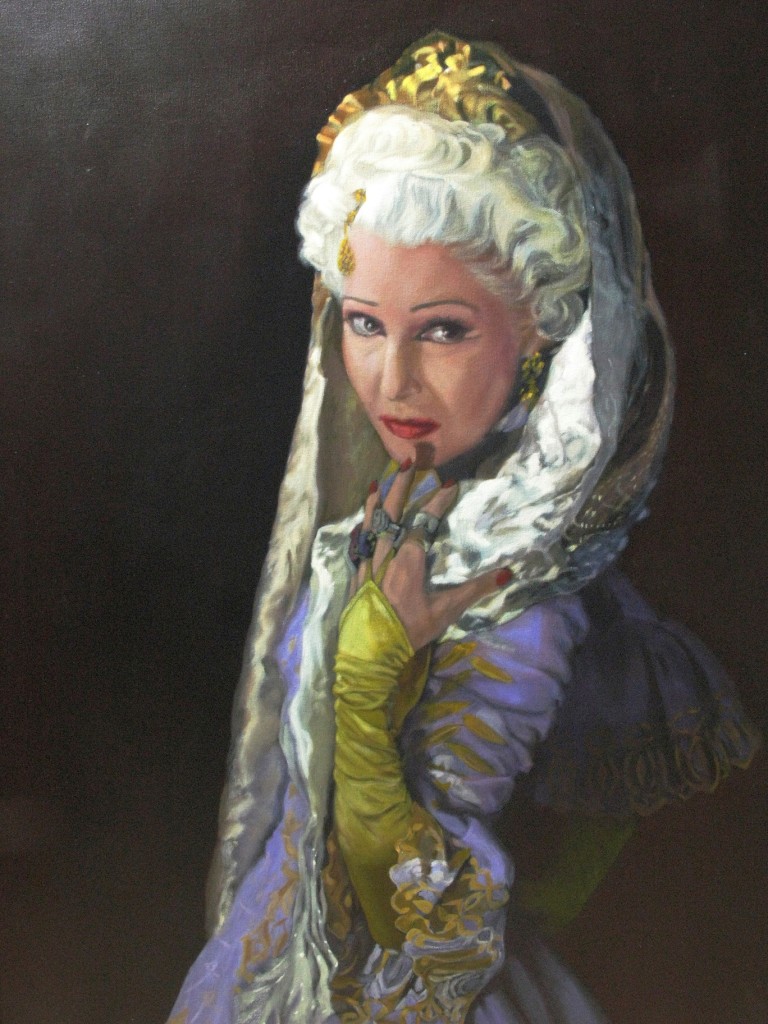 Pinkietessa, 2012, by David Courts
Pinkietessa, 2012, by David Courts, depicts the London performance artist PinkietessaTM as a Marie Antoinette- like figure attired in a plunging purple gown, her hands bedecked with jewels and her head shrouded in a veil draped over a golden crown. With her varnished nails placed coquettishly to her lips, her pose brings to mind not so much a Queen but the girls that appear in The Sun newspaper, and the viewer is left to question if they are observing a post-modern riff on the cult of the celebrity or a satire on the notion of glamour.
Two works by William S. Burroughs (1947–1981) date from the late 1980s. In one, Untitled, 1988, a collage with oil paint, what looks like a representation of a devil, replete with diabolic horns and gash mouth, is set against a wire mesh background sprayed with luminous, white spray paint. Helena Pritchard's Untitled, 2014, and Keith Coventry's, Avenue des Anglais, 2007, are similarly dark in tone. Pritchard uses oil, pigment and graphite to create a moody monochrome abstraction, while Coventry's work is a facsimile of Raoul Dufy's (1887-1953) south of France landscapes from the 1940's, only his are not bursting with colour but rendered in thick, black oil paint.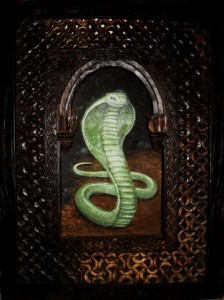 Robert Hawkins Bridge Upside Down and Cobra
A surreal note is struck by Upside Down Bride, 2009, one of two paintings in the exhibition by the American artist Robert Hawkins, in which a woman is seen strung up by her legs, her bridal gown upended over her waist and covering her torso, arms and face. The influence of the French Symbolist painter Odilon Redon (1840-1916), among others, is evident in Jennifer Binnie's painting, Animals Under a Black Moon, 2012, a magical composition drawing from the rich vocabulary of nature and mythology. Ewa Wilczynski's Crux, 2014, rendered in oil and dragon's blood resin, depicts a whirling mass of connected figures being drawn into a vortex, a nightmarish work that disturbs and fascinates in equal measure. Finally, Liam Ryan's painting, Reborn Without Reason; Deadly Depression from Mars, 2013, conjures up a giddy cosmic soup, appearing like a segment from the planet named in its title.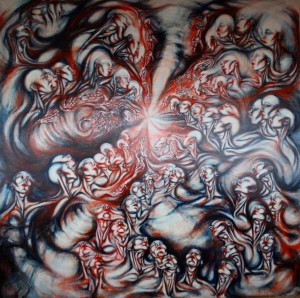 PARTICIPATING ARTISTS: Jennifer Binnie , William S. Burroughs , David Courts , Keith Coventry , Kelly-Anne Davitt , Robert Hawkins , Helena Pritchard , Liam Ryan , Ewa Wilczynski , Emma Woollard.
Off Kilter: An Age of Oil Dadiani Fine Art 30 Cork Street, London. W1S 3NG 18th July – 7th September, 2015
Private view: Friday 17th July, 7 – 9pm dadianifineart.com
Categories
Tags