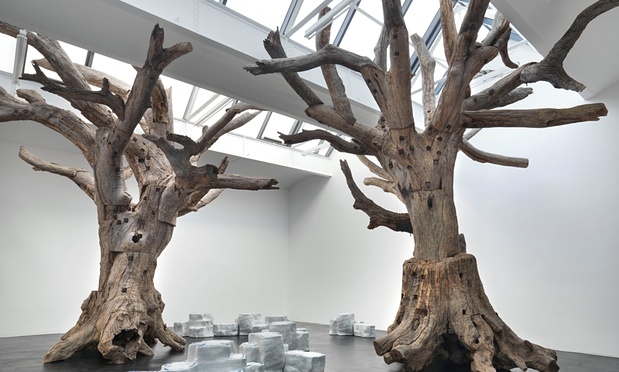 ---
This article titled "Royal Academy turns to crowdfunding to bring Ai Weiwei's trees to London" was written by Mark Brown Arts correspondent, for The Guardian on Wednesday 15th July 2015 06.00 UTC
The Royal Academy of Arts is to launch its first crowdfunding campaign for an unusual, eye-catching project: installing old trees from the mountains of southern China in its historic London courtyard.
The RA wants to display the monumental, site-specific installation by Ai Weiwei as part of a major exhibition of the artist's work this autumn. It will show eight trees, the most that have been brought together for public exhibition.
But the plans will cost £100,000, which the RA is hoping to raise through Kickstarter, offering supporters rewards which include limited edition prints, access to exclusive online content and private tours.
"It is an experiment and a gamble, but a sensible one," said Tim Marlow, the RA's artistic director. "If it comes off, brilliant; if not then it was worth trying."
One reason the institution was turning to Kickstarter was because the show had been scheduled at very short notice, squeezing fundraising, said Marlow, but the most appealing reason is that it would allow people across the world to show their support for an artist probably best known for the wrong reasons.
Ai has suffered badly at the hands of the Chinese authorities and in 2009 needed surgery after being punched by a Chinese policeman in Chengdu. That followed his involvement in a campaign to expose those who, because of shoddy construction, bore some responsibility for the deaths of schoolchildren buried alive in the Sichuan earthquake. In 2011, he was arrested without charge and held in custody for 81 days.
"It is not a major risk for us and I'm quite confident it will happen," said Marlow. "I think a lot of people will be interested in the idea of supporting Ai Weiwei and being a patron of the arts.
"It is quite close to English petitioning and the whole sponsored run idea. It is a very good way of testing how much people are willing to put their hands in their pockets."
Ai has been working on his Tree series since 2009. It consists of bits of trees which have died naturally on the mountains of southern China and are then sold as decorative pieces in the markets of Jingdezhen. Ai buys the bits of trunk, root and branch and has them transported to his studio in Beijing where, over several months, they are pieced together to create complete trees.
He has described the process as "just like trying to imagine what the tree looked like".
The installation will be completed by a black marble couch, that will allowpeople to gaze up at the trees.
Ai still has no passport and the RA is not holding out much hope that he will be able to travel to London for his show. Nevertheless, there have been signs of a softening attitude towards the artist by the authorities; he has not been prevented from having four solo shows in Beijing in the past year.
Although he has heard nothing officially, Ai recently told the Art Newspaper that he was optimistic. "The nation, however oppressive, is working towards a more level society, within the rule of law," he said.
"It is a step closer to getting my passport, but that is not the goal. Without my passport, I am still an artist and I can use the internet to communicate."
Artistically, Ai is best known in the UK for the 100m ceramic sunflower seeds with which he filled Tate Modern's Turbine Hall in 2010.
The RA is giving Ai his first major institutional show in the UK, a reflection it believes, of his global importance.
Among the works on display will be about 90 tonnes of steel reinforcing bars, which were mangled and twisted in the Sichuan earthquake. The rods have all been painstakingly straightened by hand and shipped from China in advance of the show.
Stephen Fry, an RA Trustee, said: "I am incredibly excited that the Royal Academy will be showing the work of Ai Weiwei, one of the world's most celebrated and extraordinary artists, social critic, sculptor and video artist. The Kickstarter project is a unique opportunity to get involved in bringing incredible new works here to London."
While all arts organisations have to be entrepreneurial and imaginative when it comes to fundraising, the RA has the added hurdle of receiving no public subsidy.
If the Kickstarter campaign succeeds, Marlow said he could see the fundraising method being used again, although "there has to be a particular set of circumstances" – it will not be a replacement for corporate sponsorship.
• Ai Weiwei at the Royal Academy of Arts, 19 September to 13 December.
guardian.co.uk © Guardian News & Media Limited 2010
Published via the Guardian News Feed plugin for WordPress.
Categories
Tags