Interfaces, the first annual showcase of art from Fish Island Labs, takes place across the Barbican foyers this August. Fish Island Labs was set up in 2014 as an incubator to kickstart the careers of a new generation of emerging talent whose work spans technology and the arts. Over the past 12 months this community of 20 practitioners have developed cutting-edge new work, covering everything from sculpture, installations and physical performance to coding, film editing and digital art.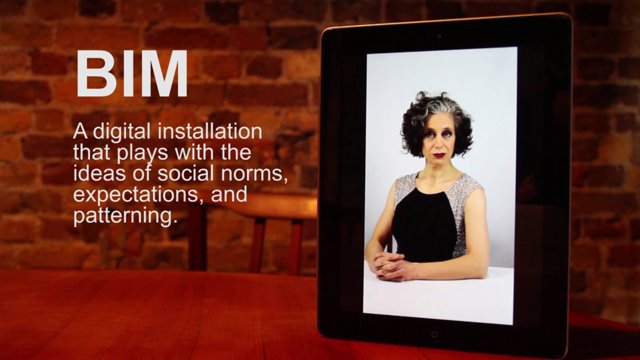 Interfaces brings together the work of this close knit group of emerging talent, united by the desire to investigate how reality is affected when perceived through the combined lenses of art and technology.
Barbican Bim (Promo) from Martin Collins on Vimeo.
Works include BIM (by performer Martin Collins and software developer Tom Szirtes), an interactive portrait that uses face recognition software to develop a unique relationship with the observer. The more the observer interacts the happier the subject of the portrait gets, the longer she is left alone the more bored she becomes. Movements of Being (by movement artist and coder Nicola Plant and Alexander Adderly) uses virtual reality technology to immerse the participant in an atmospheric reality of glowing particles that interact with the body; illuminating themselves only when disturbed by movement. Tekja will engage directly with the Barbican, creating enlightening data visualisations to provide insights into Barbican audiences and local communities.
Other artists include Alkaline, Annie Nichols, David Hunter, Fancy Lamp, Imeh Akpan, Kimatica, Matteo Zamagni, Pollie Barden, Sapphire Goss, Something Human, Sophie Rogers, Tom McDonagh, OpenVizor, Enamul Hoque, Xavier Sole and Magma Collective. Together, these artists take a diverse approach to interrogating how human experience can be transformed by multi-media art practice.
Fish Island Labs is also presenting on-site installations at Lovebox Festival this summer in London's Victoria Park, 17-18 July and will hold monthly Open Gallery events to showcase the work of its artists on a regular basis. The next two Open gallery events are on 2nd July and 6th August.
A unique partnership between the Barbican and The Trampery, Fish Island Labs continues the Barbican's commitment to championing pioneering artists across all art forms that use digital technology within their work – from past collaborations with Merce Cunningham, Aphex Twin and Random International to 2014's ground-breaking Digital Revolution, the most comprehensive presentation of digital creativity ever to be staged in the UK.
Interfaces: Foyers, Barbican Centre 22nd August – 23rd August 2015
About Fish Island Labs
The Barbican and workspace innovators The Trampery joined forces to create Fish Island Labs, a unique new centre to kickstart the careers of a new generation of emerging talent spanning technology and the arts, based in a shared studio-gallery-workspace in the heart of Hackney Wick.
Fish Island Labs takes inspiration from the incubation model used in the technology world and provides extensive support for everyone who takes part in the programme. This includes talks and one-to-one mentoring from established figures from across the arts, technology and business worlds as well as workshops on issues such as intellectual property, social media and crowdfunding.
Fish Island Labs is supported by Here East, Loughborough University, Queen Mary University of London, OpenVizor, LoveBox, Hackney Wick Fish Island Cultural Interest Group and The Hive
fishislandlabs.com
@fishislandlabs
About The Trampery
The Trampery is London's premier creator of spaces for innovation and entrepreneurship. Its unique approach fuses bold architectural design with hands-on support to turbo-charge new ideas and foster peer-to-peer learning. The company was founded by Charles Armstrong, a social sciences graduate from St John's College Cambridge, based on his research into how networks drive collaboration and innovation.
In 2009 The Trampery opened the first ever workspace for software startups in London's Tech City. Since then it has developed six further buildings in London supporting innovation in software, fashion, the arts and other creative industries.
Alongside the development of its own sites The Trampery also helps clients rethink traditional workspace approaches and assists governments in planning innovation districts. The Trampery works closely with partners including Groupe Publicis, the Barbican, RBS Group and the London College of Fashion. The Trampery's Patron is HRH the Duke of York.
Categories
Tags