FAD caught up with Pure Evil ahead of his solo exhibition at Londonewcastle to ask him about his new exhibition and the very personal nature of the work on show.
1. Having seen a preview artwork, it is a move away from previous work, can you tell us what the show is about?
Oh boy… Im just going to say it. In January one morning, my little 2 year old daughter passed away in her sleep. Her little heart stopped. It was the most brutal thing imaginable. We were shattered by it.
We have been rebuilding, shard by shard. Part of this rebuilding process was reconnecting to her through meditation. My wife and I travelled to Sri Lanka and Singapore and visited many Buddhist and Hindu temples there. I remember one night in Kataragama , it had just finished raining and we went to the Temple complex and meditated. It felt like the top of our heads had blown off, and we felt a beam of white light energy connecting us with our daughter.. It was tangible. One Temple called Sithul Pawa in Yala in Sri Lanka is 2,250 years old. We met the head of the monks there and spoke to him about what had happened and our belief that life energy doesn't just end, it just changes shape , and he agreed fully.
We have spoken to our daughter , she is on a mission and we will see her again soon. I totally believe in that. My mission is to PAINT. When I have done so, I am in the zone, and this show has been a way to bring everything I have learnt together in the form of a ritual.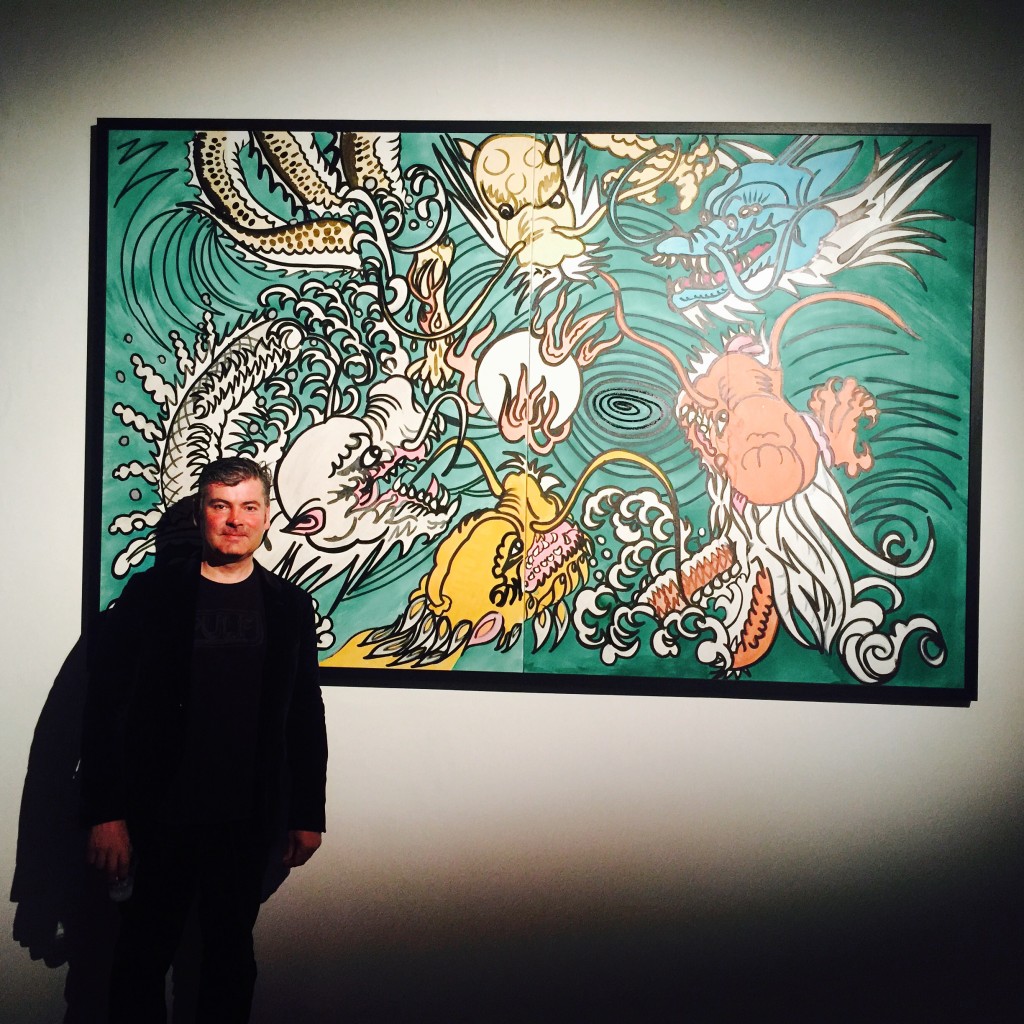 Pure Evil in front of Dream Eating Dragon photo Mark Westall
2. How did you start the process of making this work?
Trusty moleskine sketchbook . I sketched out a plan of the show using the 8 sided buddhist wheel at the centre , and 8 lines radiating out from there leading to 8 artworks. I like to keep things simple. The artworks worked themselves out…
3. How hard is it to separate the commercial artist from the artist especially with respect to the personal aspect to this show?

Im working on the artwork because I want people to GET what I am trying to express.. If I had wanted to do a commercial show, I could have done a show of crying Marilyn Monroe's with tags in the hair , that would be easy. Sometimes you have to give people what they NEED , not what they WANT. Hopefully I'm going to be able to start a discussion with this exhibition . Bunny is still affecting people daily. This show is part of that .
4. Did you consider the viewer when making this work on such a personal project?
For sure.. Im working on using some eye popping combinations of colour, and I am making these paintings BIG so they have the WOW factor. I want people to get art boner's looking at these paintings. Some of them are quite bonkers and then some of them I call palette cleansers… they are more still and contemplative… I really want people to love this show and come back to it.
5 Moving on from this, what do you think the next direction of your work will take and what plans do you have for the rest of 2015?
Im going to paint Keith Moon, Hendrix and Pharell at the Isle of Wight festival for an awesome charity called Nordoff Robbins , and then..
Im going to go back to painting crying Marilyn Monroe's ! HA HA !!
Make sure you try and visit Pure Evil's solo exhibition
The Temple of broken hearts is on until the 22ND June at Londonewcastle 28 Redchurch Street Shoreditch London E2 7DP londonewcastle.com pureevilgallery.virb.com

Lotus Copright: Courtesy Pure Evil
About The Artist
Pure Evil has been exhibiting internationally for more than 15 years with exhibitions in Europe, Asia, South Africa, South America and USA. Exhibitions have included; 'The Nightmare Series' at The Saatchi Gallery (2014); 'Pure Evil Double Exposure' at Culture Gallery in Cape Town (2013); 'Pure Evil Goes Pop!' at Corey Helford Gallery, Culver City, USA (2012); and 'Pure Evil Nightmares' at La Cantine de Fabourg, Paris (2011).
His paintings have entered the public conscious, even making an appearance on Keeping Up with the Kardashians, and being immortalised by much loved British brand Royal Doulton in a series of collectable plates. After a decade in California as a clothing and graphic designer, he became involved in the electronic music scene in San Francisco, later becoming a recording artists in Germany. After moving back to London he got involved with Banksy's 'Santas Ghetto' and created prints for 'Pictures on Walls' gallery. He opened up the Pure Evil Gallery in an ancient Dickensian shop in London's Shoreditch in 2007 and became an accidental gallerist, exhibiting his own work and other artists.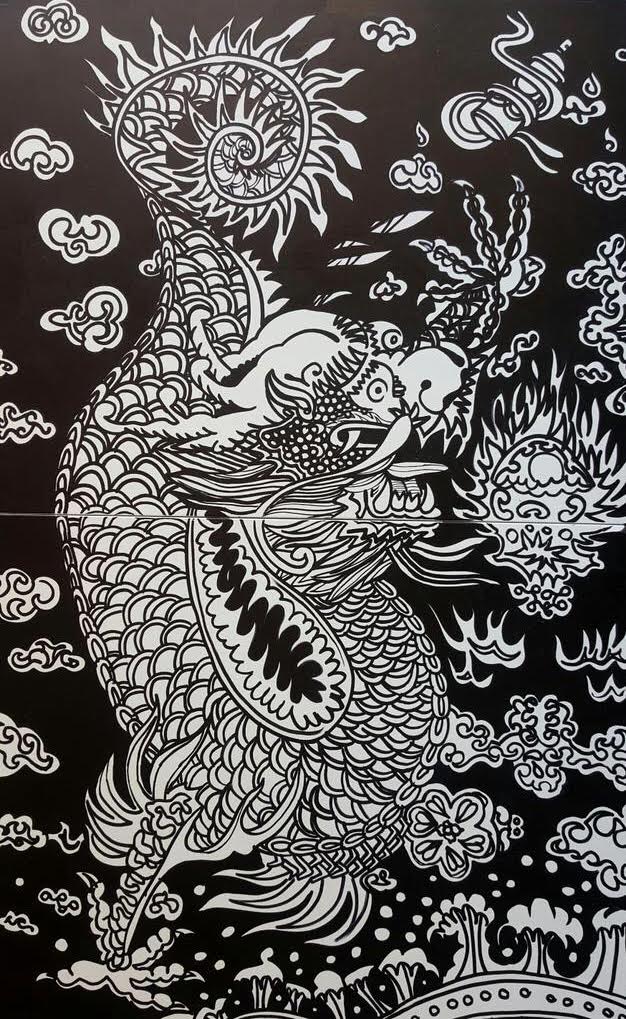 Cosmic Dragon Copright: Courtesy Pure Evil
Categories
Tags