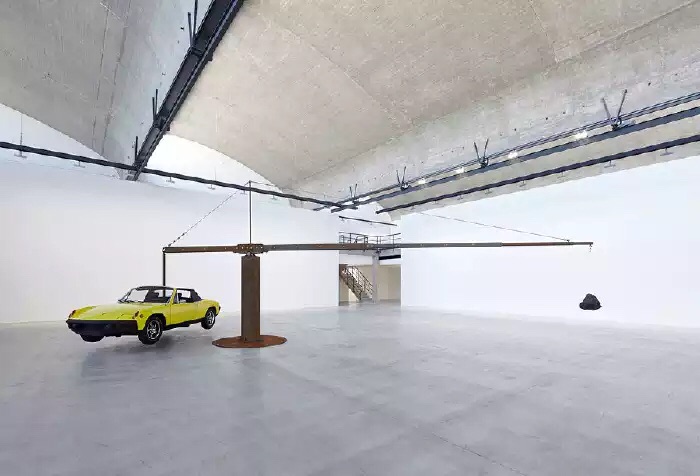 "Limits" is a relative term. Like beauty, it is often in the eye of the beholder.
—Chris Burden
Gagosian Paris is exhibiting works by Chris Burden, his first exhibition in Paris for more than twenty years.
Since the 1970s, Burden has channeled the daring spirit of his early life-threatening performances into sculptures that embody technical feats on an imposing scale. Toys (figurines, train sets, Erector parts) are used as the building blocks for expansive scale models, cities, and battlefields, while actual vehicles (ships, trucks, and cars) are suspended or set in motion in surreal and improbable ways.

Chris Burden, Porsche with Meteorite, 2013, restored 1974 Porsche 914, 390-pound meteorite, and steel structure © Chris Burden/Licensed by the Chris Burden Estate and Artists Rights Society (ARS), New York
In Porsche with Meteorite (2013), Burden presents the convulsive image of a bright yellow sports car hanging in apparent balance with an extraterrestrial rock at either tip of a huge steel truss. Pair of Namur Mortars (2013) is a more subtle mimesis, the seventeenth-century war machine reproduced to functional perfection, including piles of stone cannonballs. Manipulating perception through obsessive veracity combined with shifting scale to achieve effects that are as ominous as they are surreal, Burden continues to challenge the physical and psychological limits of sculpture.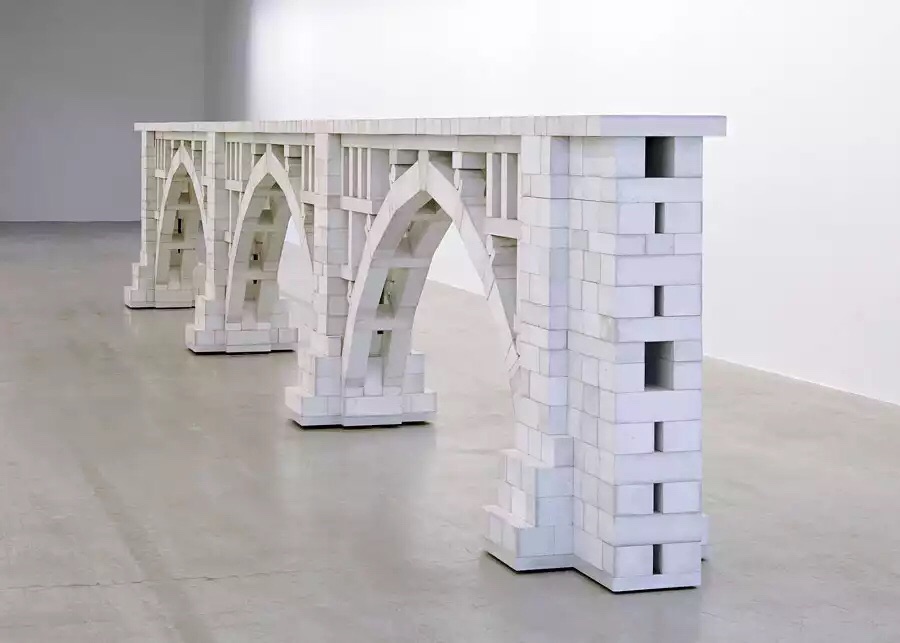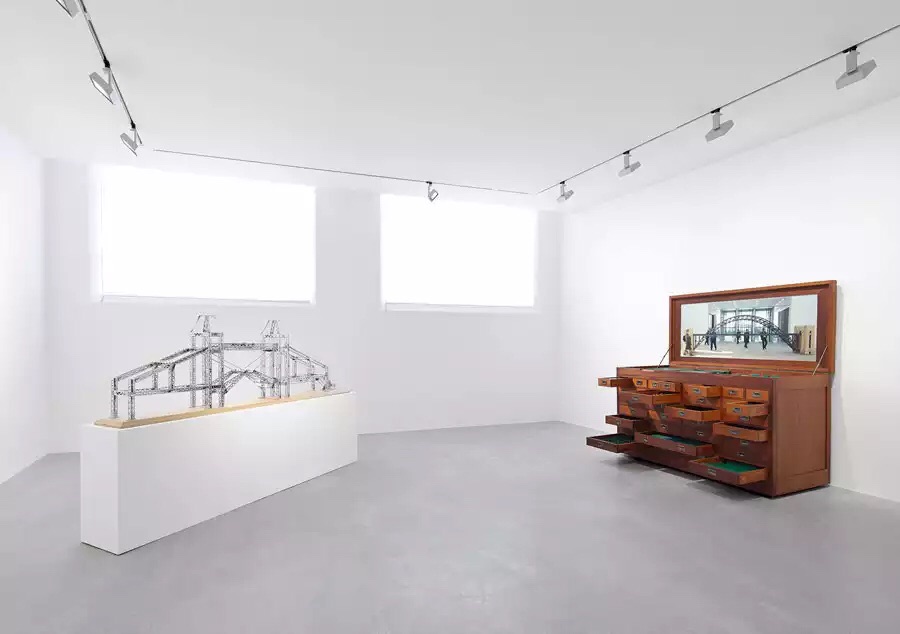 Since 2003 Burden has constructed large-scale models of bridges—both real and imagined—by plotting thousands of toy construction parts. Tower of London Bridge (2003) mimics every aspect of the suspension design of the actual bridge, including its functional drawbridge. Tyne Bridge Kit (2004) is Burden's reimagining of the Erector toolbox: the one-ton wooden chest contains rows of drawers that store the tools, blueprints, and 200,000 metal parts that can theoretically be used to assemble a 9 1/2 meter-long model of the Tyne Bridge in England. In Three Arch Dry Stack Bridge, 1/4 Scale (2013), first exhibited in the major survey "Chris Burden: Extreme Measures" at the New Museum, New York (2013–14), three elegant arches are made up of hand-cast concrete blocks, held together by gravity alone in the manner of classical keystone construction.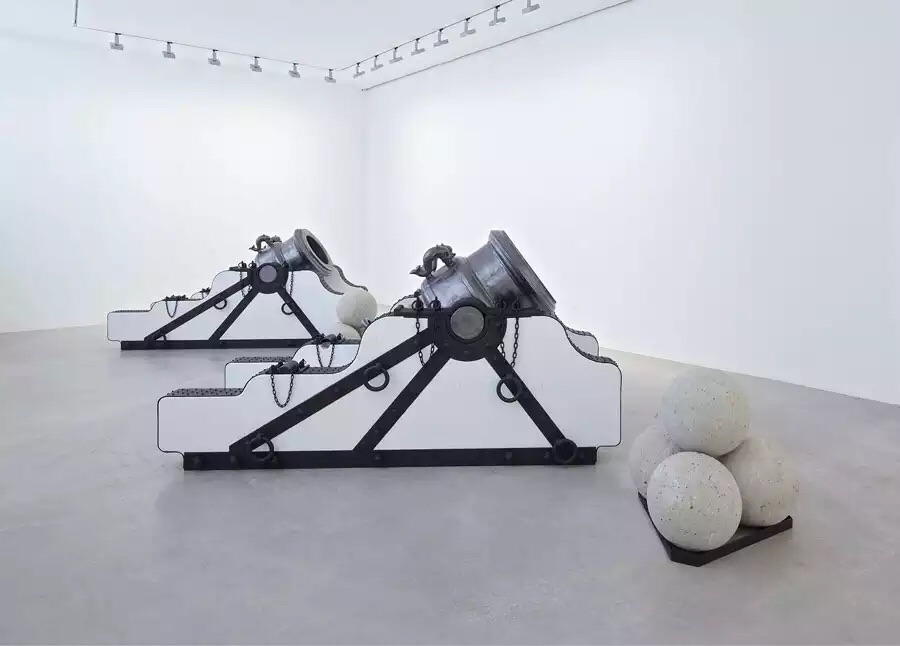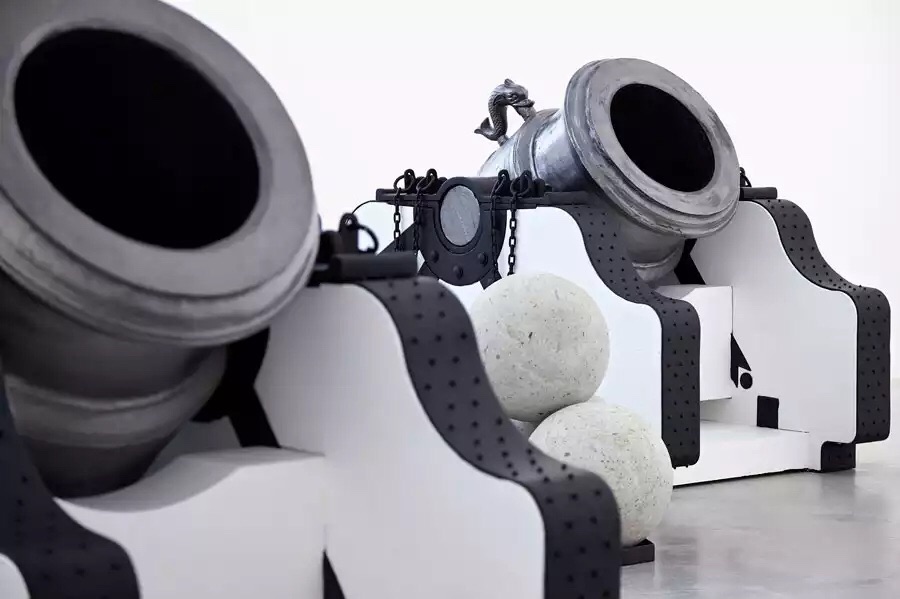 Chris Burden Through to September 19th, Gagosian 2015 26 Avenue de l'Europe 93350 Le Bourget (Paris) #ChrisBurden #GagosianLeBourget.
About The Artist
Chris Burden was born in Boston, Massachusetts in 1946, he died in Topanga Canyon, California in 2015. Public collections include Museum of Modern Art, New York; Whitney Museum of American Art, New York; Los Angeles County Museum of Art; Museum of Contemporary Art, Los Angeles; Museum of Contemporary Art, Chicago; and Tate Gallery, London. Solo museum exhibitions include "Chris Burden: A Twenty Year Survey," Orange County Museum of Art, Newport Beach, California (1988, traveled to Carnegie Mellon Art Gallery, Pittsburgh; and Institute of Contemporary Art, Boston, through 1989); "When Robots Rule: The Two Minute Airplane Factory," Tate Gallery, London (1999); "Tower of Power," Museum Moderner Kunst Stiftung Ludwig, Vienna (2002); "Chris Burden," Baltic Center of Contemporary Art, Gateshead (2002); "14 Magnolia Doubles," South London Gallery (2006); "Chris Burden," Middleheim Museum, Antwerp (2009); "Chris Burden: Three Ghost Ships," Portland Art Museum (2011–12); "Chris Burden," Magasin III, Stockholm (2012–13); "Chris Burden: Extreme Measures," New Museum, New York (2013–14); and "Chris Burden: The Master Builder," Rose Art Museum, Brandeis University, Waltham, Massachusetts (2014).
Categories
Tags