This major exhibition at the Hayward Gallery will present a wide range of Höller's works from newly-made pieces that have been especially commissioned, to key early artworks like The Pinocchio Effect (1994) and Upside Down Goggles (1994-ongoing). It will bring together sculptures, videos, installations and light works that are designed to profoundly re-orientate our awareness of time and space.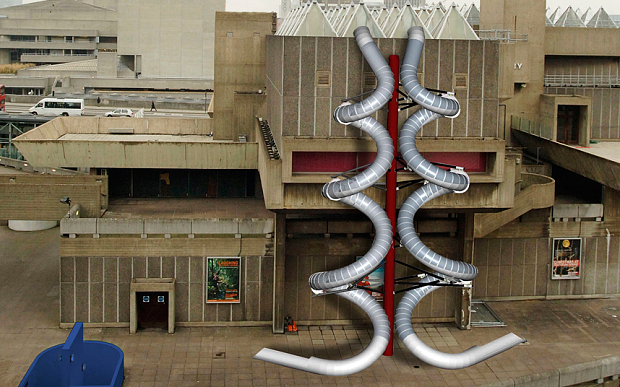 A mock-up of what Carsten Holler's slides will look like at the Hayward Gallery
Decision will immerse its visitors in a series of experimental environments, reflecting Höller's wide-ranging interest in the nature of consciousness.  Many of the works in the exhibition aim to transform the visitors' physical and mental experience in ways that lead them to question their habitual perceptions.  Often participatory or immersive, these works highlight an individual response; as Höller himself has remarked:
"the real material I am working with is people's experience."
As indicated by its title, decision-making will be a focus of the exhibition. Visitors to the Hayward Gallery show will constantly need to reflect on the choices and decisions they make, beginning with how they enter the gallery: two separate entrances will be available, each providing a different route through the first part of the exhibition.
Pill Clock (2011-15), a ceiling-mounted timepiece that will drop over one million pills onto the gallery floor during the course of the exhibition, poses a different kind of conundrum for visitors: the installation includes a drinking fountain for those visitors who decide to take one of the pills and face its unknown effects.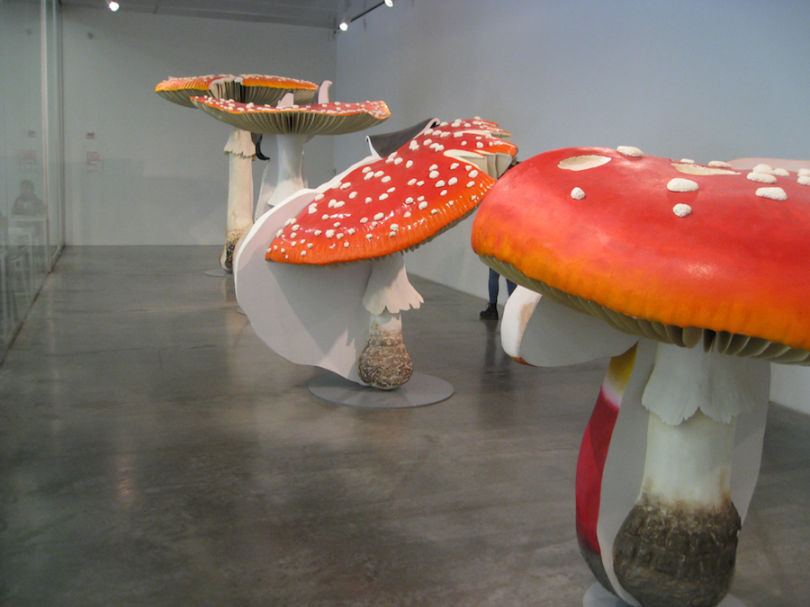 Other highlights of the show include Flying Mushrooms (2015), a new large-scale work of an upside-down mobile with giant psychedelic mushrooms; Moving Beds (2015), a pair of robotic beds that restlessly roam the galleries like 'insomniac twins'; Flying Machines (2008/2015) installed on one of the Hayward's outdoor terraces, opposite Waterloo Bridge, offering visitors the sensation of soaring above city traffic; whilst The Pinocchio Effect (1994) will, through an ingenious use of a simple technology, give visitors the uncanny sensation that their nose is growing. Throughout the exhibition, recurring motifs of doubles, twins, forking paths and mirrored reflections will lead visitors to question how they go about choosing between things that on the surface, at least, seem almost identical.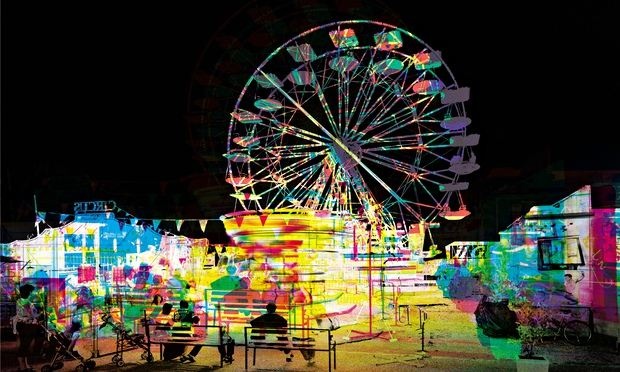 Carsten Höller's Strabilia Giant Wheel Photograph: Attilio Maranzano/Gagosian Gallery
The exhibition will climax by confronting visitors with a final choice between several dramatic ways to exit Hayward Gallery, including climbing up through the Gallery's glass pyramid roof lights and descending via Höller's new Isomeric Slides (2015). Built onto the gallery's exterior wall, these sinuous slides will constitute a graceful sculptural installation whilst at the same time, as the artist notes, the work will be a device for 'experiencing an emotional state that is a unique condition somewhere between delight and madness.'
Ralph Rugoff, director of the Hayward Gallery and exhibition curator, says:

"Carsten Höller is truly one of the world's most thought-provoking and profoundly playful artists, with a sharp and mischievous intelligence bent on turning our 'normal' view of things upside-down. Decision will ask visitors to make choices, but also, more importantly, to embrace a kind of double vision that takes in competing points of view, and embodies what Höller calls a state of 'active uncertainty' – a frame of mind conducive to entertaining new possibilities."
Carsten Höller, Phi Wall II, 2002. © Carsten Höller. Courtesy the artist. Photo © Färgfabriken Stockholm
The exhibition is curated by Hayward Gallery Director Ralph Rugoff; and it is one of the main highlights of Southbank Centre's Summer programme.  Carsten Höller: Decision will be the last exhibition in the Hayward Gallery before the Gallery closes (with the Queen Elizabeth Hall) for essential repair and maintenance.
Carsten Höller: Decision Hayward Gallery, 10 June – 6 September 2015
Visitor information and tickets: www.southbankcentre.co.uk Southbank Centre, Belvedere Road, London, SE1 8XX
More Info: carstenholler.southbankcentre.co.uk
About The Artist
Trained as an agricultural scientist, Carsten Höller has been making art and showing internationally since the early 1990s. Over the past two decades his work has been the subject of numerous exhibitions, including solo shows at Fondazione Prada, Milan (2000), the ICA Boston (2003), Kunsthaus Bregenz, Austria (2008), Museum Boijmans Van Beuningen, Rotterdam (2010), Hamburger Bahnhof Museum für Gegenwart, Berlin (2011), New Museum, New York (2011) and Thyssen Bornemisza Art Contemporary–Augarten, Vienna, Austria (2014). In 2005, he represented Sweden at the 51st Biennale di Venezia (with Miriam Bäckström). In 2006, he presented his slide installation Test Site at the Tate Modern, and in November 2008, his Double Club installation – an art work that was simultaneously a bar, restaurant and dance club – opened for seven months in London. In 2014, Vitra Slide Tower, Höller's first freestanding slide, was inaugurated at the Vitra Campus in Weil am Rhein, Germany.
Categories
Tags