Tabish Khan visits lots of London art exhibitions to bring you seven you should visit during the week. Each one comes with a concise review to help you decide whether it's for you. There are a lot of closures in May so this edition has been expanded from the usual five, and they all close soon.
1. Goya: The Witches and Old Women album @ Courtauld Gallery
One of the exhibitions of the year so far is this macabre and fantastical drawings by Goya. This nightmarish collection is the first time the surviving prints from the album have been brought together – a landmark and captivating exhibition. Closes 25 May.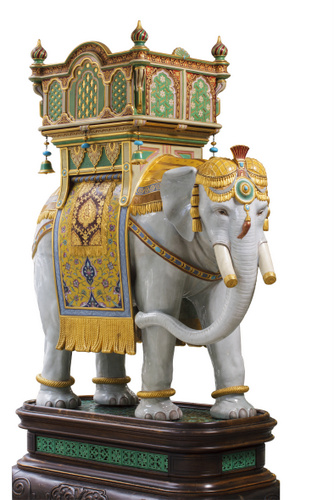 © Thomas Goode & Co. Ltd., London
2. Sculpture Victorious @ Tate Britain
The Victorians loved to go over the top in style, and this showcase doesn't disappoint. It's ostentatious, opulent and brilliant. Want to serve salt from a slain dragon's wings? Sure, why not. Closes 25 May.
3. Los Carpinteros @ Parasol Unit
A playful and surreal display covering a rack of suits with a star carved out of the middle and tomatoes smashed against the wall. It's a lot of fun, with the strongest works downstairs. Closes 24 May.
4. Henry Hudson @ S|2
Plasticine artist gives us a modern version of Hogarth's 'A rake's progress' as a Chinese student travels to the UK to study medicine and becomes a contemporary artist. It's witty and satirical, as well as intricately detailed. Closes 29 May.
5. Around Drawing @ Rosenfeld Porcini
A great group show focussed purely on drawing, ranging from the chaotic people packed scenes by Lu Chao to the abstract and delicately detailed work by Emrique Brinkmann. Closes 22 May.

© Peter MacDiarmid Getty images
6. Magnificent Obsessions @ Barbican Art Gallery
Artists make for bizarre hoarders, in fact their tastes tend towards the kitschy. An interesting insight into what artists like to buy themselves. Closes 25 May.
7. Alexander Gronsky @ Wapping Project Bankside
Estonian photographer captures Moscow's suburbs, but it's his images of re-enactments of historic Russian battles that are my favourite works. Closes 29 May.
Categories
Tags